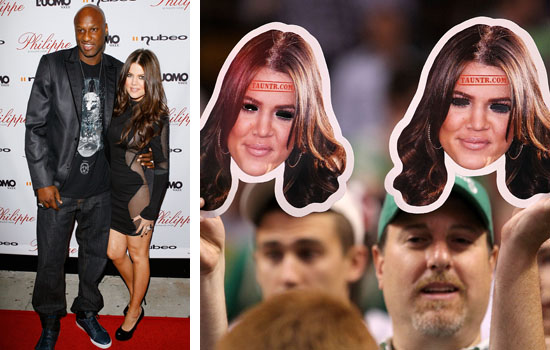 Even though Khloe Kardashian was up in New York making a guest appearance on David Letterman, her face was still seen in the crowd Tuesday night (Jun 8) as her husband Lamar Odom and his Los Angeles Lakers took on the Boston Celtics during Game 3 of the NBA Finals.
Staff members from the website Tauntr.com distributed more than 5,000 Khloe Kardashian masks to fans outside the TD Bank North Garden in Boston just before the match-up and instructed hecklers to taunt Odom with their mask and "wave it every time [he] touches the ball" in an effort to throw the NBA star off his game.
But their plan didn't work because Lamar successfully ignored their taunts and the Lakers defeated the Celtics 91 – 84.
Celtics fans tried just about everything, some of them donning paper masks of his wife, reality TV star Khloe Kardashian. "That was crazy, right?" Odom said, smiling. "They were trying to run me off my game." [ SOURCE ]