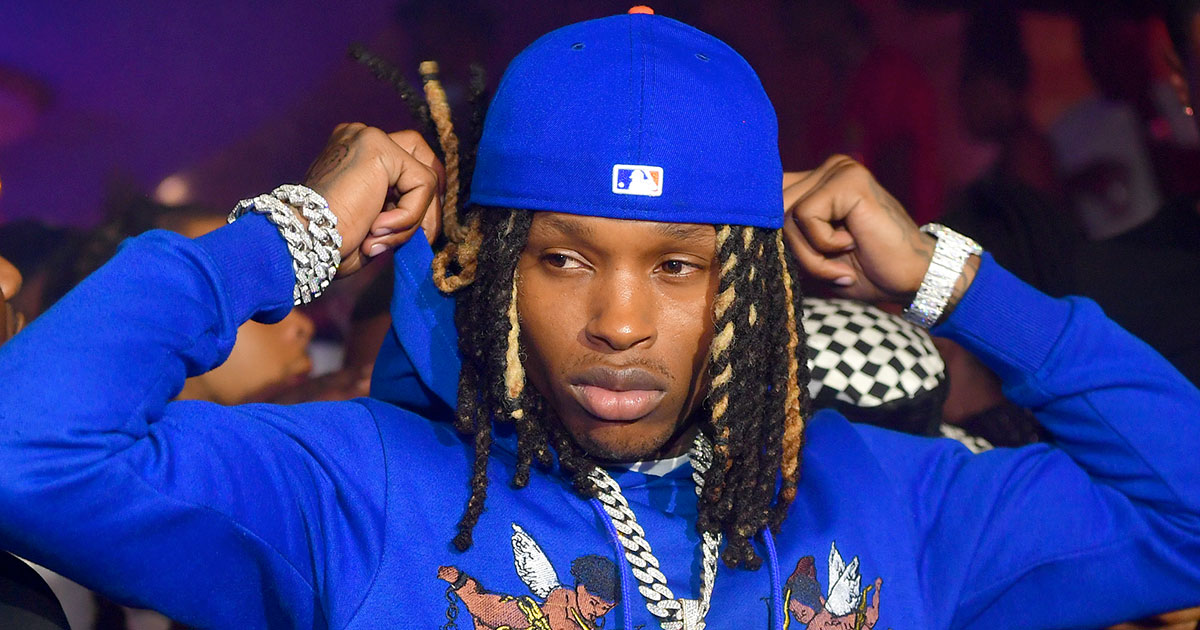 Social media users are outraged after someone leaked graphic photos of slain rapper King Von's body laying on an autopsy table.
King Von (real name: Dayvon Bennett) was shot and killed last Friday (Nov. 6) in a shootout between his crew and that of rival rapper Quando Rondo outside an Atlanta nightclub.
The 26-year-old Chicago rapper died while in surgery at Grady Memorial Hospital. The photos were likely taken after his body was taken to the morgue across the street from Grady Hospital, where autopsies are conducted.
The autopsy pictures were originally posted on an Instagram account believed to belong to Timothy Leeks (aka Lul Tim), who was arrested Saturday (Nov. 7) and has been charged with King Von's murder.
While it hasn't been confirmed, people are saying that Leeks is Quando Rondo's half-brother, and Quando Rondo runs his IG, so it's believed that he's the one who shared the photo (considering the fact that Leeks is in jail right now).
The images were quickly deleted, but of course, this is the internet where nothing is truly ever deleted, and they have since begun circulating across IG, Facebook and Twitter.
Out of respect for King Von, as well as his friends and family, we will NOT be reposting the images here, but we have seen the photos, and can verify that they are authentic.
Chicago gang members are known to post autopsy and/or open casket photos of deceased "opps" (opposition/gang rivals) in an effort to disrespect them … but this latest act is so disrespectful that many social media users are up in arms, and are trying to figure out how the photos got in the hands of the wrong people in the first place.
"That sh*t is sick," one fan responded in the comments of a post on Reddit. [Imagine[] people messing and taking pictures of your lifeless body when you die. If this happened to king von imagine how many pictures probably get taken and never get leaked."
Chicago rapper Katie Got Bandz also spoke out about the leaked image, writing on Twitter: "THAT SH*T BOGUS AS HELL WHOEVER DID THAT SH*T YOU FOUL THE FAMILY CANT EVEN F**KEN GRIEVE UGH I HATE YOU INTERNET A** PPL."
See more responses via Twitter below:
Sooo I just seen the picture of king von's autopsy.. it's sick to think somebody really took a picture of this man and posted it on social media #kingvon

— Trinn? (@Lookitstrin) November 10, 2020
Bro they leaked king von autopsy picture? damn bruhhhh

— pretty boa gangsta?? (@nicktweets_s) November 10, 2020
Whoever Posted King Von Autopsy Photo Sick Asf

— Bryanna?® (@QueenMurphy_) November 10, 2020
This King Von shit is really just bringing the worst out of people.. how y'all gonna leak that man on the autopsy table

— iHussle (@rillsincere) November 10, 2020
ME WHEN I FIND WHO LEAKED KING VON AUTOPSY PHOTOS: pic.twitter.com/XhBeEtkhbc

— Diiorasian (@diiorasian) November 10, 2020
The nurses that took that picture of King Von's autopsy needs to be fired immediately.

— Rae. ? (@herxrae) November 10, 2020
Them boy really got king von autopsy picture floating around Facebook and that is the most disgusting thing any human being can put out!!! Have respect for that man, his family, and for his friends!!! If y'all see that shit please DO NOT share it! Report it and block that person!

— ? (@aallaeaa) November 10, 2020
yoooooo?? they exposed king von's autopsy photo & i am fucking shaking. that's so disturbing dawg

— little ole la (@lalareneex) November 10, 2020
Why are pictures of King Von's dead body on the f*cking autopsy table being circulated? Y'all be so desperate for clout and retweets that y'all will do anything. Y'all would be ready to fight if that was a photo of your loved one going around. Y'all sick.

— HELLO GOOFY B:TCH! (@Smoke_nd_Pearls) November 10, 2020
Be the first to receive breaking news alerts and more stories like this by subscribing to our mailing list.