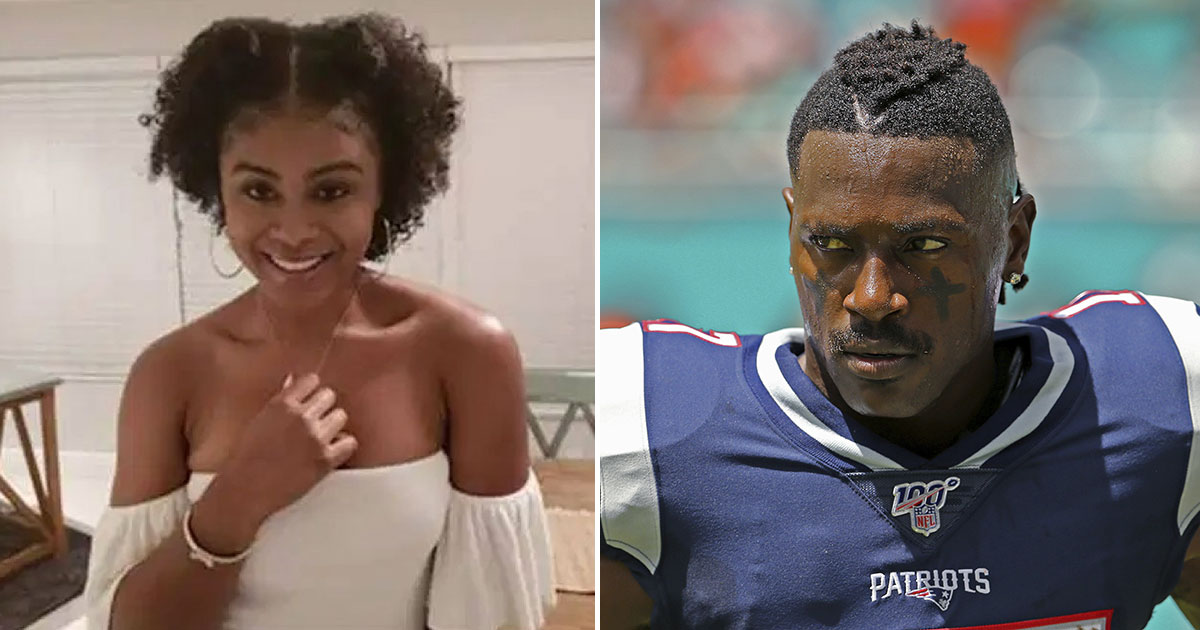 Antonio Brown has filed a countersuit against the woman accusing him of rape, his former personal trainer Britney Taylor, claiming that she's a no-good liar who has "all but ruined" his career.
TMZ reports that the NFL star filed court documents Wednesday (Nov. 21) firing back at Taylor, who sued Brown back in September on claims that he sexually assaulted her on three separate occasions—including a "violent" rape incident in 2018.
Brown has previously denied the allegations, but now he's suing Taylor for defamation.
"In summary, after enduring a failed business endeavor and also failing to gain the relationship status she desired with Brown, Taylor began a vicious campaign of lies and deceit targeting Brown both personally and professionally," Brown says, according to docs obtained by ESPN.
"Taylor's acts have all but ruined Brown's career, causing him to lose a number of substantial and lucrative business contracts, and impacting the public persona in such a manner as to cause Brown and his family significant personal and financial harm."
Brown and Taylor met at Central Michigan, where they were both student-athletes.
After Brown went to the NFL, Taylor worked for him as his personal trainer, and at some point, their relationship turned sexual with consent from BOTH parties, Brown says.
Brown says Taylor, a former gymnast, only filed the suit as punishment for his refusal to invest over $1 million in a gymnastics "business project" in 2017.
Prior to Taylor filing her suit, Brown was released by the Oakland Raiders after he got into a public feud with the team's general manager over fines.
It wasn't until the New England Patriots signed Brown to a $15 million that Taylor filed her lawsuit, and the team decided to stand by him, that is until he sent menacing text messages to a different woman who'd accused him of sexual misconduct.
In docs from the countersuit obtained by TMZ, Brown spells out his side of the story in EXTREMELY graphic detail.
"Brown did not rape Taylor, nor did he exert physical force upon Taylor. Taylor and Brown had consensual sexual intercourse on May 20, 2018," the NFL player's attorney says in the filing.
"At all times, Taylor conveyed to Brown her willingness to engage in consensual sexual intercourse," the doc continues.
Regarding the back incident … Taylor claimed in her lawsuit that in 2017, Brown snuck up behind her while she was watching a church video on a tablet computer and ejaculated on her back without her consent.
Brown admits in the docs that he "has ejaculated on [Taylor] with her consent in his home in Hollywood, Florida," however, he denies the rest of her version of the incident.
Videos of Antonio Brown and accuser Brittney Taylor spending time together during time frame at which Taylor accused Brown of raping her. @AB84 pic.twitter.com/hixQyxdprw

— Devon ? (@LionTQ) September 11, 2019
As for their sexual relationship, Brown says it was 100% consensual between BOTH parties and lasted for years, however, they only had vaginal sex ONE time, and that was in 2018 … just days before Taylor got engaged to her current husband, Kristen Owens, whom she married just a few days after she filed the lawsuit.
Brown claims to have proof that he and Taylor engaged in a consensual romantic relationship in the form of video footage showing them "in romantic and sexually suggestive positions and situations, wherein consent is evident."
For what it's worth, Brown also admits that when he first hired Taylor, he signed a contract that included a "no flirting" cause, which Taylor claims to have included to make sure things between her and Brown would remain professional.
Taylor's attorney, David Haas, has responded to Brown's countersuit claims, saying in a statement: "Antonio Brown countersued the woman he raped and blamed her for the self-destructive conduct that led to the demise of his NFL career."
He added: "In the past, Defendant Brown has used intimidation to avoid responsibility for his actions. However, Ms. Taylor will not be bullied and remains steadfast in holding Defendant Brown accountable."
Be the first to receive breaking news alerts and more stories like this by subscribing to our mailing list.