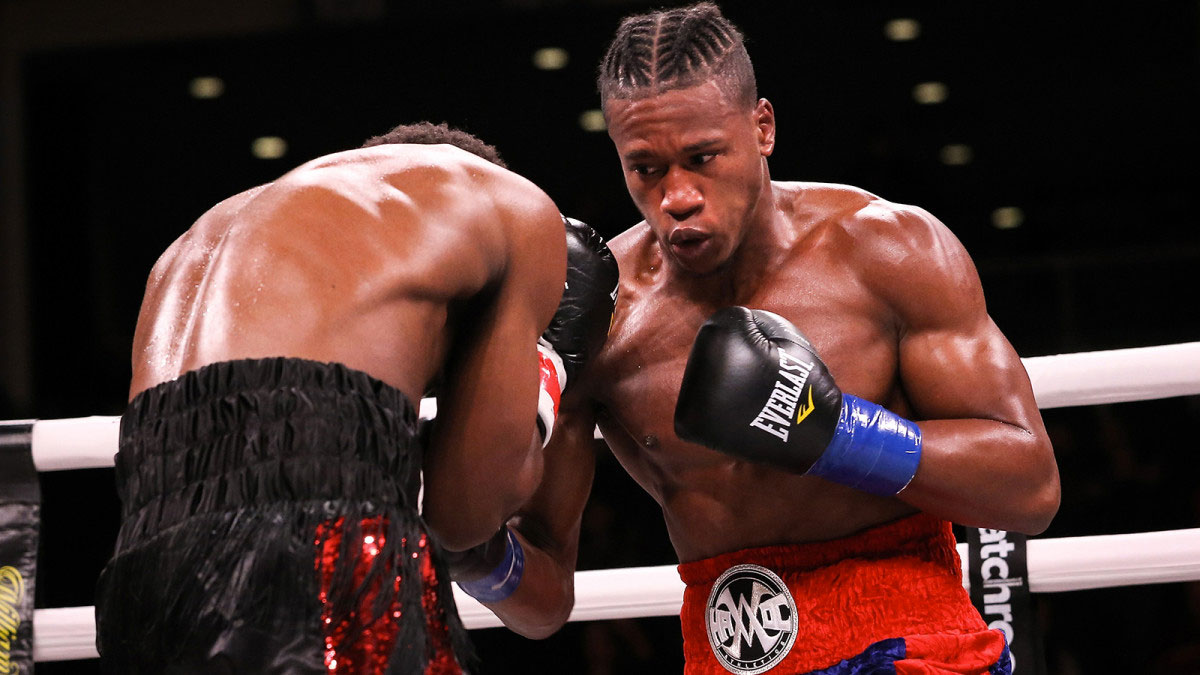 Professional boxer Patrick Day died Wednesday (Oct. 16) at Northwestern Memorial Hospital in Chicago, four days after he was violently knocked out in a boxing match with Charles Conwell over the weekend. He was 27 years old.
Day (whose record was 17-4-1) was knocked down a total of three times—once in the fourth round, again in the eighth and also in the tenth (the KO)—by the currently unbeaten 21-year-old Conwell during Saturday's bout at the Wintrust Arena in Chicago.
Although Conwell was clearly winning the fight, Day was competitive in many of the rounds. However, in the 10th round, Conwell landed two rights and a left hook that knocked out Day.

When Day went down, the back of his head slammed onto the canvas, and referee Celestino Ruiz immediately stopped the bout without a count at 1 minute, 46 seconds.

Day was immediately surrounded by medical personnel and within minutes was taken out of the ring on a stretcher and to an ambulance.

Day never regained consciousness. At one point he had a seizure and then lapsed into a coma before undergoing emergency brain surgery.

Members of Day's family flew to Chicago on Sunday morning to join manager/trainer Joe Higgins and Alex Dombroff, who works for DiBella, in keeping vigil, but the situation was dire and doctors gave Day little chance for survival.

On Wednesday, surrounded his parents, other family members, Higgins and close friends, Day was disconnected from the machines that had been keeping him alive.
Day's promoter, Lou DiBella, issued a statement that read in part: "He was a son, brother, and good friend to many. Pat's kindness, positivity, and generosity of spirit made a lasting impression with everyone he met.
"Patrick Day didn't need to box. He came from a good family, he was smart, educated, had good values and had other avenues available to him to earn a living.
"He chose to box, knowing the inherent risks that every fighter faces when he or she walks into a boxing ring. Boxing is what Pat loved to do. It's how he inspired people and it was something that made him feel alive."
"Many people live much longer than Patrick's 27 years, wondering if they made a difference or positively affected their world. This was not the case for Patrick Day when he left us. Rest in peace and power, Pat, with the angels."
Two days before Day's death, his last opponent Charles Conwell expressed his remorse over the situation in a heartfelt letter he shared via Instagram.
"I never meant for this to happen to you," Conwell wrote. "All I ever wanted to do was win. If I could take it all back I would. No one deserves for this to happen to them.
"I replay the fight over and over in my head thinking what if this never happened and why did it happen to you. I can't stop thinking about it myself.
"I prayed for you so many times and shedded so many tears because I couldn't even imagine how my family and friends would feel. I see you everywhere I go and all I hear is wonderful things about you.
"I thought about quitting boxing but I know that's not what you would want I know that you were a fighter at heart so I decided not to but to fight and win a world title because that's what you wanted and [that's] what I want so I'll use you as motivation every day and make sure I always leave it all in the ring every time. #ChampPatrickDay"
https://www.instagram.com/p/B3nbousgd6P/
Be the first to receive breaking news alerts and more stories like this by subscribing to our mailing list.