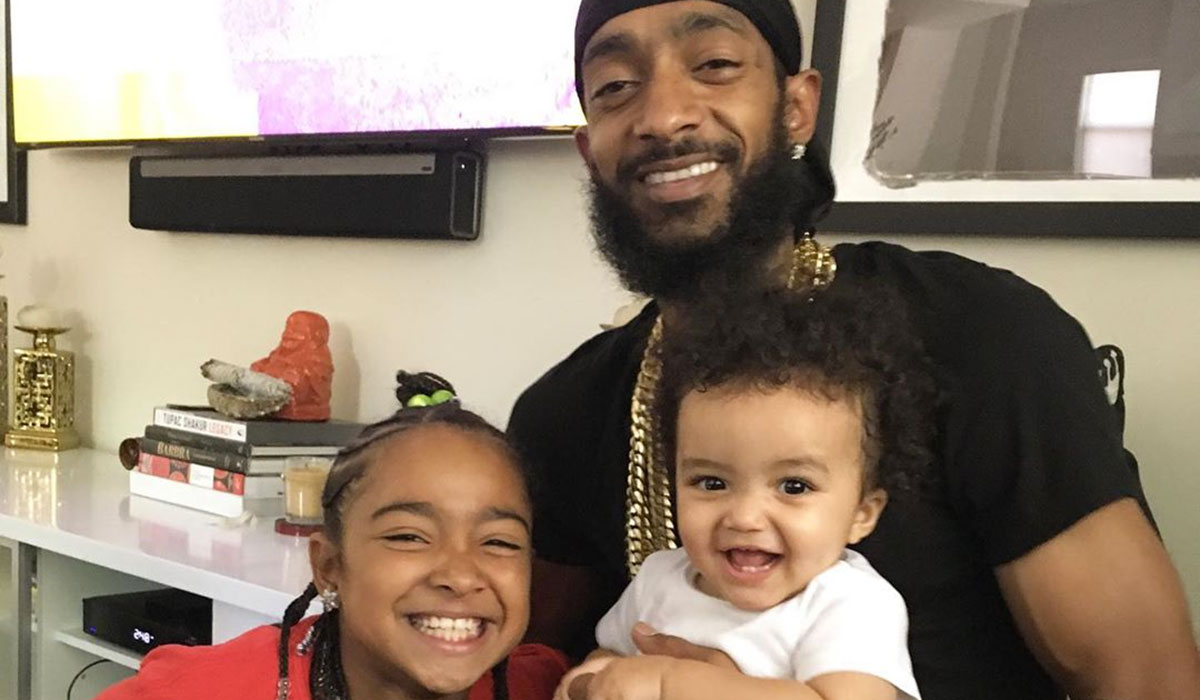 Nipsey Hussle's immediate family members are now officially the legal guardians to the slain rapper's 10-year-old daughter Emani following a monthslong custody battle
A Los Angeles judge granted Hussle's family's request to obtain legal guardianship of Emani Tuesday (Oct. 15) over her birth other, Tanisha Foster, who the family said was unfit to raise Emani on her own.
The courts said Nipsey's family provided "sufficient evidence" for their petition, and as a result, his sister Samantha Smith, brother Sam Asghedom, and mother Angelique Smith, have been appointed as Emani's legal guardians.
Additionally, Lauren London was given the approval to manage the finances of her 3-year-old son Kross, who is reported to inherit half of Nipsey's $2 million estate, while Kross' sister Emani will get the other half. (FYI: There was never an issue between Lauren and Nipsey's family; this is just a formality.)
Back in April, Nipsey's sister Samantha filed paperwork to obtain legal custody of Emani, saying that she'd been taking care of her niece since her brother's murder the month prior.
Samantha noted in her petition that Nipsey was Emani's primary caregiver before his March 31st shooting death, and she helped take care of Emani.
Samantha said that giving her family primary custody would "ensure the continued stability for Emani," unlike her mother, Tanisha, who she referred to as negligent.
In July, Nip and Samantha's brother, Samiel Asghedom (aka "Blacc Sam"), as well as their mother, Angelique Smith, joined the petition as proposed co-guardians, saying there were a "constant and strong presence in Emani's life."
Days later, Foster filed court documents "strongly" opposing the guardianship petitions from Nipsey's family.
"I am the mother of Emani Asghedom and there is no good reason my rights as her mother should be taken away from me," Foster wrote.
"Emani and I are inseparable. I am and will always be her mother," she said. "I love her with all my heart. I know that she misses me and is wondering why I am not there."
Tanisha claimed that she and Nipsey shared parenting responsibilities, and he always made sure she was taken care of by doing things like setting her up in an apartment and giving her money to cover other necessities.
But after he died, she said she was forced to rely on "the goodwill of family and friends" for food, clothing, shelter and transportation.
"No one seems to care about the impact Ermias' death has had upon me and Emani," she said in the legal docs. "I have been maligned as being an unfit mother, a golddigger, and someone not worthy of any voice in the matter of my daughter and her future."
Tanisha claimed she had "no financial means of my own to care for myself or Emani" and that she was "was dependent upon" Nipsey to get by.
"When he suddenly died, I came home one day to discover that the locks had been changed," she said. "His family is not willing to pay the rent. I am still in the process of putting all of my personal belongings into a storage facility."
Tanisha added, referring to the rapper by his birth name, Ermias Asghedom: "I realize that my previous lifestyle with Ermias is no longer how things will be for Emani and l. Because of the various challenges I face, I will need time to get things together for the two of us."
Foster's lawyer told the court in August that she had two monitored visits with Emani that went "very well," and he said they also attended grief counseling.
"She is making progress towards gainful employment and establishing a stable residence," the attorney, Larry Lewellyn, told the judge of Foster.
Be the first to receive breaking news alerts and more stories like this by subscribing to our mailing list.