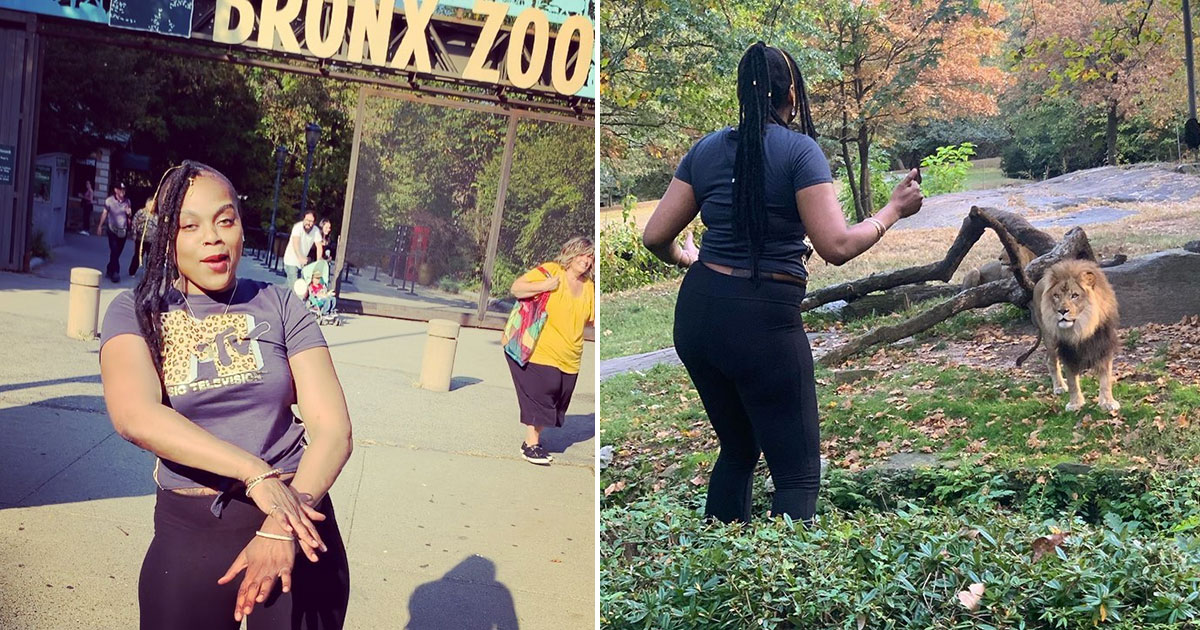 Video footage showing a woman who can only be described as batshit crazy climbing into a lion enclosure at the Bronx Zoo in New York has gone viral on social media.
The woman in the footage has been identified as Myah Autry, who also goes by the name "Myáh Lareé Israelite" on Instagram.
Here's what you need to know:
1
Myah Autry ignored warnings and concerns from others prior to climbing into the lion enclosure.
https://www.instagram.com/p/B2-gSNug_gF/
When Myáh Lareé Israelite was climbing over the fence to get closer to the lions in the enclosure, those around her could be heard telling her how much of a bad idea it was.
"You're not supposed to do that," a man behind the camera says three times as she blatantly ignores him. "Go ahead and fall in there and see what happens," the man warns.
But Myáh doesn't listen and proceeds to wave at the lion standing mere feet away from her.
As the woman appears to taunt the lion by waving at him and shaking her body, a conversation continues in the background between her male friend and another male bystander:
Do you know her?
Yeah, I know her.
Can you tell her to get back?
I told her … She don't listen to me.
She is…
I know.
Other short video clips from her IG account and from the account of a bystander show her wiggling her fingers, dancing, and at one point telling the animal: "Baby! I love you!"
https://www.instagram.com/p/B2_tWyYg0z0/
The woman wrote in the caption of one of her videos: "I REALLY HAVE NO FEAR OF NOTHING BREATHING!!"
Fortunately, no one was injured.
2
Myah Autry (aka Myáh Lareé Israelite) was celebrating her birthday at the Bronx Zoo.
https://www.instagram.com/p/B2_ydsVAf1J/
Myah Autry (aka Myáh Lareé Israelite) is a Harlem resident and, according to a series of posts on her Instagram page, she was celebrating her birthday at the Bronx Zoo when she decided to endanger her life, and possibly the lives of others, by hopping a fence and climbing into a lion enclosure.
One post, in particular, is a video of her at the entrance of the zoo dancing to Big Pun's "Still Not a Player" and taking a puff from a joint before declaring that she's about to go "f**k around with mother nature."
She also mentioned that her birthday was "9/30."
3
Other videos show Autry engaging with peacocks and inside a giraffe exhibit.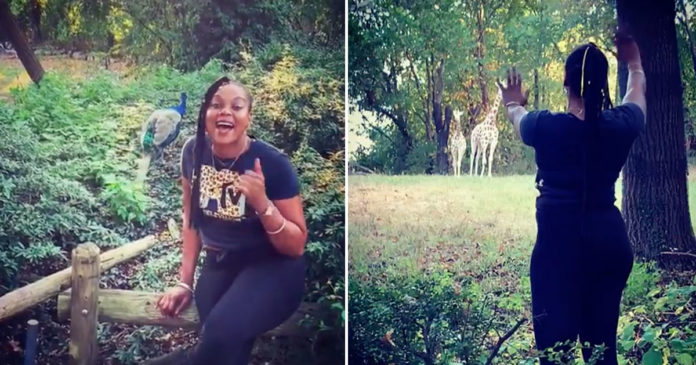 Myah Autry didn't just interact with the lions at the zoo.
She also engaged with a peacock, and while she doesn't appear to invade the bird's personal space (as she did with the lion), another video clip does show her inside a giraffe enclosure.
https://www.instagram.com/p/B2_38ftA6bW/
https://www.instagram.com/p/B3AA0zAA2ub/
She wrote: "Notice when I told the giraffe I loved him or her it came closer … even the baby both wagged they tails watch!"
4
The woman also posed for pics with NYPD cops in Times Square.
https://www.instagram.com/p/B2_2mbBAuvs/
Not long after pulling her viral stunt at the Bronx Zoo, Myah Autry took to Times Square, where she met up with a group of NYPD cops and posed for a couple of pictures with them.
5
The Bronx Zoo filed a complaint with the NYPD for criminal trespass and released a statement about the incident, saying that what Autry did was very dangerous and could have gotten her killed.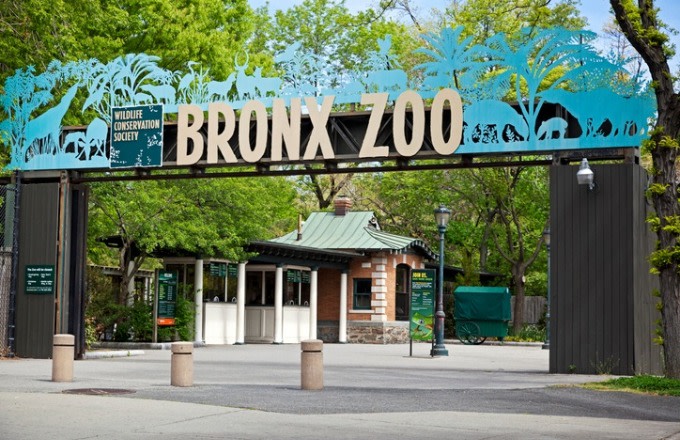 A spokesman for the Bronx Zoo issued the following statement condemning Myah Autry's actions:
"This action was a serious violation and unlawful trespass that could have resulted in serious injury or death. Barriers and rules are in place to keep both visitors, staff, and animals safe. We have a zero-tolerance policy on trespass and violation of barriers."
According to CNN, the Bronx Zoo also filed a complaint for criminal trespass with the New York Police Department.
An NYPD official said no one called 911 and no arrests were made, and they were just notified about the incident on Tuesday (Oct. 1) and had no further information to provide.
Be the first to receive breaking news alerts and more stories like this by subscribing to our mailing list.