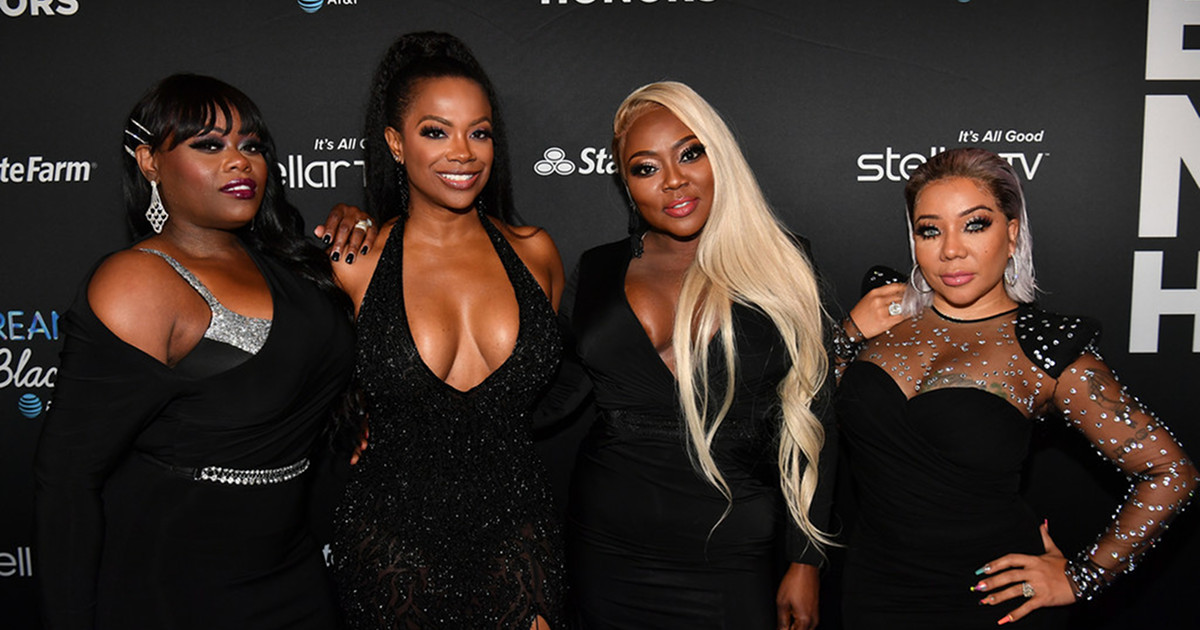 XSCAP3 is taking a hiatus and XSCAPE reunites…at least according to Mama Joyce.
XSCAPE received the Urban Music Icon Award at the 2019 Black Music Honors last week. When the group brought their mothers onstage, Kandi Burruss' mom—Mama Joyce—surprised the audience (and the group) by pronouncing they should release another album.
"They still have one album left," Joyce said as the audience cheered. "The four of them, they started in my basement and I feel that they still have another album in them."
Following the awards, the 90s R&B group spoke with the Atlanta Black Star and claimed they had absolutely no idea Joyce was going to make such a statement.
"Obviously she put us on the spot," Kandi told the outlet. And even though she was the sole holdout from recording new music during their 2017 reunion tour, she now seems open to the idea—'cause her mama said so.
"I guess we gon' grant her her wish. I didn't know what to say but at the same time, she put it out there, my group members are here … we gon' make it happen … we gon' figure it out."
Tiny Harris chimed in: "Yeah, when everybody schedule get together, we gon' get in that studio."
Mama Joyce also spoke with the Atlanta Black Star and pushed Kandi to re-join the group for one more album because their voices have grown since their last album in 1998.
"I feel like [Kandi] just need to get with them and they need to finish that one last album. They all got the voice," she said. "They voice is just as good if not better today than it was back 25 years ago."
After breaking up in 1998, all four members reunited to embark on a very successful nationwide tour in 2017. Though fans desired new music, Kandi was reluctant to do so because of past issues with the group and not wanting to "mess with our legacy."
Following the tour, the three remaining members (Harris, Latocha and Tamika Scott) reformed as XSCAP3 and went on to release the EP, Here for It in 2018.
Given Kandi's sudden change of heart, it's hard to imagine Mama Joyce's statement was as spontaneous as it seems.
In any case, the group has yet to make any further announcements of when fans can expect the new music.
Be the first to receive breaking news alerts and more stories like this by subscribing to our mailing list.