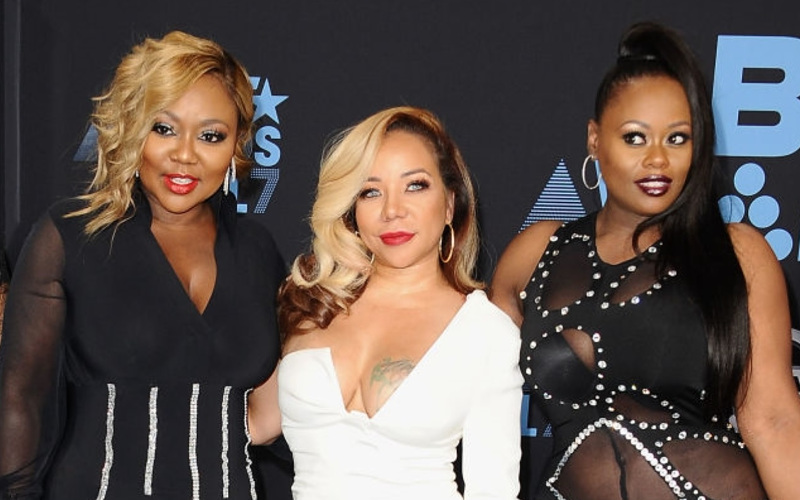 The Xscape comeback continues! The 90s group just kicked off their highly-anticipated reunion tour, but they're already looking towards the future. The group is taking advantage of their comeback and moving full-steam ahead with new music and a new manager (sans Kandi Burruss).
Xscape exclusively revealed to HipHollywood that they have hired Vincent Herbert as their music manager. Following the conclusion of their reunion tour in January, the quartet will officially become a trio, featuring LaTocha Scott, Tameka "Tiny" Harris and Tamika Scott.
"We sat down with him, had some food and just talked, like how most business takes place, he just got our vision and he saw the potential in us," said Tamika.
Herbert is best known for managing his soon-to-be ex-wife, Tamar Braxton, and formerly Lady Gaga.
"We love what he did with Tamar and Lady Gaga and we also knew he understood the business," Tiny added. "We're really excited."
Though the trio has signed with Herbert, they are not severing ties from current manager Mona Scott-Young, who produced their 4-episode Bravo reality series and will produce their upcoming biopic in 2018.
"[Mona] is still managing the four of us for the reality show, and TV and film projects. Vincent manages the music," LaTocha explained.
And new music is already here! Working with producer Tricky Stewart, Xscape has been working hard in the studio. "We recorded six songs, in like six days," LaTocha said.
The new trio dropped two new singles, "Dream Killa" and "Wifed Up" on Friday. They clearly still got vocals, but I also can't help to notice that they're very chummy with auto-tune.
"Dream Killa" and "Wifed Up" are both available on iTunes and other digital platforms.
The singles are the group's first new recordings since 2005. However, the days of their four-part harmony are most likely long gone. The quartet hasn't recorded together since 1998 and Kandi has confirmed she will, once again, part ways with the group when their tour ends.
Be the first to receive breaking news alerts and more stories like this by subscribing to our mailing list.