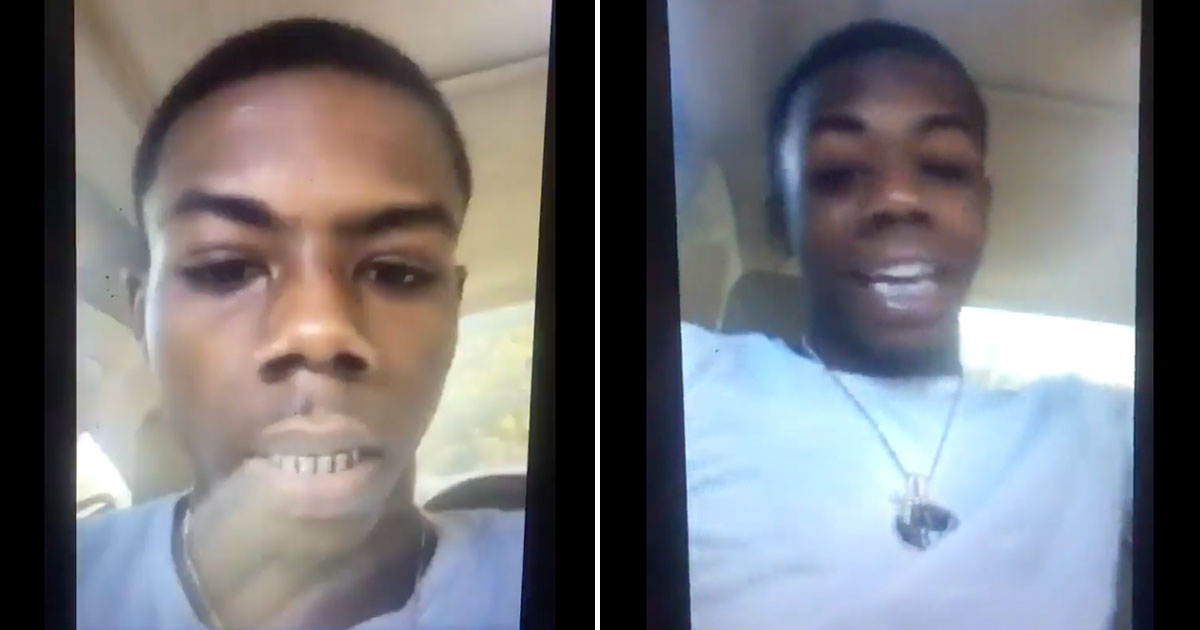 U.S. Marshals Service officers shot and killed a young black man in Memphis, Tennessee Wednesday (Jun. 12), and a clip from the man's Facebook Live stream just hours before the fatal shooting is being widely circulated online.
The man killed, identified by family members and local officials as 20-year-old Brandon Webber, was being served multiple felony warrants by U.S. Marshals and other law enforcement agencies.
A spokeswoman for the Tennessee Bureau of Investigation said in a news conference early Thursday that Webber rammed the vehicle he was driving into a marshal's car before brandishing a weapon described by police as a "rifle."
Here's our statement on the officer-involved shooting in the Frayser Community of Memphis Wednesday: https://t.co/WbISUURNkh

— Keli McAlister (@TBIKeli) June 13, 2019
The spokeswoman, Keli McAlister, said it wasn't clear how many marshals shot at the 20-year-old, but a family member, as well as Shelby County Commissioner Tami Sawyer, said that Webber was shot around 20 times before dying in his family's front yard, the Daily Memphian reported.
Webber's aunt, Yolanda Holmes, told the Daily Memphian that the family was trying to process and confirm what happened. "This is crazy," Webber's cousin, Demetrick Skinner, said.
Prior to the shooting, Webber went live on Facebook and was seen driving around smoking a blunt.
He captioned the video, which has since been removed from Facebook: "What's The Move I Need A Date. Who Wanna Traffic with they Favorite GreenHeart."
"Bitch a** police f**kin up a n***a day," he says in the Facebook Live clip. "They some hoes."
Near the end of the video, a police siren can be heard in the background, and Webber turns the camera around to show a police car.
"On God, look at these bitches," he said. "Don't ride by me, you gonna have to catch me homie, I ain't even gonna lie…"
Just three hours after publishing the Facebook Live video to his profile, Brandon Webber was shot and killed by U.S. Marshals after they said he rammed a marshal's car and allegedly "pulled a rifle" while they were attempting to serve him a warrant.
After Webber was killed, a man claiming to be his cousin, went on Facebook Live and showed a number of police officers forming a barricade in the streets.
"These folks lining up like they right bruh!" the man could be heard saying, clearly fighting back tears. "This shit crazy as hell fool, on God! These folks just killed my motherf***ing cousin! My cousin down there laying in the street … laying in the yard!"
@CityOfMemphis police shot some man and left him for dead and didn't get him in the ambulance just left him in the grass pic.twitter.com/Zt3quRs77v

— ????- $ADxVisions (@GxdCxmplex) June 13, 2019
The Memphis Police Department said none of its officers were involved in the fatal officer-involved shooting, which happened in Frayser, a neighborhood less than five miles north of downtown Memphis.
Be the first to receive breaking news alerts and more stories like this by subscribing to our mailing list.