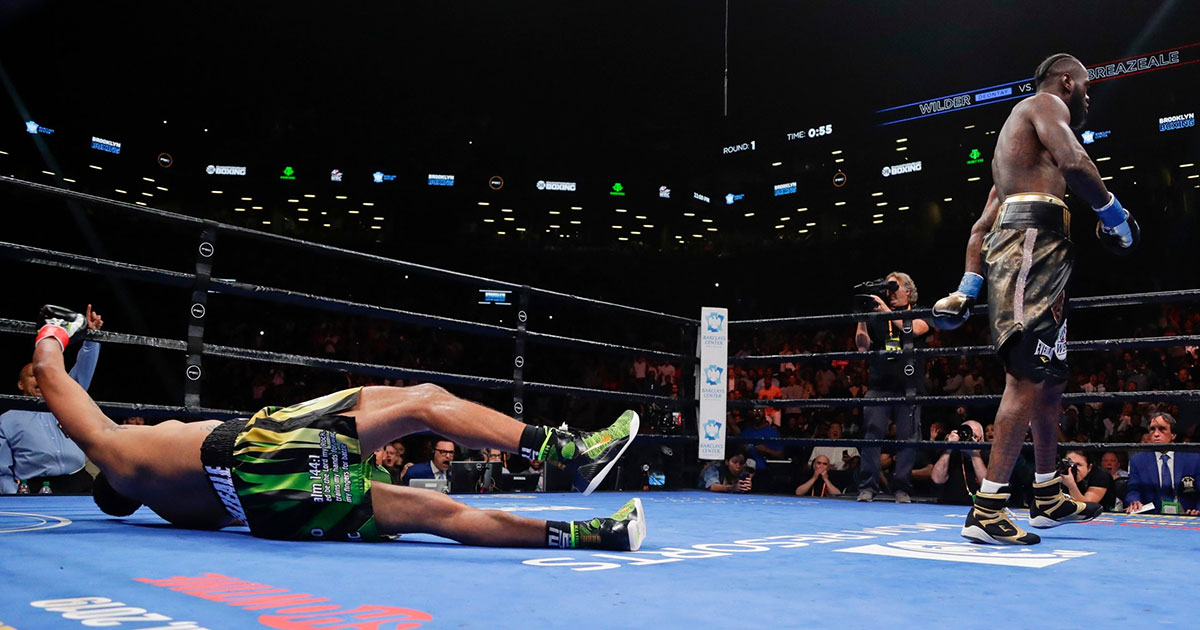 Professional boxer Deontay Wilder has been accused of "first-degree murder" after he defeated his opponent Dominic Breazeale Saturday night (May 18) in the first round with a devastating knock out just two minutes into their fight.
Wilder made headlines last Tuesday (May 14) after he told reporters during a post-workout session that he planned "kill" Breazeale in the ring.
"[Breazeale's] life is on the line for this fight and I do mean his life," Wilder said. "I am still trying to get me a body on my record. Dominic Breazeale asked for this. I didn't go seek him. He [sought] me. So, if it comes it comes. This is a brutal sport. This is not a gentleman sport."
Wilder added: "At this particular time, we have bad blood against each other. This is the only sport where you can kill a man and get paid for it at the same time. It's legal. So why not use my right to do so?"
And that's exactly what Wilder did Saturday as he successfully defended his WBC title for the ninth time with a right hook that knocked Breazeale clean out, giving Wilder his 40th career KO in 42 contests.
IT'S OVER. WILDER KNOCKS OUT BREAZEALE I ROUND 1 pic.twitter.com/bJOAxBP2Hw

— CBS Sports (@CBSSports) May 19, 2019
Of course, Wilder didn't literally kill Breazeale … but that didn't stop boxing fans on Twitter from hurling murder accusations Wilder's way for the brutal way in which he beat Breazeale, with many joking that Wilder's punching power "should be illegal."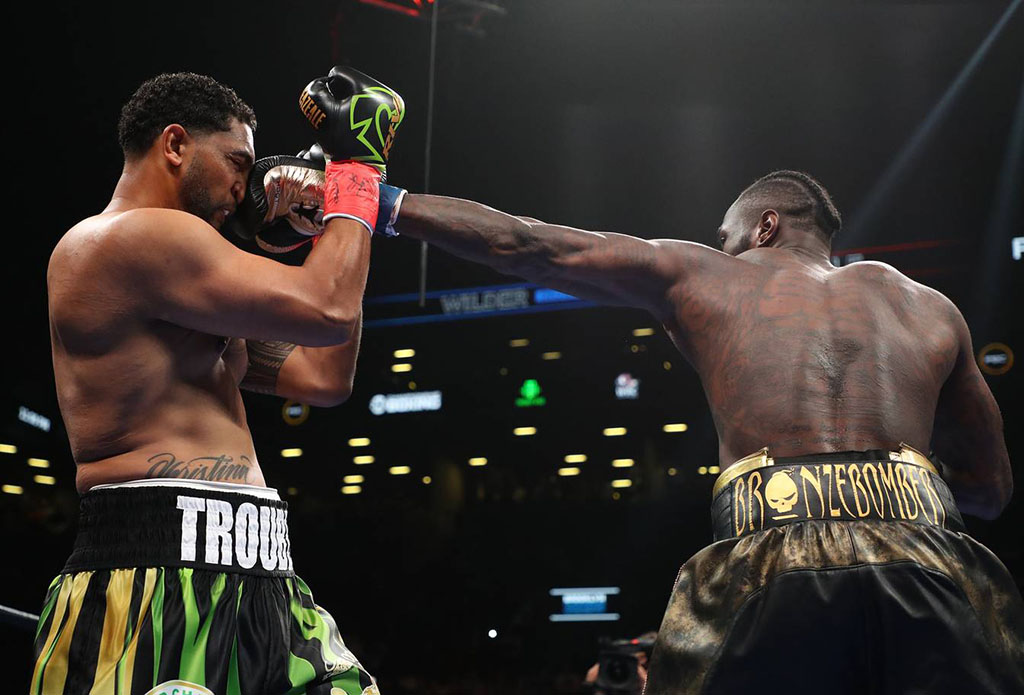 Some people even pointed out that Wilder's boxing record on his Wikipedia page had been updated to reflect Breazeale's "murder."
@BronzeBomber current wiki page "first degree murder" pic.twitter.com/P2cYm2OuJK

— Drame Time (@SalJones_) May 19, 2019
Wilder Power Should Be Illegal ?????

— Maniac Flame (@_maniacflame_) May 19, 2019
The power Deontay Wilder posses is unreal

— Ulises Garcia (@AtomicUly) May 19, 2019
The power Wilder got is truly scary. I fear for any man that is in that ring across from him #WildervsBreazeale

— Felipe LopezGonzalez (@Zzack_) May 19, 2019
Deontay Wilder really knocked the mans face off. He put so much power behind that punch too. Like that's scary to be hit that hard. You better leave that man alone

— Yeeerrr (@pj_gymkilla) May 19, 2019
Wilders punch power is insane

— Philip Pepper (@Pepps_93) May 19, 2019
Deontay Wilder really committed that murder tonight, GOTDAMN.

— dylan (@whatsthebigdyl) May 19, 2019
Deontay Wilder may have just committed murder and I am here for it https://t.co/boJJDr4l9S

— JED (@LastWordJed) May 19, 2019
So is deontay wilder gonna be charged with murder ?

— BlackJesus + The Points (@ChaddyStacksDFS) May 19, 2019
@BronzeBomber you gotta chill bro you just committed murder tonight

— Wynton.b (@ToDetermined) May 19, 2019
When MF say they gonna murder you in the ring you need to pay ATTENTION ATTENTION #DeontayWilder #Deontay_Wilder_vs_Dominic_Breazeale

— SportsNshoes ???? (@sportsnshoesTV) May 19, 2019
This just in…Deontay Wilder is now wanted for murder. That's a bad man. https://t.co/xwyNlYowH9

— The Brown Mr. Incredible (@devilNBell) May 19, 2019
Somebody gotta charge Deontay Wilder for murder

— Rich (@RangaRichie_) May 19, 2019
That's a murder … Arrest Deontay Wilder

— KING IN THE NORTH (@OnlyReedriguez) May 19, 2019