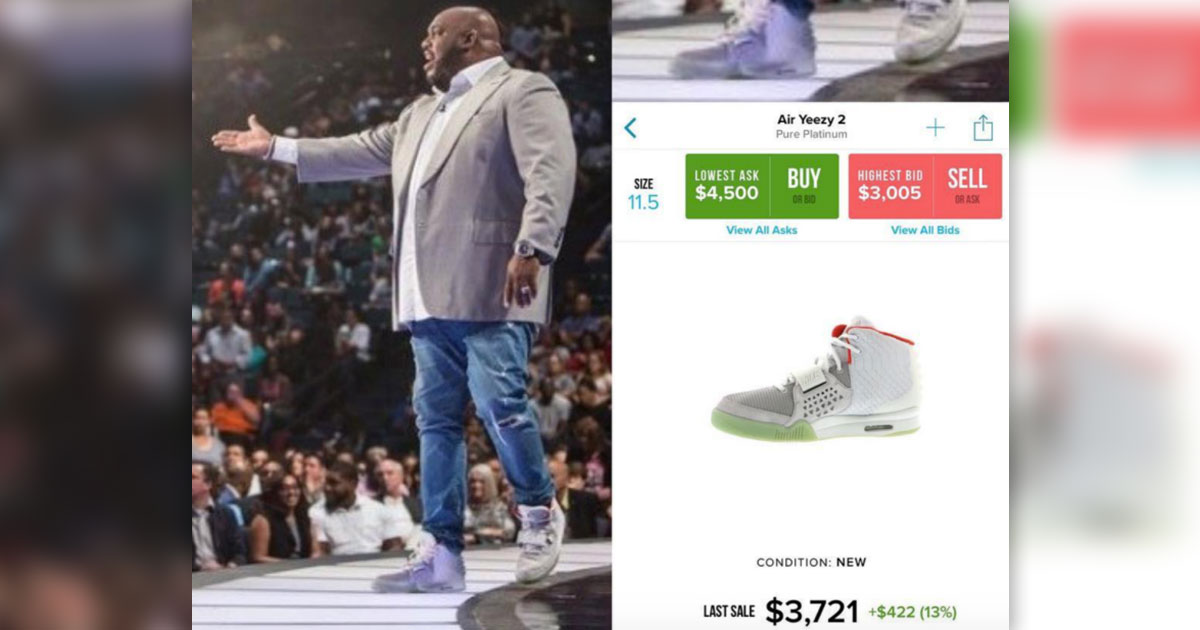 The Instagram account "PreachersNSneakers" is just a little over two weeks old, but it has already amassed a following of more than 100K people who want to see what sneakers their favorite preachers are rocking on their feet.
The account, started by a man who goes by the alias Tyler Jones, shares images of celebrity pastors juxtaposed with a closeup of their footwear and the price tag of the kicks.
Featured on the pages are a number of famous celebrity preachers (i.e. preachers who have turned teaching the word of God into a profitable business outside of the church) including Rich Wilkerson Jr., who officiated Kim and Kanye's wedding, Judah Smith, a friend of pop superstar Justin Bieber, and John Gray, who is an author, paid speaker and reality TV star whose show appears on Oprah's OWN network.
Pastor John Gray previously faced controversy after he purchased his wife a $200K Lamborghini, which put Gray in the awkward position of explaining that his personal finances are separate from the finances of the church he leads in Greenville, South Carolina.
Speaking of that church, Pastor Gray recently requested donations from his congregation to fix the building's 15-year-old roof that's in bad shape.
One photo posted on the account shows Pastor Gray wearing a pair of Air Yeezy 2 Pure Platinum's, which are worth just under $4,000.
Another photo shows Gray rocking an all-red pair of Air Yeezy 2 Red October's, which retail for over $5,600.
Naturally, anyone who has ever paid tithes at church is bound to question why a person leading a congregation is wearing thousand-dollar shoes.
And Pastor Gray isn't the only famous preacher on the account wearing expensive sneakers … which is where "PreachersNSneakers" comes in.
In fact, the account sometimes goes beyond sneakers.
One post shows Los Angeles preacher Chad Veach wearing close to $3,000 worth of clothes in one outfit alone.
We'll let Yahoo! Lifestyle take it from here:
According to Jones, he realized the account started to become bigger than a joke between friends when Chad Veach, founder of Zoe Church in Los Angeles, changed his Instagram handle (from @chadcveach to @chadveach) after responding to a post that pointed out a $1,980 Gucci backpack and a pair of $794 Rhude track pants that he was wearing.

"Wanna know what's crazy? I legit did not pay for one thing i am wearing [sic]. Is that wild to you? that's wild to me… Thanks for the shout out tho. You're a blessing," Veach said in a comment, which was deleted before Jones had time to respond.

"I'm not trying to cause a division; me and him both believe inherently the same things. I just think that if you're in church you should know how your pastor is spending the money," Jones, who said he thought he understood church salaries, as his wife works for a church, said of the short-lived social media confrontation.

And while Jones himself doesn't troll his subjects, plenty of commenters do. Some choice quotes include:

"The lord Jesus walked around in sandals. Somebody photoshop some of these on Jesus."

"Is it sad that he wears shoes worth as much as I paid for my car?"

"That's more than my mortgage…"

"I keep thinking about how people from my church would go on about how you shouldn't give money to homeless people because they might not spend it responsibly…"

Jones was inspired to create the account after he looked up a song by the band Elevation Worship and noticed the lead singer was wearing an expensive pair of Yeezy 750 Boost sneakers, retailing for up to $1,800.

Armed with his two passions, Christianity and sneaker culture, he started to browse popular pastor accounts that he was already following on Instagram and began to document the instances where he recognized designer gear.

Jones voiced concern to Buzzfeed over the trolls who were inspired to go after these Christian leaders, but he still feels strongly that this is a discussion that needs to be had.

"I've had hundreds of pastors and people in ministry message me like 'Thank you, keep doing what you're doing. It's prompting a discussion around what leadership and stewardship look like within the church,'" Jones told Fashionista.

"Somebody called me a hypocrite today and said that I was causing disunity within the church. But I've been pretty intentional to leave it relatively open-ended," he said, alluding to the fact that Jones never outwardly criticizes these leaders and what they choose to wear. In fact, some pastors see it as Jones hyping them up and have asked to be featured on his page with their own look.

As for what Jesus Christ himself would wear if his second-coming occurred in 2019? Jones told the outlet, "I think he'd probably be wearing some open-toe Birkenstocks on a standard day. Then maybe if he was hanging around the house he'd be wearing some Air Max 1s that he bought from the outlet."
To be honest, it's none of our business how these preachers spend their personal money … as long as that money isn't coming from funds meant for the church.
But maybe they should chill on wearing $4,000 sneakers in the pulpit? Just a thought.
Be the first to receive breaking news alerts and more stories like this by subscribing to our mailing list.