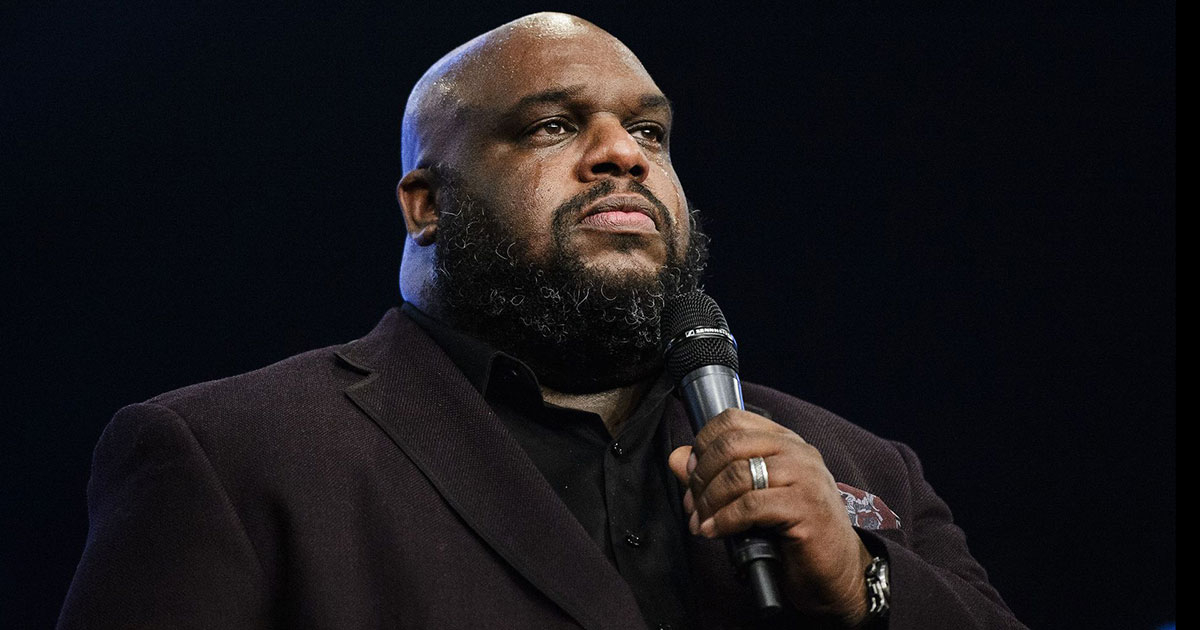 Well, this is awkward…
Remember last year when Pastor John Gray defended his purchase of a $200,000 Lamborghini for his wife for their anniversary? (It was later reported that the car was a "sorry for cheating on you" present.)
At the time, he made it clear that "not a nickel, not a penny" from his church went towards purchasing the gift and folks just needed to mind their business.
"First of all, it wasn't a pastor that bought the car. It was a husband that bought the car," he said in a 23-minute Facebook Live video stream.
"I'm a husband first. Don't confuse what I do with who I am," he added. "What I do is, I pastor God's people. Who I am is a husband and a father, and I'll do anything to honor them, and I won't ask permission from anybody to do it."
Well, now Pastor Gray needs about $250,000 for church repairs, and he's asking his congregation to help him foot the bill. Life sure has come full circle, hasn't it?
Pastor John Gray said he inherited millions of dollars in debt when Relentless Church took over the building from its former pastor, Ron Carpenter, who moved his Redemption Church ministry to California after 25 years at the Greenville, South Carolina location.
During his "Off the Wall" sermon on February 10th, Pastor Gray brought up a church treasurer to explain that the church has a "challenge with the roof" that's going to cost around $250,000 to fix. The treasurer said that the roof they have now was put on the building in 2004 and is in bad shape.
Pastor Gray broke down the numbers, saying that the roof repairs could be made if 2,500 people contributed at least $100, or more than half could be raised if 500 people donated $300.
Gray said he needed the money, which would be in addition to tithes and offering, by April 3rd.
"So now we need 499 'cause I got $300 on it. Anybody else?" Gray asked. "The work must continue. This is not a plea for money, it's a plea for partnership so we can be what we're supposed to be."
Pastor Gray said that Redemption was in massive debt that Relentless had to assume responsibility for once Gray took over, but he believes that Relentless will be debt-free within the next two years.
"(Ron Carpenter) handed us keys. The keys were not to a paid off building, the keys were to an opportunity, an opportunity to continue the work," Gray said. "Nothing you see is paid off. It wasn't paid off when we got here."
He added: "We didn't take an easy assignment. If we wanted an easy assignment, we would start from scratch without millions of dollars in debt. We took the assignment because we knew God has given us the right people to build with. I believe the best days of Relentless Church are in front of it."
Pastor Gray went on to say that he was concerned about severe weather that's predicted to come to the area this Spring, and that the repairs would allow Relentless Church to be a safe haven for those seeking shelter from the storms.
"The Holy Ghost said this to me so I'm going to speak it out, that there is severe weather coming to the region this spring because of all of the climate change and issues," Gray said. "Whether you understand all the science behind it or not, or agree, I heard the Lord say, 'I want you to make sure the house is covered so that when storms come people can come in here and be covered.'"
Gray further explained that God told him that the congregation would be able to provide what's needed for the repairs.
"There's some stuff on the roof that needs to be fixed," he said. "And the Holy Ghost said, 'Ask the people.' He said, 'Whatever you need is in the house.' You know what Relentless Church is, it's a safe place for people to come in the midst of a storm in the natural and the spirit."
Earlier this year, Greenville Online reported that Relentless had bought Pastor Gray a $1.8 million house back in October.
Church leaders justified the purchase, saying that the multi-million dollar 7,000+ square foot home was needed to attract a leader of Gray's caliber.
"This is not anything new," Relentless CFO Travis Hayes said. "This is a practice that is done with every denomination in the nation. That's what this is. This is an asset that belongs to the church."
Well, if that's the case, and the church needs money to fix its 15-year-old roof … wouldn't it make more fiscal sense to sell the nearly $2 million house, put Pastor Gray in his wife in a more modest home, and then use that money for the church's repairs instead of begging members to donate their hard-earned money?
Be the first to receive breaking news alerts and more stories like this by subscribing to our mailing list.