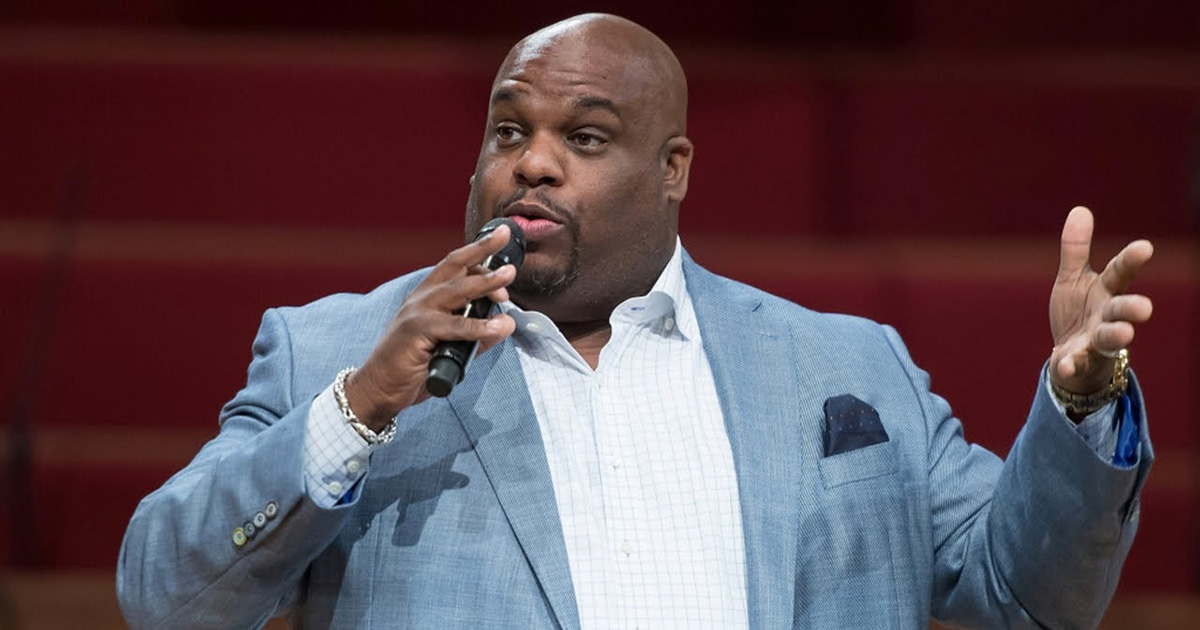 John Gray, a South Carolina megachurch pastor, has been catching a lot of flack on social media for his decision to surprise his wife with a $200,000 Lamborghini Urus—one of the most expensive cars on the market.
Pastor John Gray—who heads Relentless Church in Greenville, S.C.—defended his actions in a lengthy Facebook Live video on Thursday (Dec. 13), saying that "not a nickel, not a penny" from his church went towards purchasing the gift, which was an eighth-anniversary present for his wife and fellow pastor, Aventer Gray. "May God take my life on this feed if I did," he added.
Gray's critics were worried about the "optics" of the gift, with many suggesting that it looks bad to have a Christian leader shelling out nearly a quarter of a million dollars on a luxury vehicle. But Gray shrugged off the critics, saying that he used his own money to make the big purchase. He said that he didn't buy the gift as a pastor, he bought it "as a man" looking to make his wife of nearly a decade happy.
"I'm 45. I'm supposed to wait 'til I'm 70 to live my best life? My best life is seeing my wife happy. It's not like I'm sitting up trying to do something for me. I want my wife to be happy and every man should be able to do whatever is in his ability to do," he said.
Pastor Gray said that his "heart is pure" after presenting the luxury vehicle to his wife during a wedding vow renewal party on December 8th. He said the revenue from his book deal, his reality show on the Oprah Winfrey Network, his savings and "wise investments" allowed him to purchase the lambo for his wife—not church money.
Defending his right to buy nice things for his family, Gray said that as long as what he does is "honorable, ethical and not illegal," it's nobody else's business how he chooses to express love for his wife.
"The stories that I hear, and I've tried to not listen to it, but one of them is, 'Pastor buys his wife, you know, this expensive car,'" John Gray said in the video. "First of all, it wasn't a pastor that bought the car. It was a husband that bought the car."
"I'm a husband first. Don't confuse what I do with who I am," he added. "What I do is, I pastor God's people. Who I am is a husband and a father, and I'll do anything to honor them, and I won't ask permission from anybody to do it."
Gray also quoted Bible verses from the Book of Ephesians during his Facebook Live video to explain why he spent $200K on a Lamborghini for his wife. He talked about the importance of a "good marriage," explaining that he had never seen a successful marriage when he was growing up. And he said that since he had never seen a happy marriage, he used to worry that he would never be able to be a good husband.
Gray mentioned men in his family who had abandoned their wives and families, leaving the women to raise their children alone. "I grew up with those stories," he said. "I grew up seeing physical abuse, seeing domestic violence." Gray also talked about witnessing men in his family abusing drugs and committing adultery. "I swore to God I'd never perpetuate that," he said. "I swore I'd be more."
Taking a verse from Ephesians, Gray talked about the importance of being a good husband. "Here's the truth, husbands love your wives like Christ loves the Church," he said. "Even giving himself a ransom. That means give everything. Sow everything. Give the best of everything. And that's where I'm at."
https://www.instagram.com/p/BrMJU23FukY/
Video footage of John Gray presenting his wife with the keys to the SUV during their vow renewal celebration earlier this month was widely viewed on social media. The Grays said that they didn't post the video and that it was shared by someone else.
Still, the video sparked a ton of backlash online, with some people using it to suggest that Gray is a prosperity preacher, like Creflo Dollar, for instance. Prosperity theology is a religious belief among some Christians that suggests God wants all Christians to be prosperous and that material wealth is a sign of God's favor.
Gray rejected the idea that he is a prosperity preacher in his Facebook Live video, saying instead that the gift was just him wanting to make his wife happy.
"My wife has pushed for my dreams and my vision. And she has toiled with a man who was still trying to find himself, and that carries a weight," Pastor Gray said in Thursday's video. "I wanted to honor her for how she has walked with me. I've covered her, she's covered me."
Gray said he came up with idea to buy his wife the Lamborghini Urus back in February when the couple saw a presentation about the new vehicle at a hotel. The vehicle, which premiered in December 2017, typically sells for $240K or more with options, and it's one of the fastest SUVs in thew world, with the ability to go from zero to 60 in under 3.6 seconds.
"I saw my wife's eyes light up," he said, referring the moment she saw the SUV. "She said, 'This would be a dream,' and that's all she had to say to me." He said he spent the next 10 months planning how to purchase the SUV. "I'm a 45-year-old man, and I've worked my whole life," he added. "I should be able to bless my wife."
Aventer Gray came to her husband's defense on social media, writing that when celebrities buy expensive gifts for their partners, it's seen as "fun and cool," but when pastors do it, "we are stealing."
"I don't see anyone screaming about how basketball players drive what they do while you paying $$$ to see them play in arenas and on fields," Aventer Gray wrote last week in a since-deleted Instagram post. "We don't live for people! We live for God!"
John Gray rose to fame as a former associate pastor at Houston's Lakewood Church, the megachurch run by the popular American televangelist Joel Osteen.
Gray moved to Greenville, South Carolina to work at Relentless Church, a megachurch that was named Redemption Church (started by Apostle Ron Carpenter) and had five campuses and an active membership of 22,000 people when Gray took over in May.
Gray previously received backlash for being one of several black pastors who accepted an invitation to meet with President Donald Trump at the White House back in August. Gray has since said that while he initially thought the purpose of the meeting was to discuss prison reform, he now believes it was simply a photo opp for Trump.
On Sunday (Dec. 16), during a church worship service, Relentless Church members showed support for the Grays, giving Pastor Gray a round of applause when he mentioned the controversy over his wife's new Lamborghini.
"I got one wife, I got one life, I got two kids, and while they're alive, I'm going to do whatever I can to bless them," he said in his Facebook Live video. "And I hope you do the same to your family."
Earlier this month, Pastor Gray switched up the collection plate while blasting "pulpit pimps" during his sermon. He told his congregation that members in need should take cash from the offering plates instead of donating.
"For too long people have stood in a pulpit and told you to give, give, give," he said. "Very rarely have I seen churches stop and said 'leave the baskets out, let the people get what they need.' We've got too many pulpit pimps who want to get fat off people but don't want to meet the needs of the poor people."
He added: "And Jesus said that's who you supposed to be taking care of. We got widows, we got orphans, we've got single moms in here. We might not be able to do everything but we can do something. I wish we could do more but it's the best we can do right now."
"Are there any single mothers in here?" he asked. "You had an orange light in your gas tank when you pulled up, where are you? Come to the altar. Hurry. Single mothers. Are there any single fathers and you had less than a quarter tank of gas, where are you? Come to the altar, come to the altar."
Be the first to receive breaking news alerts and more stories like this by subscribing to our mailing list.