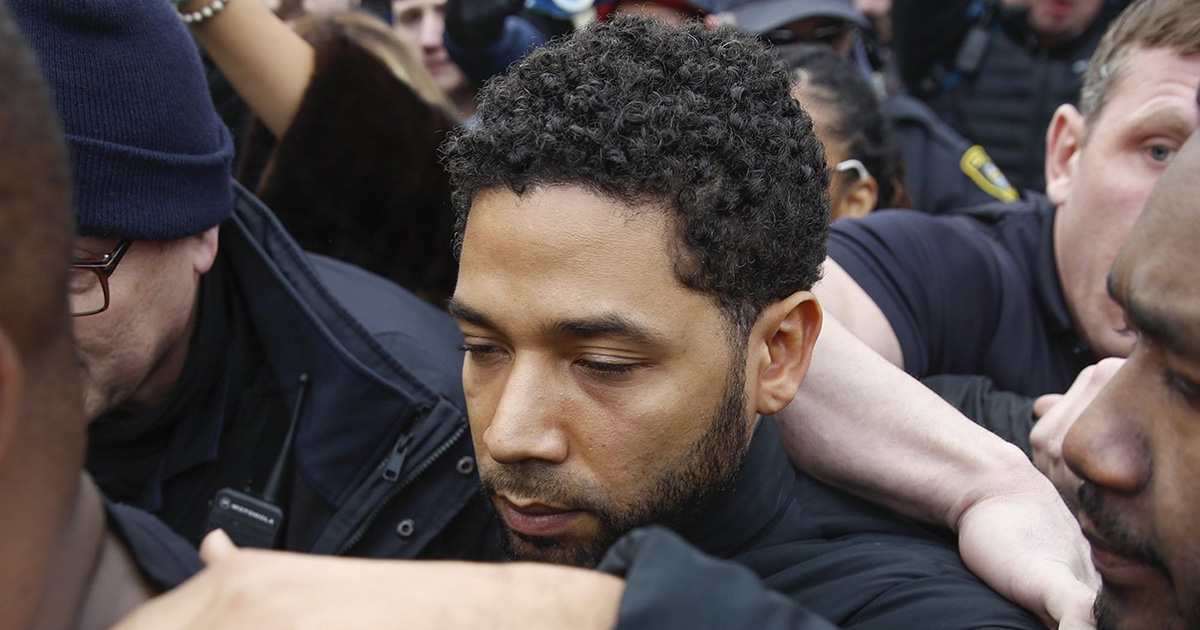 A Chicago grand jury has hit Jussie Smollett with an additional 15 counts of filing a false police report.
The Empire actor was initially charged with one Class 4 Felony charge of disorderly conduct last month, but a grand jury applied that charge 15 more times in an 86-page indictment that was returned Thursday (Mar. 7).
Each new charge doesn't pose any additional prison time but carries a maximum probation sentence of four years. Smollett now faces a maximum sentence of three years in prison or probation and a $25,000 fine.
Smollett claimed on January 29th that he was assaulted by two masked men who yelled racist and homophobic slurs at him. The 36-year-old actor, who is black and gay, also said his attackers poured a chemical substance he believed was bleach and also put a noose around his neck.
CWB Chicago reports that the grand jury's indictment states that Smollett lied about the attack to two separate police officers—the beat cop who took his initial report and a detective who conducted a follow-up interview that same day.
According to CWB Chicago:
In one set of charges, the grand jury found that Smollet filed a false police report around 2 a.m. on Jan. 29th in which he told an officer that he was attacked near 341 East Lower North Water Street by two unknown men who were dressed in black and one of whom wore a ski mask.

The jury further found that Smollett told the original officer that the attackers called him racial and homophobic slurs and struck him in the face with their hands.

The police report connected to these charges also indicate that Smollett claimed that a noose had been placed around his neck and a "chemical" had been poured on him.

The second set of charges returned by the grand jury involves Smollett's alleged false reporting of the incident to a police detective later the same day.

Additional details that Smollett apparently included in the second interview include: the men approached him from behind, Smollett fought back, and all three men fell to the ground where Smollett said he was kicked in the back and felt someone pulling on his neck.

During this interview, Smollett also told the officer that one offender was a white male wearing a black mask with an open area around the eyes that exposed the attacker's skin, the grand jury found.

While announcing the initial charge against Smollett last month, Chicago Police Superintendent Eddie Johnson said his department believed that Smollett was also responsible for mailing a threat letter to himself that set the stage for the purported hate crime.

Nonetheless, no charges were brought against Smollett in connection with the letter by the grand jury.

The new charges against Smollett each carry a potential sentence of probation to four years if convicted.

Realistically, though, Smollett is unlikely to be convicted on more than a fraction of the charges. Most Cook County criminal cases are resolved through plea bargains in which a defendant pleads guilty to one and, rarely, two counts of an indictment in return for a favorable sentence.

Only by going to trial do most defendants run the real risk of being convicted of more than one or two counts.
Smollett is accused of hiring brothers Abel and Ola Osundairo to help him stage the attack.
The brothers told police the actor paid them $3,500 and promised them an additional $500 which they would get when they returned home from a trip to Nigeria. They said Smollett's motive was that he wanted a higher salary on Empire.
Before he was arrested, the actor went on Good Morning America, where he cried and insisted he was telling the truth amid public cynicism.
Fox has said it's "considering its options" in light of Smollett's arrest. He won't appear in the final two episodes of Empire that are scheduled to air later this year.
Smollett's attorneys are due back in court next week.
The actor and his legal team have denied the allegations against him and say that he's been the victim of police and prosecutorial misconduct.
Smollett's lawyers said his presumption of innocence was "trampled" and the entire investigation into the attack has been flawed from the beginning.
Be the first to receive breaking news alerts and more stories like this by subscribing to our mailing list.