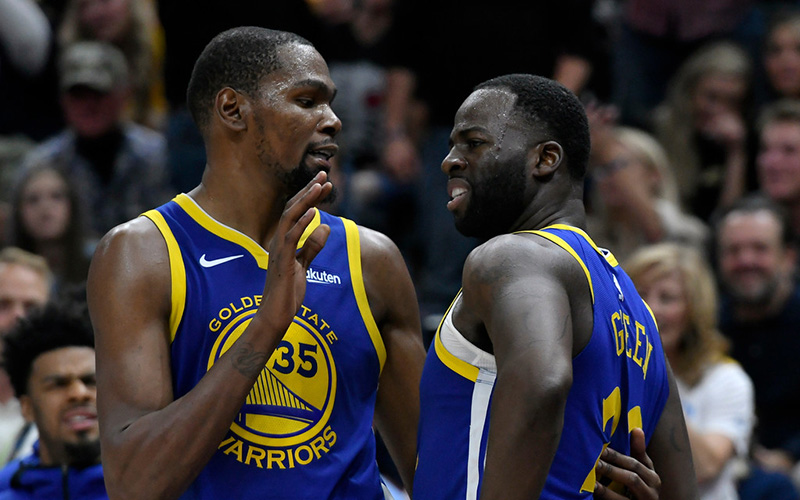 At the conclusion of the 2018-2019 NBA season, Kevin Durant is expected to opt out of his contract next summer and become a free agent.
Earlier this week, he got into a pretty bad verbal altercation with teammate Draymond Green during and after Monday night's (Nov. 12) overtime loss to the L.A. Clippers. Now, at least one of Durant's teammates are saying that he probably won't be coming back next season.
We're sure you're already aware of went down, but in case you're not or need a refresher, here's a quick recap:
Draymond Green fudged up the final possession of regulation against the Clippers Monday night by choosing not to pass Durant the ball, instead trying to do it all himself and fumbling the ball away, causing the Warriors to not get a shot off, which could have put them up at least 2-3 points over the Clippers and they would have won the game (instead of going into OT).
Before OT, Kevin and Draymond yelled at each other, with their fellow teammates trying to act as mediators. After the game, which ended in a 121-116 loss (their second defeat in the last three games), Green's teammates loudly confronted him for his decision-making on the final play of regulation in what was described as one of the most intense exchanges of the Golden State Era.
At one point, Green also reportedly called Durant a "bitch" and is said to have challenged him about his impending free agency, saying that Durant was making the season about himself with how he's handled the situation.
Now, with that said, you may be asking yourself, where does that leave the Warriors? Apparently, they aren't in a good space, as one anonymous teammate told Marcus Thompson of The Athletic:
"With what was said, there is already no way Durant is coming back. The only hope is that they can say this summer, 'See, KD. We've got your back. We protected you from Draymond.'"
Which explains why the Warriors suspended Green with no pay in last night's game against home game the Hawks, instead of simply fining him. The Warriors wanted Draymond to be punished publicly, not just internally, to show KD they have his back.
For what it's worth, this is far from the first time Kevin Durant and Draymond Green have had on-court issues. Green yelled at a nearly silent Durant in a January 2017 loss to the Memphis Grizzlies, and the two got into another back-and-forth a month later in a loss to the Sacramento Kings. Green was also spotted yelling at Durant in the 2018 Playoffs in Game 7 against the Rockets—even though the turnover was his fault.
Durant has said before that he doesn't get mad with Green when he acts like this, so the latest exchange likely won't lead to any long-standing chemistry issues with the (currently) best team in the league for two straight seasons.
Hopefully, everyone on the team is at least professional enough to put all of this aside so that they can bring home their fourth championship trophy in the past five seasons (their third straight).
The real challenge at this point, though, would be for Steve Kerr and everyone else to remain focused and keep their eyes on the prize—the coveted Larry O'Brien trophy—and not all the distractions. So, if they're smart (which, they are, despite their internal beefs) they will keep downplaying what happened, like Coach Kerr:
"Nobody ever talks about Kevin's free agency."

– Coach Kerr on if KD's upcoming free agency has affected the locker room. pic.twitter.com/MpNsbArCAP

— Warriors on NBCS (@NBCSWarriors) November 14, 2018
Be the first to receive breaking news alerts and more stories like this by subscribing to our mailing list.