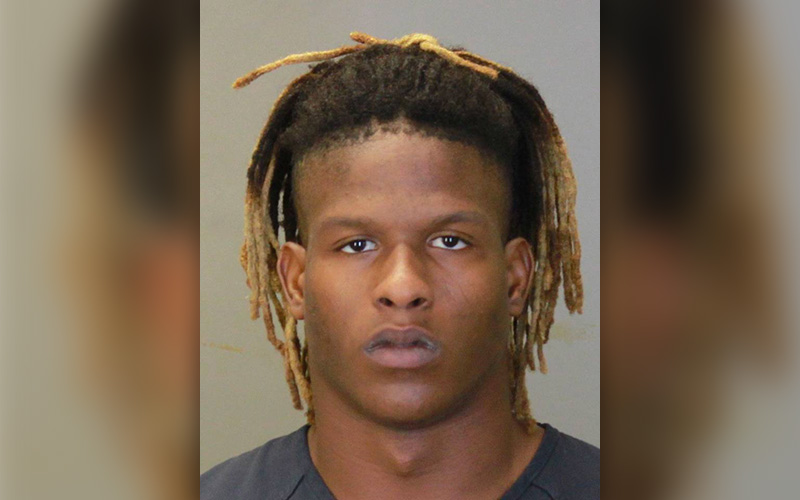 Justin Crawford, a former Georgia high school and college football star and NFL flameout, was arrested last weekend for sexually assaulting a 12-year-old girl who is related to him.
Police said Crawford, 23, was spotted by his wife in the living of the couple's home in Columbus, GA standing over the young girl while he had an erection at about 5 a.m. Saturday (Oct. 13), the Ledger-Enquirer reported.
Crawford's wife, Chakeya Crawford, later said that she only saw him exposing himself and he immediately ran into the kitchen to cover up.
When she questioned her husband about what had happened, he denied any wrongdoing, and she went back to bed with the hopes of revisiting the incident at a later time. (Ed. note: First of all… WTF?!)
"I did not see anyone having sex, or I would have called police right away," Mrs. Crawford later told the Ledger-Enquirer. She said when she asked her husband why he ran, he told her, "You scared me. That's why I ran."
When she took the 12-year-old to the child's mother, she asked what happened, and that's when the girl explained everything. She said when she was asleep in the living room, Crawford walked in and had her perform oral sex on him before they had sexual intercourse.
The girl was taken for a medical exam that included compiling a "sex assault kit" to collect any DNA evidence, Detective Mark Scruggs said.
When questioned by police, Crawford initially denied any sexual contact with the girl, but later admitted to having oral sex and intercourse with her, claiming that the whole thing was her idea, Det. Scruggs said.
A judge found probable cause to send Crawford's case to Muscogee Superior Court and ordered him to be held without bond, according to the Ledger-Enquirer.
Crawford now faces felony charges of incest, sodomy and enticing a child for indecent purpose, jail records show.
Crawford—a native of Columbus, GA—was named the Big 12 Newcomer of the Year in his senior season at West Virginia University after transferring from Northwest Mississippi College following his sophomore season.
While at junior college, he was named the National Junior College Athletic Association's Offensive Player of the Year.
During his time at West Virginia, Crawford racked up more than 2,200 rushing yards with 11 touchdowns in two seasons. He was considered an exceptional running back who rushed for 331 yards in a game against Oklahoma in 2016 when he was a college junior.
Crawford signed as an undrafted free agent with the Atlanta Falcons in May, but, according to the team's website, he was cut from the roster in September during the preseason. The Atlanta Legends of the Alliance of American Football also said Crawford was waived after his arrest.
Be the first to receive breaking news alerts and more stories like this by subscribing to our mailing list.