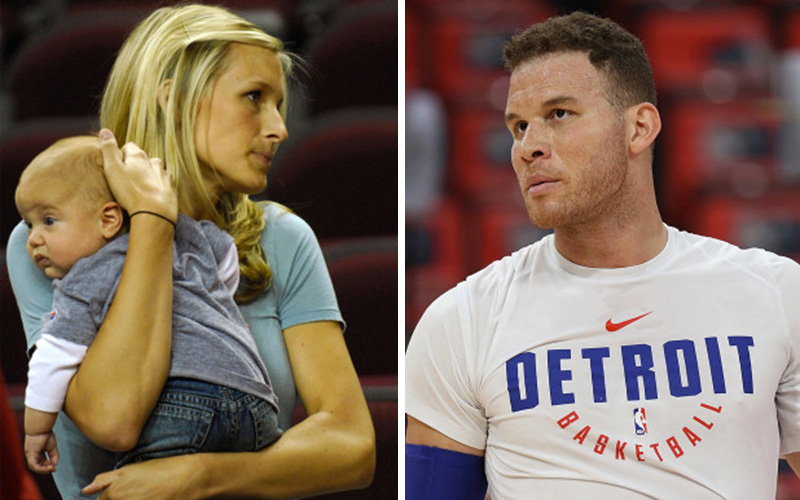 Blake Griffin of the Detroit Pistons has reportedly reached a child support deal with his baby mama Brynn Cameron, and there are reports that he has been ordered to pay her $258,000 per month.
Yes, you read that right, Blake Griffin has reportedly been ordered to pay his baby mama a QUARTER MILLION DOLLARS every month for child support. That adds up to at least $3 million per year! YIKES.
Blake and Brynn had two children together during their 8-year relationship, and they were supposed to get married in 2017, but Blake called things off at the last minute and started dating Kendall Jenner.
In the court documents outlining their child custody and support agreement, Cameron claimed Griffin kicked her and their two children, 5-year-old Ford and 2-year-old Finn from his $12 million Pacific Palisades mansion. And back January, Cameron said she was "reduced to being homeless" and only had $100 in her personal bank account.
The pair were set to go head-to-head in a trial that was scheduled to begin Wednesday (Aug. 1), but they were able to come to an agreement privately.
According to Radar Online, a judge ordered Griffin to fork over $258,000 every month for their two children. TMZ, however, says that while Griffin's monthly payment is "significant," the $258,000 number is "wrong." They didn't explain whether the actual number is higher or lower.
Cameron, who played basketball when she attended college at USC, said she is currently employed and is taking care of their children, as well as another child from a previous relationship with former USC quarterback Matt Leinart.
Griffin and Cameron were locked in the battle over the NBA star's income and assets, with Cameron claiming Griffin is "uber-rich"and should pay all costs, including her attorney's fees, which totaled to about $375,000.

According to court documents, 29-year old Griffin earned an average monthly salary of $2.2 million in 2016.

For the purposes of determining monthly child support, however, the court in March determined Griffin's annual income from the Detroit Pistons and other sources, including his investments, to be $35 million.

Griffin said as of July 23, he is paying the lease for a five-bedroom home in Manhattan Beach for Cameron and the children. The documents also stated Griffin continues to pay for medical insurance and other costs since the children were born.

A judge signed an order in July 19, which stated both sides shall mutually agree on all school and additional school expenses, but Griffin will pay for the kids' extracurricular activities.

"The focus is on the minor children's reasonable needs consistent with Petitioner's station in life," a judge wrote in the July 19 order. "Any expenses paid by Petitioner that provides a direct benefit for the parties' children is relevant. By way of example, if Petitioner has taken the minor children to a Lakers game or to the World Series or spent funds on the minor children on shopping sprees, information/documentation regarding same would be relevant."

Another judge in March granted Griffin and Cameron joint legal and physical custody of Ford and Finn.

In the meantime, Cameron still has the ongoing civil suit against Griffin where she claimed the NBA star breached their oral contract.

In that Feb. 14 suit, Cameron said Griffin — who is now dating model Francesca Aiello after splitting from Jenner in April — refused to "provide promised financial support" even after he asked her to "give up her career goals and aspirations to raise their children and support" his career.

"Griffin cared more about the glamour of dating a Hollywood celebrity than the day-to-day responsibilities of being a father and family man," Cameron's attorneys wrote in the civil suit.

A court date has been scheduled for February 2019 for the civil suit.
Be the first to receive breaking news alerts and more stories like this by subscribing to our mailing list.