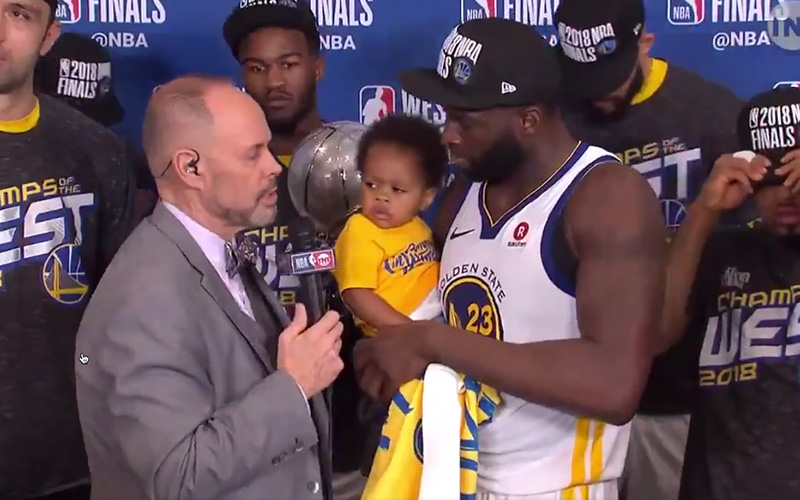 After Golden State Warriors defeated the Rockets in Game 7 of the Western Conference Finals in Houston, Draymond Green's adorable 4-month-old son, Draymond Jr., stole the show at the post-game trophy ceremony.
Draymond Jr. enjoying the ceremony pic.twitter.com/GI2xwAEUc9

— 95.7 The Game (@957thegame) May 29, 2018
While Draymond was being interviewed by sportscaster Ernie Johnson Jr., little Draymond looked like he was giving Johnson the side-eye—a hilarious moment that quickly went viral on Twitter.
Why is Draymond's baby is side-eyeing Ernie? ??? pic.twitter.com/iTmSTx8L3v

— ChuckModi (@ChuckModi1) May 29, 2018
When you don't trust Ernie.@NBAonTNT #NBAPlayoffs2018 pic.twitter.com/EGzvkGQ3Pd

— Cy Amundson (@CyAmundson) May 29, 2018
Draymond Green son was giving the dude the side eye ?????? pic.twitter.com/s5CrUanU0H

— OJ Smitty ? (@OJsmitty__) May 29, 2018
Draymond Green's toddler has some amazing side-eye for Ernie Johnson, Jr. in this post-game interview. #WarriorsRockets #GSWvHOU pic.twitter.com/cTtdrkjVHQ

— Justin J Carter (@JustinJCarter) May 29, 2018
Check it out, @Money23Green's baby already got his game face on for @KingJames and the Cavs. pic.twitter.com/vInjYcMbQE

— Peter Hartlaub (@peterhartlaub) May 29, 2018
Draymond Jr. has always been my favorite Warrior.

— Dieter Kurtenbach (@dkurtenbach) May 29, 2018
The first half of Game 7 was a struggle for the Warriors, but Golden State got their sh*t together in the second half, outscoring the Rockets 33-15 in the third quarter.
Golden State ended up closing out the game 101-92 to claim the Western Conference title for the fourth straight year. They'll face Cleveland—also for the fourth year in a row—in the 2018 NBA Finals. Game 1 will be hosted in Oakland.
Be the first to receive breaking news alerts and more stories like this by subscribing to our mailing list.