27-year-old Derrick Lee Clarke and his 28-year-old sister, D'Nea G. Stephens, both form Leitchfield, Kentucky, were recently indicted on incest charges after they were caught having sex with each other.
According to Kentucky's Wave 3 News, the alleged incident took place in January 2018. Clarke was also indicted for being a repeat felony offender, Wave 3 reported.
According to the Grayson County Detention Center website, Clarke is facing several other felony charges, including first-degree rape (incapable of consent/physically helpless and with serious physical injury), first-degree sodomy, burglary, and theft by unlawful taking.

In late January, only seven days after the alleged incest took place, Stephens was arrested in Grayson County on two counts of wanton endangerment and DUI.
Clarke is currently being held on $300,000 bond in the Grayson County Detention Center in Leitchfield. Stephens, however, wasn't listed as an inmate.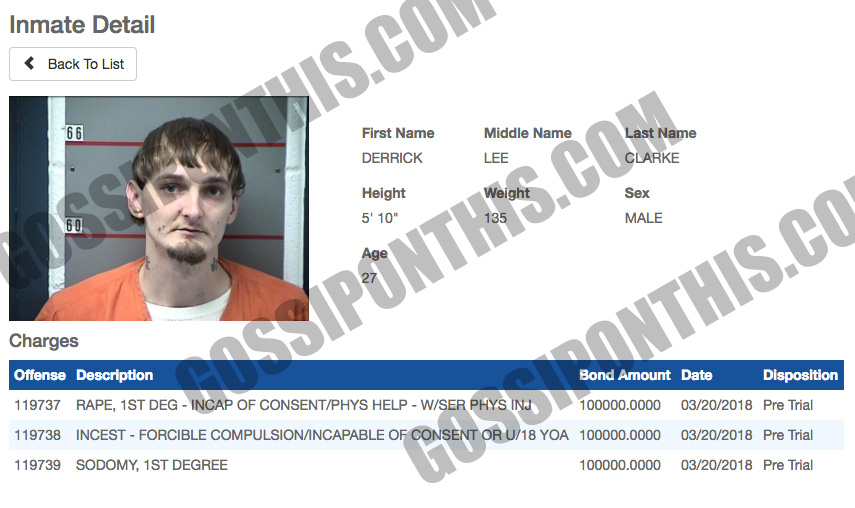 In case you didn't know, having sex with a sibling or parent is not only nasty as hell, but also illegal as hell, most likely because procreating with a close family member (such as a sibling or parent) increases the likelihood of the child having a number of birth defects.
Stephens and Clarke's hometown boasts a modest population of just under 7,000, according to the 2016 census, so while their population is extremely small, that's no excuse for a brother and sister to be bumping uglies.
In the state of Kentucky, which is known for its inbreeding problem, charges are felonies, and in this case, based on Clarke's charges, at least one party of the incest was incapable of consent due to the victim being physically helpess or mentally incapacitated, which means that he could be looking at anywhere from 10 to 20 years in prison.
Be the first to receive breaking news alerts and more stories like this by subscribing to our mailing list.