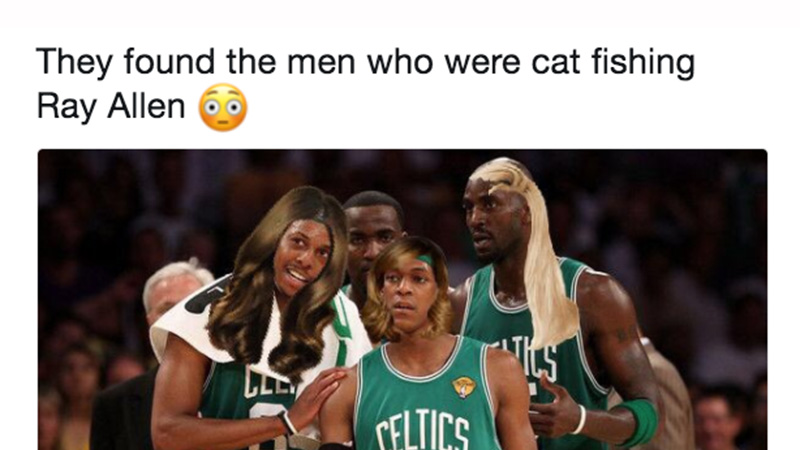 Twitter went crazy over reports that former NBA player Ray Allen is a victim of a catfishing scheme in the year 2017. Like… how though?! You never FaceTimed "her," bro?!
On Monday (Nov. 20), a man named Bryant Coleman told a Florida court that he was being stalked by Ray Allen, and today (Tues, Nov. 21), Allen responded with an emergency motion saying that he was the one being stalked by Coleman.
Allen admitted that he'd unwittingly exchanged a bunch of flirty and sometimes explicit text messages with Coleman, who he believed was a woman. Turns out, Ray Allen (who has been married for almost 10 years, btw) was being Catfished by a man pretending to be "a number of attractive women," he said.
Allen's court motion states:
When Ray realized he was the victim of this impersonation, he terminated these communications. Mr. Coleman, who had become obsessed with Ray even though they had never met in person and even though Ray wanted nothing to do with him, refused to accept an end to their communications.

Coleman continued to post about Ray using various online accounts. Coleman did not limit these posts to Ray. He posted about Ray's wife, Ray's children, Ray's dog, Ray's homes, Ray's wife's restaurant, and numerous other personal items. Coleman not only posted about these things, he would actually post while physically located inside Ray's wife's restaurant in Orlando. And he would make sure they knew it, tagging Ray and his wife on those posts.
Allen claimed in the court documents that Coleman threatened to expose their online interactions, the Associated Press reported, and the two eventually "struck a deal to keep everything private."
However, Allen said that Coleman has reneged on their deal by continuing to harass him and his family via social media in what the 10-time NBA All-Star's motion described as "cyber-stalking."
"Ray has not made any contact with Coleman, and most assuredly is not stalking him either in person or online … Ray wants nothing to do with Coleman and merely wishes to be left alone," the motion read.
"Ray regrets ever engaging with this person online and is thankful they never met in person," Allen's attorney, David Oscar Markus, said. "This experience has negatively impacted Ray, and he hopes that others might use his mistake to learn the dangers of communicating online with strangers."
When Ray Allen's catfishing scandal hit the internet, people flocked to Twitter to collectively ask "WTF?!" with a bunch of jokes and memes.
Ray Allen out here getting catfished in the year 2017 pic.twitter.com/ib6AFW8FDy

— Nick Mullens Stan Account (@e_m_d22) November 21, 2017
Ray Allen pic.twitter.com/4TnEu2lCC9

— MY TEAM SUCKS 7-5 (@iBe_Vibin) November 21, 2017
When Ray Allen's comeback that you thought was trending aint about a comeback….? pic.twitter.com/fJ3dkT6WDH

— Harvey Specter™ (@theJay_Show) November 21, 2017
Hoping Ray Allen was coming back to the league then seeing why he's trending pic.twitter.com/cYIeSe3mwf

— Ghost (@SonOfaPharaoh_) November 21, 2017
Seeing Why Ray Allen Is Trending pic.twitter.com/VHBpVJjdsB

— #Eagles (6-6) (@supafuturelove) November 21, 2017
*Clicks to see why Ray Allen is trending* pic.twitter.com/ixRURM1moT

— Bulletin (@BULLETlN) November 21, 2017
Man twitter never disappoints. I just fell out when I seen why Ray Allen is trending. ?????? pic.twitter.com/BftNmbLsZA

— Incumbent Asshole (@beardedheaux) November 21, 2017
When you realize why Ray Allen is trending… and it definitely ain't about basketball pic.twitter.com/v3sHYxFzJL

— LaurenNYknicks ? (@AaliyahNevaeh7) November 21, 2017
Ray Allen retired just to talk to women online and get catfished pic.twitter.com/ozX2DXMJj2

— ImHonestTho (@ImHonestTho) November 21, 2017
Ray Allen should probably only shoot his shot on the court.

— Robin Lundberg (@robinlundberg) November 21, 2017
https://twitter.com/TalibBabb/status/933025411432435714
Ray Allen pic.twitter.com/r7mdzmG0AM

— ????????(?-?) ???????(??-??) (@caymiendavis) November 21, 2017
When you get that "you up?" text from ray Allen on one of your burner accounts pic.twitter.com/7DqImRe54a

— LAbronJamesHarden™ (@lbjamesharden) November 21, 2017
Ray Allen is no longer Jesus Shuttlesworthpic.twitter.com/tENqJGC1tK

— Souf Sil Fa Lil (@Nicktheegr8) November 21, 2017
The men who were repeatedly catfishing Ray Allen: pic.twitter.com/mmzSYjq7Fd

— Cameron (@ThatManCam) November 21, 2017
https://twitter.com/andrewbrasi/status/933052649758478336
https://twitter.com/TalibBabb/status/933025411432435714
Remember when Ray Allen didn't know how to differentiate tweets and DMs? pic.twitter.com/tc5a5mAb4S

— ?y ?pace???p? ???? ?? a dodge (@BarkyBoogz) November 21, 2017
https://twitter.com/Smashed/status/933027957303586816
Ray Allen in internet trouble? I for one am shocked pic.twitter.com/ZhNVZkQRPM

— Big Cat (@BarstoolBigCat) November 21, 2017
https://twitter.com/KobeTruthN/status/933030876786470912
When Ray Allen Dms you again
pic.twitter.com/AtR05mhryA

— benson (@bluke123) November 21, 2017
https://twitter.com/PrimeDruss/status/933138798136791040