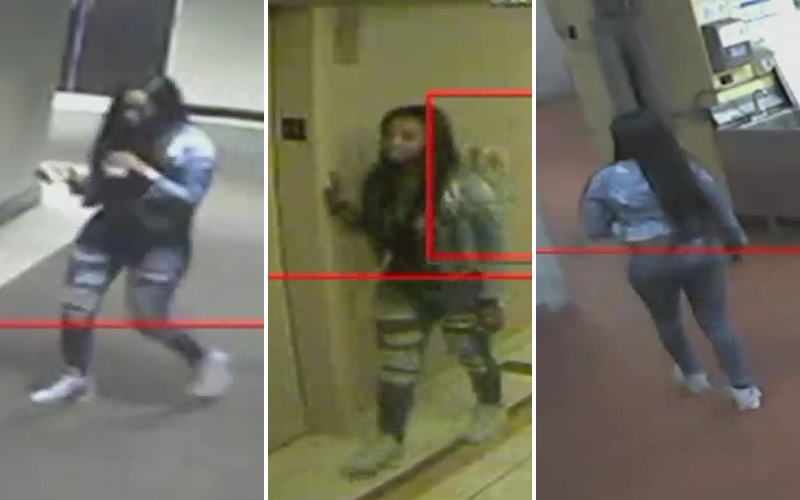 Rosemont police have released surveillance video footage of Kenneka Jenkins that captured her final moments before being found dead in a walk-in freezer at Crowne Plaza Hotel in Chicago.
The raw video footage released on Friday (Sept. 15) shows the 19-year-old exiting an elevator and staggering around the halls of the hotel. She is seen going through doors, back into the hallways, and eventually into an unused kitchen area.
However, what is not seen on the footage released is Kenneka entering a freezer. It has also been revealed the old freezer she was found in did not have a lock and could be opened from the inside.
On Thursday (Sept. 14), Chicago activist Andrew Holmes claimed he Rosemont police showed him video of Kenneka walking into the freezer alone and never coming back out. Kenneka's mother Tereasa Martin and her lawyer, Larry Rogers Jr. said on Friday police did not release any video that Holmes described to them.
"Despite request for all evidence, we have only been provided snippets of video, none of which shows Kenneka Jenkins walking into a freezer," Rogers said in a statement. "Serious questions remain as to how she ended up in a Crowne Plaza Hotel freezer and why it took a day and a half for the hotel to find Kenneka."
A cause of death hasn't yet been determined after an autopsy and a toxicology report may take weeks or months.
Kenneka was found dead on Sunday (Sept. 10) after she disappeared from a party she and her friends attended at the hotel. Social media has become invested in her mysterious death and have used social media videos to theorize she was murdered.
There have been several protests outside of the Crowne Plaza Hotel seeking justice for Kenneka. Crowne Plaza has offered to pay for her funeral expenses.
Kenneka's family was able to review the footage prior to it being released to the public.
Be the first to receive breaking news alerts and more stories like this by subscribing to our mailing list.