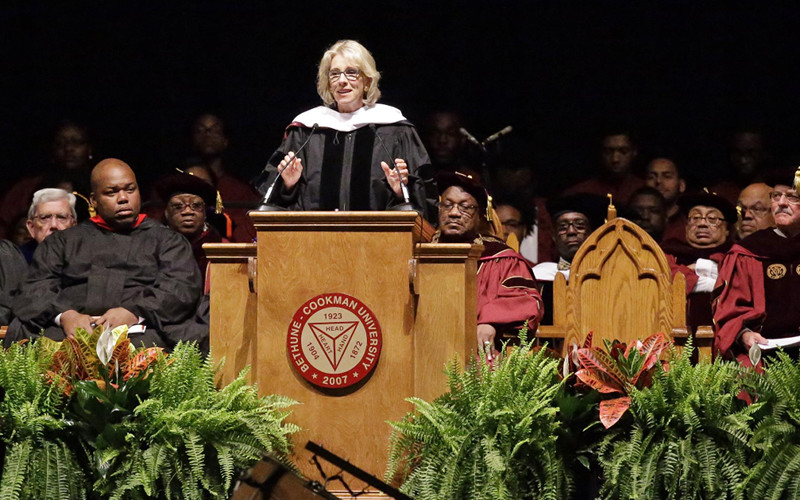 Education Secretary and billionaire Betsy DeVos gave the commencement speech at a historically black college. And yep, it went exactly how you think would, possibly even worse.
DeVos gave the commencement address to the graduating seniors of Bethune-Cookman University in Daytona Beach on Wednesday (May 10). However, basically her entire speech was drowned out by "deafening" boos, chants, and heckles from the students and families attending the ceremony.
Many in Bethune Cookman University graduating class turning their #BackstoBetsy Davos during commencement speech @NBCBLK pic.twitter.com/tUQTvW7ZxH

— Mariana Atencio (@marianaatencio) May 10, 2017
More than half of the graduates stood in protest with their backs turned away from the Education Secretary.
https://twitter.com/mollyhc/status/862351668880519171
B-CU President Edison Jackson attempted to gain some control of the situation by briefly taking the mic away from DeVos and issuing a threat to his students. "Your degrees will be mailed to you. Choose which way you want to go."
Chants from the crowd as Jackson asks the graduates to be seated, most have returned to seat as DeVos speaks again. Loudly booed.

— adam harris (@AdamHSays) May 10, 2017
The warning did little to tame the raucous crowd. Some students took their seats, while others remained standing with their backs turned away from DeVos. As heckling continued, some people were escorted from the building, holding their fists in the air as they exited. The crowd cheered and applauded in solidarity.
Disapproving boos and outbursts would get even louder each time DeVos mentioned Donald Trump. People began chanting "Hell nah" as DeVos acknowledged the "different life experiences" of the students and herself that lead them all to be in the same room on Wednesday.
However, the loudest boos came when DeVos stated she intended to visit the gravesite of the private university's founder Mary McLeod Bethune, a respected civil rights activist and educator.
.@BetsyDeVos says she will visit Mary McLeod Bethune's gravesite@bethunecookman grad class: *boos* pic.twitter.com/u6WS8WV7yy

— Nolan D. McCaskill (@NolanDMcCaskill) May 10, 2017
$10 @BetsyDeVos had NO clue who Dr. Mary Mcleod-Bethune was before she was asked to speak. smh

— Amanda Seales ?? (@amandaseales) May 10, 2017
DeVos was invited to speak by B-CU President Jackson, who met the secretary during Trump's controversial meeting/photo op with several HBCU leaders in February. The invitation was immediately protested by B-CU students and faculty. The NAACP chapter in Florida even called for Jackson's resignation.
#BCU students will not betray the legacy of their founder! They will turn their #BackstoBetsy join in solidarity! https://t.co/FSKFb2g50t pic.twitter.com/Z05A0zunYi

— ColorOfChange.org (@ColorOfChange) May 9, 2017
However, Jackson defended his commencement speaker choice, stating that he wanted to take the opportunity to help DeVos better understand the importance of HBCUS and the need for governmental financial support.
"We are always about the business of making new friends, and if you don't have friends, it's very difficult to raise money. Her department controls 80% of the revenue that comes into our school. Why wouldn't we want to do that?"
DeVos' B-CU visit comes just days after Trump suggested a program that provides funding for HBCUs could be unconstitutional because it's based on race. He has since walked back on that statement and he and DeVos reiterated their "unwavering support" for HBCUs.
DeVos, a champion of private schools and vouchers, has also come under fire for her characterization of HBCUs. During the February gathering of HBCU leaders at the White House, she described historically black institutions as "pioneers of school choice," dismissing the fact that such schools were founded because blacks often weren't allowed in colleges due to segregation.
The Education Secretary didn't face the boos alone. Omarosa Manigault, Trump administration senior policy director, was also in attendance and was booed when she was acknowledged. "Ladies and gentleman, please, you don't know her, nor do you know her story," Jackson responded.
Unfortunately, we do know Manigault and DeVos. And despite what they say, their actions show that neither of them seem to actually want to work in the best interest of HBCUs.
Honestly, President Jackson would have just had to send my diploma in the mail. The fact that B-CU graduates opposed DeVos and spoke up should be applauded. They are the leaders of tomorrow and are starting out with a bang by being at the forefront of "The Resistance."
Be the first to receive breaking news alerts and more stories like this by subscribing to our mailing list.