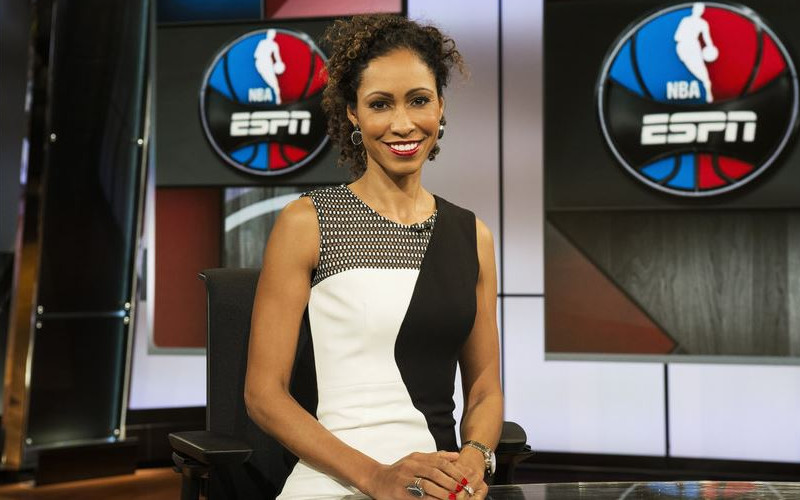 They say you should never revel in someone else's misfortune. But sometimes the universe works in hilarious ways. Black Twitter practically threw an impromptu party after learning Sage Steele was fired from ESPN.
Though Black Twitter celebrated like she was, Steele was not technically fired. ESPN announced Tuesday (Apr. 4) that Michelle Beadle will replace Steele as the host of NBA Countdown, effectively immediately.
Many believed the controversial sportscaster was exiting the network as ESPN is expected to make layoffs soon. However, Steele's role is merely changing.
She will continue to appear on SportsCenter on the Road and will have an "expanded on-site presence at events such as the Masters, World Series, Super Bowl, the College Football Playoff, and College Football National Championship."
Though, avid ESPN viewers say this is clearly a demotion.
Steele has faced heavy social media criticism recently due to some of her viewpoints. She opposed athletes kneeling or not standing during the National Anthem and adheres to the dreaded/ignorant "All Lives Matter" phrase in opposition to the Black Lives Matter movement.
She recently became a social media topic because she was upset that protesters against 45's Muslim travel ban caused her to miss her flight.
So, all of this problematic behavior aided in Black Twitter's delight that she had been removed from the popular ESPN show.
Sage Steele was just clowning on Kaepernick for being unemployed….life comes at you fast pic.twitter.com/kGI7zFxHSv

— trash staples (@3230PoppyStreet) April 4, 2017
Also Twitter when Sage Steele was replaced by Michelle Beadle. ?? pic.twitter.com/rk8cKPQp2C

— Erick Fernandez (@ErickFernandez) April 4, 2017
So Sage Steele has been buck dancing and cooning for the past 2 years and STILL got replaced by a white woman. pic.twitter.com/Zb4bZeLM9T

— THE Classy Gentleman (@gdbell87) April 4, 2017
Tomi Lahren and Stacey Dash are about to start the All Lives Matter News Network with Sage Steele on sports and a climate denier on weather

— brion. (@whoisbrionrock) April 4, 2017
When Sage Steele and Stacey Dash see Tomi Lahren and KellyAnn Conway pic.twitter.com/TZ5aS5m8bb

— (V)ike C. (@MC_Proper) April 4, 2017
Sage Steele is being replaced
Black people: pic.twitter.com/Ar244uoL93

— Give it up Deelishis you look like a man (@_Petty_Adjacent) April 4, 2017
First time ever black ppl are happy that a black person losing their job to a white person. Bye Sage Steele. LOL pic.twitter.com/ofywh9GM0j

— Jay Anderson (@jayserius) April 4, 2017
We knew something wasn't right with Sage Steele when this happened. pic.twitter.com/VTIe5YpHVw

— Capitán Caveman (@TechMan103) April 4, 2017
Sage Steele came in for work and ESPN was like pic.twitter.com/CLNXDSxlpC

— Noah Calhoun (@JustMe_Lo) April 4, 2017
When ESPN broke the news to Sage Steele that she was getting replaced on NBA Countdown: pic.twitter.com/QmIzowFC5c

— BK (@bk17__) April 4, 2017
https://twitter.com/ACoachNamedJosh/status/849374029618315265
sage steele made it a point to separate herself from the negro community so if they wanna tap dance on her grave, i'll provide a playlist.

— Shyne Coldchain Jr. (@Smooth_Orator) April 4, 2017
It's safe to say that we won't miss Sage Steele!
Be the first to receive breaking news alerts and more stories like this by subscribing to our mailing list.