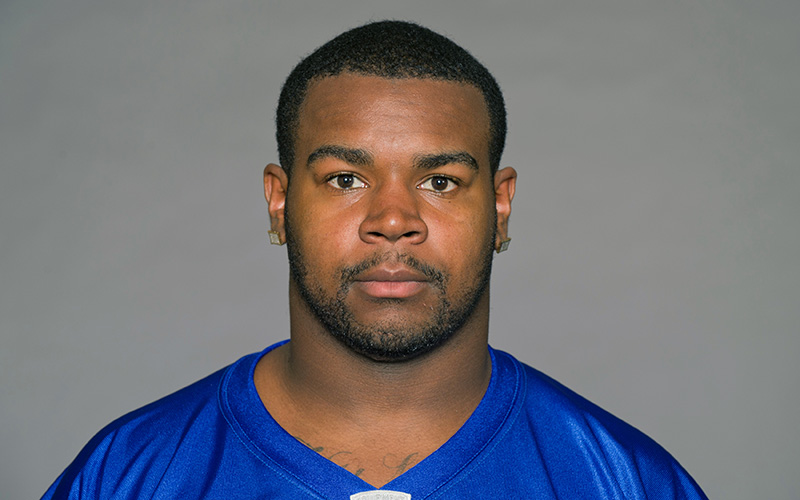 Former Buffalo Bills linebacker Robert Eddins and his friend were found shot to death Tuesday night (Dec. 20) in the basement of Eddins' home.
Here are some things to know about the ongoing double homicide investigation.
1. Who was Robert Eddins?
Robert Eddins was a 28-year-old Detroit native who had a brief stint in the NFL. Undrafted in the 2011 season, he managed to sign on with the Buffalo Bills as a free agent. After being used on the practice squad, he fought his way up the roster, eventually earning a spot on the team and playing during the regular season as a linebacker.
#BREAKINGNEWS Native Detroiter and former #NFL player Robert Eddins 1 of 2 men found shot to death inside his #Detroit home. @FOX2News pic.twitter.com/SIZrs7h3tP

— Dave Spencer (@NewsDSpencerFox) December 21, 2016
In 2012, when asked about his experience with the Bills, Eddins told the New York Democrat and Chronicle, "being inconsistent makes you non-existent." After being released by the Bills, Eddins went on to join the Canadian Football League's Roughriders briefly in 2014.
He eventually returned to his hometown of Detroit as a father of three until he was found dead on Tuesday.
2. Eddins and his friend Ricardo McFarlin died of multiple gunshot wounds, and their bodies were found in the basement of Eddins' Detroit home.
Both Eddins and Ricardo McFarlin, 32, were found dead in Eddins' basement with multiple gunshot wounds. The property also appeared to be ransacked. In addition, Captain Kurt Worboys has said that the gas was on from the stove.
"Somebody left it on," he said. "Both the pilots weren't lit. It looks like it was an intentional act." Some believe that the perpetrators were trying to cause a fire to hide evidence.
Ricky McFarland (pic) father of 3, found shot to death along with former #NFL player Robert Eddins in Eddins' #Detroit home. @FOX2News pic.twitter.com/x9Cny7e8l9

— Dave Spencer (@NewsDSpencerFox) December 21, 2016
"They tried to blow the house up, they had the TVs on, the whole house had gas…that's why we can't go in there. The whole house, they ransacked it," Eddins mother told reporters.
3. Eddins' father found the bodies in the basement.
In a cruel twist, it has been revealed that Eddins own father was the one who discovered the bodies. Eddins' father and mother had spoken to their son just the day before he was killed and were gathered outside of his house as police conducted their investigation.
"He played pro football. We are all proud of him," his mother told reporters. "But it is what it is. [We] don't know what happened."
#Detroit double homicide, gas left on at home. Ex @buffalobills LB Robert Eddins found dead with another man.
Family filling the street. pic.twitter.com/2jgjc1Xl2m

— Shawn Ley (@ShawnLeyLive) December 21, 2016
While having to deal with something like this is never easy, the timing has to be especially difficult as it happened less than a week before Christmas.
4. The investigation into the shooting deaths of Robert Eddins and his friend Ricardo McFarlin is ongoing.
As of the publication of this article, the investigation is still ongoing for the Detroit Police Department. While they have clearly determined that the murders, ransacking, and attempted arson were intentional, they have not put anyone into custody yet.
Capt. Worboys has said that more than one person may be responsible, but they have no definitive leads as of yet.
As more developments continue to come to light, we will provide updates.
Be the first to receive breaking news alerts and more stories like this by subscribing to our mailing list.