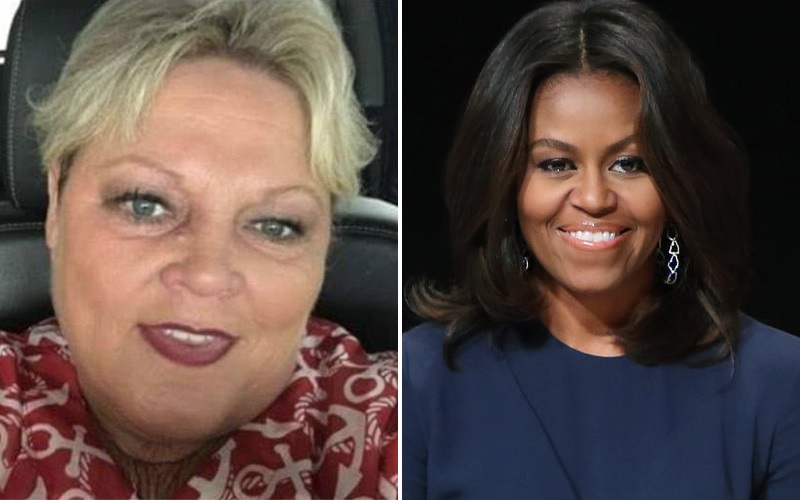 The phrase "watch whiteness work" strikes again. The white West Virginia official who referred to First Lady Michelle Obama as an "ape in heels" on Facebook has been reinstated.
According to a letter sent by Leslie McGlothin, acting director of Clay County Development Corp, Pamela Taylor is expected to resume her duties as director December 23rd. CCDC is a non-profit organization that provides services and financial assistance to elderly and low-income residents of Clay County.
Back in November, Taylor, a Donald Trump supporter, expressed her joy over future First Lady Melania Trump with some good old fashioned racism. She wrote on Facebook:
"It will be refreshing to have a classy, beautiful, dignified First Lady in the White House. I'm tired of seeing a Ape in heels."
Beverly Whaling, mayor of Clay, West Virginia at the time, commented on the post, "Just made my day Pam."
Outrage over the racist comments lead to petitions calling for both Whaling and Taylor to lose their jobs. Whaling resigned days later, while Taylor was "placed on leave."
The West Virginia Bureau of Senior Services has previously stated it does not tolerate discrimination and Taylor's reinstatement could come at the risk of losing state and federal funds.
Via the Charleston Gazette-Mail:
In a letter dated Nov. 14 — the day media reports about Taylor's Facebook became widespread — Roswall warned that "any discrimination of staff or the customers [they] serve" could cause the agency to lose funding from state and federal agencies. The organization received about $1.5 million in federal funding and $363,000 in state funding in 2014.
The Gazette-Mail reports that Taylor has had other troubles at the CCDC. Prior to becoming director, she was "removed" from her position twice. In 1999, she (along with two other employees) was let go when the organization restructured. A judge ordered for them to be rehired within a matter of days.
In 2002, Taylor was accused of pocketing fundraising money. She was rehired months later.
It has also come to light that Taylor doesn't even have the required degrees to serve as director. In 2009, an executive director position with CCDC required a bachelor's degree and 10 years of experience, and Taylor only has a high school diploma. The Gazette-Mail was unable to confirm if these requirements have changed in recent years.
But the problems don't end there. Taylor has been sued twice by CDCC employees on the grounds of wrongful termination. One suit was settled, while the other was dismissed.
So yeah, in my opinion, all of this amounts to whiteness at work. There is no way anyone should have incurred this many issues at one place of employment and keep their job.
The CCDC nor Taylor have commented on the situation since announcing her reinstatement.
Be the first to receive breaking news alerts and more stories like this by subscribing to our mailing list.