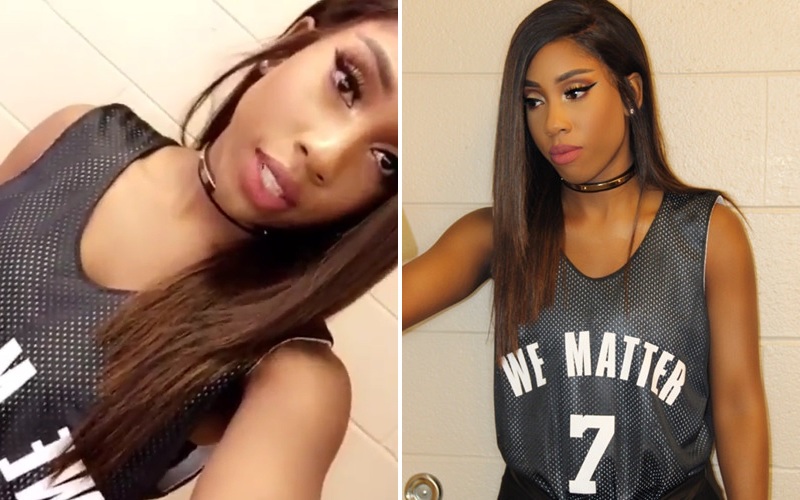 We all know the controversy and debates surrounding statements "Black Lives Matter" and "All Lives Matter." Do we now have to add "We Matter" to the list? According to R&B singer Seyvn Streeter, this may be the case.
The singer says she was banned from singing the National Anthem at the Philadelphia 76ers home opening home game Wednesday (Oct. 27) because of her attire.
"I was suppose to sing the national anthem at the @sixers and @okcthunder game in #Philly but minutes before @sixers organization said I could not because I was wearing a 'We Matter' jersey. WTF!"
https://www.instagram.com/p/BMC7OxYAV-3/?taken-by=sevyn
Streeter told ESPN that she was never given a dress code nor asked to have her wardrobe approved. She says they stopped her from performing about two minutes before walking out on the court. Jamila Worley, a member of the 76ers dance team sang the Star-Bangled Banner instead.
Streeter added:
"I was angry, extremely, extremely angry and disappointed and honestly brought to tears by all of it. It broke my heart. Honestly, I was very excited about being able to perform the national anthem. I was really looking forward to that."
The 76ers is standing by its decision to replace Streeter, but released a statement Thursday (Oct. 27) affirming its commitment to "social change."
"The Philadelphia 76ers organization encourages meaningful actions to drive social change. We use our games to bring people together, to build trust and to strengthen our communities. As we move from symbolic gestures to action, we will continue to leverage our platform to positively impact our community."
It's possible the 76ers was trying to avoid ruffling any feathers. However, "We Matter" is nowhere near as controversial/polarizing as "BLM" or "ALM."
It seems Sevyn Streeter was trying to find a neutral, yet still powerful, balance. "Who was the 76ers organization afraid of offending, 'them' and 'they?'" Patrice Nelson of Hip Hop Wired hilariously wrote.
Be the first to receive breaking news alerts and more stories like this by subscribing to our mailing list.