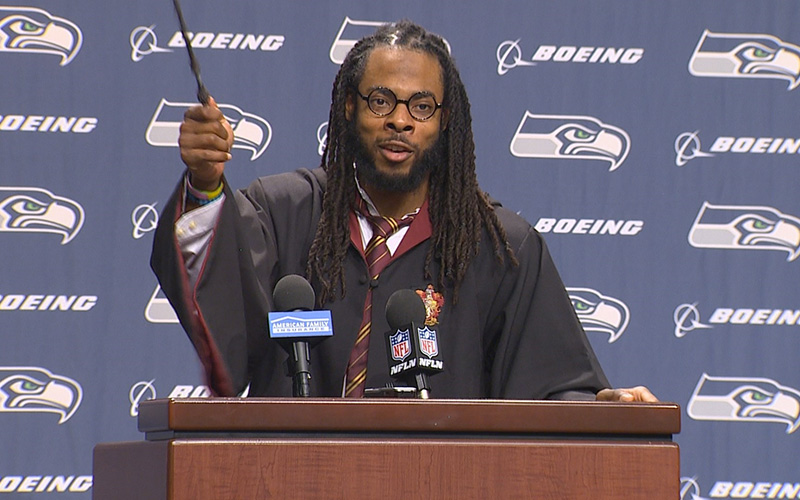 For someone who graduated from Stanford, Seattle Seahawks Cornerback Richard Sherman is a damn fool. The three-time Pro Bowler recently did an entire 17-minute press conference dressed as a wizard from Harry Potter. Turns out, he's a Gryffindor.
Richard Sherman goes full Harry Potter in pre-Halloween press conference. #Seahawks @thenewstribune pic.twitter.com/az0chsAJrZ

— Gregg Bell (@gbellseattle) October 26, 2016
But far be it from him to phone it in, he did more than just dress the part. After walking out playing the Harry Potter theme song, he spent part of the Q&A answering questions about wizarding and stating, multiple times, that he is in fact a wizard.
"Well, I'm definitely a wizard, so if you're asking if I feel like a Muggle again, I don't," he said after being asked how he felt after the brutal overtime game against the Cardinals.
Other topics covered were which is harder, Quidditch or football? (answer, football apparently) and which of the Harry Potter books is his favorite (Order of the Phoenix).
What's tougher, 5 quarters of football or Quidditch? ?@RSherman_25#Halloween pic.twitter.com/Qy7zCFLHSv

— Seattle Seahawks (@Seahawks) October 26, 2016
Eventually the questions turned back to football and the recent tie last Sunday, but not before we got this little gem.
"When you're a wizard like we are out here, sometimes you have to show it to the Muggles out in the world. We've got a lot of wizards – my son's a wizard, Earl Thomas does some magical things, Michael Bennett is Black Santa but he's also a wizard – so you know, you have a good time. I just went to Harry Potter land, I felt like that was home."
Perhaps this explains Seattle's success this year (4-1-1). With multiple wizards and Black Santa, the Saints better look out when the Seahawks come to Nola this week.
Be the first to receive breaking news alerts and more stories like this by subscribing to our mailing list.