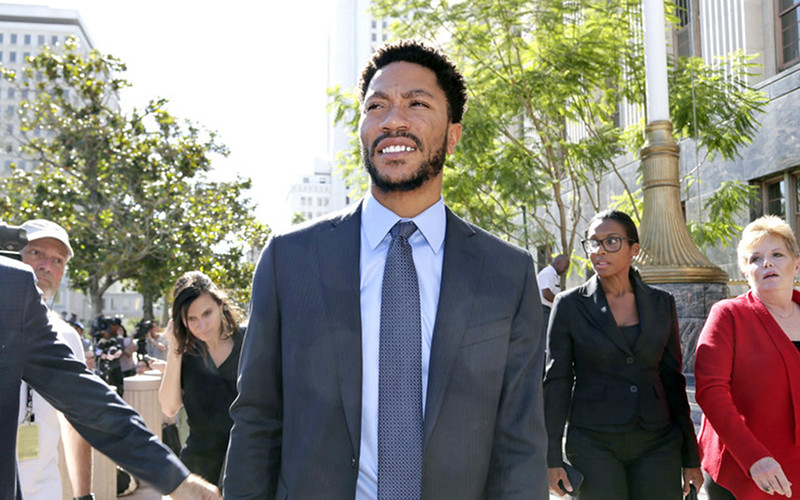 After a two-week trial and less than four hours of jury deliberation, Derrick Rose was found not liable of all charges in the highly-publicized gang rape case.
Rose and two friends, Randall Hampton and Ryan Allen, were cleared of all charges in a civil suit, which included sexual battery, gender violence, battery, conspiracy, emotional distress, and trespassing. A woman (only known as Jane Doe) accused the three of gang-rapping her in 2013.
After being cleared of sexual battery and battery, Rose closed his eyes and tiled his head back. But that was expressive as he got.

— jon greenberg (@jon_greenberg) October 19, 2016
The Knicks player reportedly showed little emotion as the verdicts were read and only answered one question from reporters, noting he now wants to "focus on the season." His lawyer, Mark Baute, then spoke for his client. However, Rose did issue a brief statement.
"I am thankful that the jury understood and agreed with me. This experience and my sensitivity to it was deep. I am ready to put this behind me and focus on my family and career."
Mike Monico — lawyer for both Hampton and Allen — was also pleased with the outcome. Though he denounced sexual assault, he also made a slight swipe at Jane Doe. "It's amazing that one woman and a false claim can cause this much difficulty for these men," he said.
"A celebrity can come to court and slut shame a plaintiff," Jane Doe's lawyer said, dismayed by the verdict.
Meanwhile, Baute claimed the media was biased against the three defendants because they are black men.
Members of the jury — comprised of six women and two men — initially did not speak to press. However, two men, only giving their first names, eventually explained how the jury reached its decision.
Via Deadspin:
Jared said Doe "didn't do any of the steps to prove her own case" and "nothing added up to a correct statement." Jared felt like Doe "was playing us," and he believed witness Gabriel Chavez, who testified that Doe was a liar. In contrast, Jared said Rose and his friends seemed "genuine" and "honest."

When the jurors deliberated over the verdict, they "considered all evidence based on the facts" according to Jared, and at first tried to "prove the plaintiff correct" before deciding, but felt like they couldn't. He said factors for the jury were Doe blacking out, her alcohol drinking, and not getting a hair test done to test for date rape drugs, before adding that three years having passed since the alleged incident was not a factor, except for how it affected witnesses' ability to remember what happened. "She made her choices that night," he added.
A second juror found Jane Doe initially asking Rose for money after the alleged incident to be troubling.
Both then went back into the courthouse for a photo-op with Rose and his lawyer.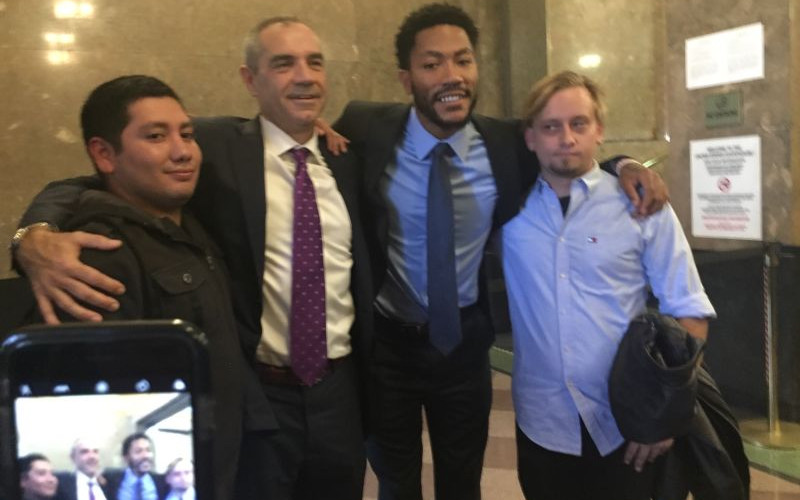 Don't see this every day. @drose and atty posing with giddy jurors after verdict. #DoevRose pic.twitter.com/hbmxnPnyf6

— Joel Rubin (@joelrubin) October 19, 2016
The judge in the case even had jokes, wishing Rose well, except when the Knicks play the Lakers.
…. https://t.co/q7WiQm3BKK pic.twitter.com/Chx0zPYOuo

— Kenny Ducey (@KennyDucey) October 19, 2016
Despite the verdict, Jane Doe's lawyer says an appeal is also possible. Doe alleges Rose and his friends drugged and raped her in 2013. She says she passed out in her dress in her home, but awoke the next morning with her dress around her neck and no recollection of what happened the night prior.
Be the first to receive breaking news alerts and more stories like this by subscribing to our mailing list.