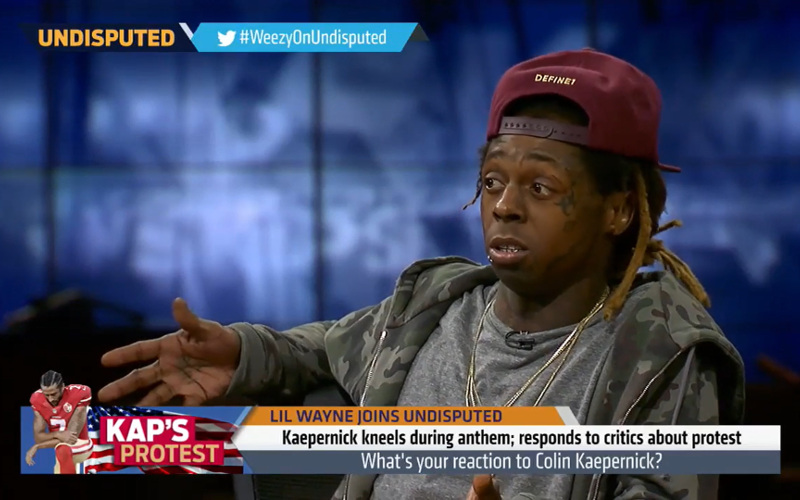 So, Lil Wayne really thought racism was over. I wish I was making this up, but in a recent interview, the rapper claims he didn't know racism still existed because his audiences are mostly comprised of white people.
Weezy appeared on the Fox Sports show Undisputed with Skip Bayless and Shannon Sharpe to clear up the rumors he was retiring from rap. However, the conversation switched to politics and the state of race relations in America. Bayless recalls one of Weezy's Westchester, NY concerts and asked what it meant that the audience was predominately white.
"I don't want to be bashed, because I don't want to sound like I'm on the wrong — if there is a side, but I thought that was clearly a message that there was no such thing as racism. That's what I thought that was. That was a perfect example.
"My crowd has always been everybody." — @LilTunechi #WeezyOnUndisputed pic.twitter.com/dCcpQuqNTF

— UNDISPUTED (@undisputed) September 13, 2016
Shockingly, Wayne went on to explain that has never personally experienced racism and is surprised that it's still a thing.
"I have never dealt with racism, and I'm glad I didn't have to. I don't know if it's because of my blessings … but it is my reality. I thought it was over; I still believe it's over. But obviously it isn't."
While weighing in on the Kaepernick situation, Lil Wayne says he himself has never experienced racism. pic.twitter.com/ijMunfb9ms

— The Mixtape Lab (@themixtapelab) September 14, 2016
Just like me (and probably you too), Twitter was a little taken aback by the rapper's comments.
https://twitter.com/SplashyStacks/status/775775046442909696
White kids loving rap music means there's no such thing as racism. Wow. pic.twitter.com/VFs48nA6pc

— The Big Bag Wolf (@KidFury) September 13, 2016
Essentially, Lil Wayne said because Racism doesn't effect you it no longer exist. Which is what most white people believe. PROBLEMATIC AF!

— Globethotter ? (@BrianMcLight) September 13, 2016
#BlackLivesMatter Lil Wayne who actually grew up in the hood somehow knows less about racism than a QB who grew up with white parents?

— Michael Keyes (@mikekeyes4131) September 13, 2016
Lil Wayne…a black man from the South…said he's never experienced racism a day in his life….. pic.twitter.com/VrfcOOoJRF

— Qué Pequeño (@BMoreAlien) September 13, 2016
I normally take people at their word, but there's no way I believe Lil Wayne has never experienced any racism in his entire life

— Chris B (@chrisb14) September 13, 2016
Dear #LilWayne, the ALL white audience at your show who made you feel racism no longer exists are there to watch you because it does #levels

— Christopher Emdin (@chrisemdin) September 14, 2016
??? RT @OPUS_Mag: Lil' Wayne (@LilTunechi) said racism doesn't exist because he sees white kids at his shows…….…………. pic.twitter.com/oIESQ4mXJ9

— Chillin in my Bacta (@DarthAmin) September 13, 2016
Lil Wayne clearly doesn't know what racism actually means, looks like, or entails…

— SoulOne (@SoulOne) September 14, 2016
We obviously don't know what Weezy has or hasn't experienced in his lifetime, but to suggest that racism simply doesn't exist because of your fan base is ridiculous, not to mention, dangerous. White race deniers are eating this up right now. A black rapper denying racism is all the "proof" a white racist needs.
And for the record, Lil Wayne is not retiring. He explains the tweet that sparked the rumor was posted after an argument regarding his ongoing feud with Cash Money Records CEO Birdman.
"This was a tweet after an argument. I have a family. I have kids. I have a mother. We got bills. This is business. So once the business is right, then everything is right."
He also says he will never work with Birdman again.
Be the first to receive breaking news alerts and more stories like this by subscribing to our mailing list.