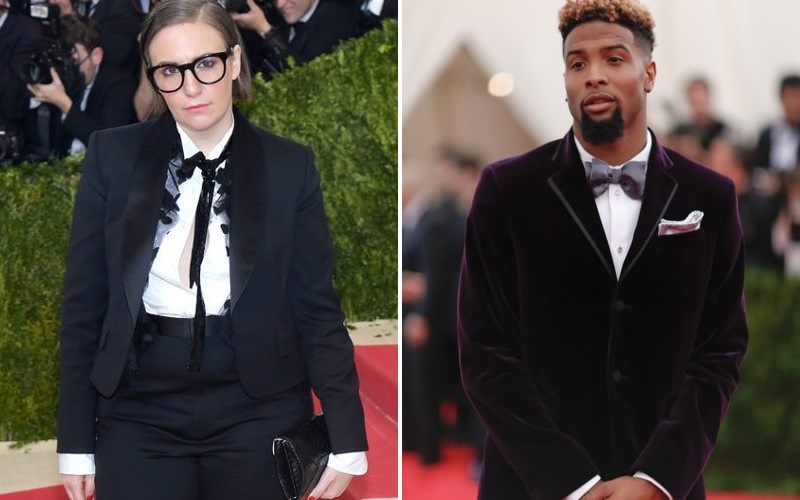 The self-appointed leader of white feminism, Lena Dunham, was dragged on Twitter for comments she made about NFL player Odell Beckham Jr. With nothing but her own internal thoughts as her guide, Dunham basically labeled the football star a sexist because he "ignored" her at the Met Gal.
The Girls creator/star published an interview with comedian Amy Schumer on Lenny Letter, Dunham's online newsletter, to promote Schumer's book. However, the casual conversation between friends took a turn when they began discussing how uncomfortable they felt at the fashionable Met Gala.
Dunham recalled that she sat next to Beckham and he never spoke to her. She automatically assumed this was because she was not attractive enough for his liking and because she was wearing a tuxedo and not a haute couture gown.
She tells Schumer:
"You and I were literally sitting across from each other at the Met Ball, and it was so surreal to get to do that. I was sitting next to Odell Beckham Jr., and it was so amazing because it was like he looked at me and he determined I was not the shape of a woman by his standards. He was like, 'That's a marshmallow. That's a child. That's a dog.' It wasn't mean—he just seemed confused.

The vibe was very much like, 'Do I want to fuck it? Is it wearing a…yep, it's wearing a tuxedo. I'm going to go back to my cell phone.' It was like we were forced to be together, and he literally was scrolling Instagram rather than have to look at a woman in a bow tie."
Black Twitter will call Beckham gay in a heartbeat, but they defended him against Dunham's baseless characterization of him and gave her a justified dragging.
Lena Dunham is just what happens when you've been told white women are the standard of beauty and the height of desirability probably

— OhEmmeG (@OhEmmeG) September 2, 2016
Imagine knowing Lena Dunham and knowing that every lull in convo is a potential thinkpiece

— Dad (@fivefifths) September 2, 2016
Lena Dunham is delusional and annoying. 100% of that bullshit came from her fuck ass mind. Chile, bye.

— Alexander Hardy (@chrisalexander_) September 2, 2016
lena dunham's Professor X like ability to read minds is just another example of white privilege

— Desus Nice (@desusnice) September 2, 2016
I cannot think of a Black man on Earth who could talk about harassing an uninterested White woman in the way that Lena discussed MBJ/OBJ

— Jamilah Lemieux? (@JamilahLemieux) September 2, 2016
https://twitter.com/Basseyworld/status/771816504803270657
https://twitter.com/KaraRBrown/status/771844158717763584
Even the reframing of the completely non verbal interaction to make it about her weight & attire is racist fuckery. He didn't owe her shit

— ?Mikki Kendall? (@Karnythia) September 2, 2016
It seems like Taylor Swift and Lena Dunham are here to protect women, but only if they're white, cis women. •••THAT'S NOT FEMINISM.•••

— Rebekah Taylor (@RebekahTaylor08) September 3, 2016
Lena Dunham thought the stereotype of black men loving fat white women was true.

— TOMATO LASAGNE (@Ashley_loudest) September 3, 2016
if I was OBJ I would reply to Lena Dunham's tweets with "who r u"

— ramses (@guyramses) September 3, 2016
https://twitter.com/Chazz_Stevens69/status/771931178572054534
The votes are in. Twitter users overwhelmingly dislike this Lena Dunham person I never heard of before today. Their reasons seem solid too.

— Mil (@JayCantRelate) September 3, 2016
So Lena Dunham tried to come onto Odell Beckham Jr., he said no, and he's the bad guy?

— FATHER CLEF (@FATHER_CLEF) September 3, 2016
lena dunham wants to be oppressed so badly

— monica ? (@shrillmonger) September 2, 2016

Dunham attempted to clarify her comments, but still ended up looking clueless regarding the issue.
.@OBJ_3 is talented, stylish, seems super awesome and wasn't into chatting with me at a fancy party.

— Lena Dunham (@lenadunham) September 2, 2016
My story about him was clearly (to me) about my own insecurities as an average-bodied woman at a table of supermodels & athletes.

— Lena Dunham (@lenadunham) September 2, 2016
It's not an assumption about who he is or an expectation of sexual attention. It's my sense of humor, which has kept me alive for 30 years.

— Lena Dunham (@lenadunham) September 2, 2016
ps I'll try and dance myself onto @michaelb4jordan if I have the chance, even when I'm a married grandma. I'm a red blooded str8 woman!

— Lena Dunham (@lenadunham) September 2, 2016
I proudly consider myself a feminist and will always support women's rights and equality. However, Lena Dunham completely misses the mark here by declaring faux feminist outrage over something that NEVER HAPPENED.
The man simply minded his own business and she took that as sign that he judged her looks and decided she was not hot enough for him to even acknowledge. Any other time, Dunham would condemn a man for sexualizing her in any way.
So what's the problem?! You know what, I actually don't care! Lena Dunham just needs to have several seats and stop making up stories in her head and repeating them in public as fact.
Be the first to receive breaking news alerts and more stories like this by subscribing to our mailing list.