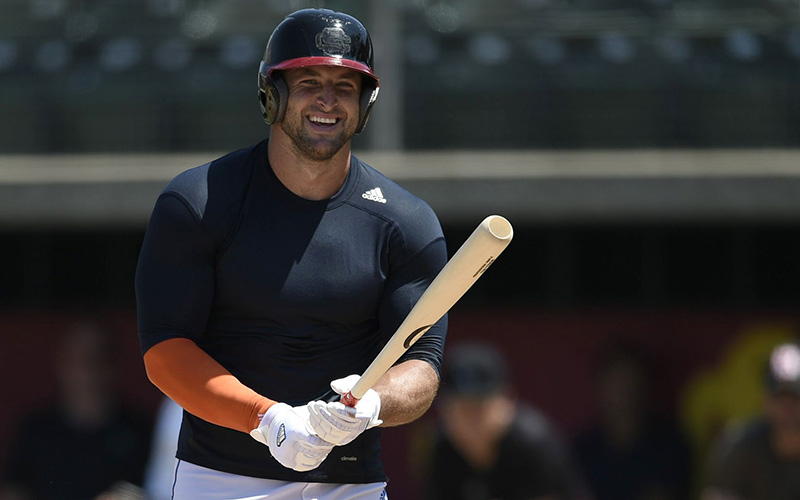 Tuesday (Aug. 30) marked the day that Tim Tebow got the opportunity to prove to 40 Major League Baseball scouts and 50 members of the media that he has what it takes to play professional baseball. The result? A "complete waste of time," according to one American League scout.
Tebow was put through the usual drills — running, throwing, catching. You know, boring baseball stuff. And while he was at least somewhat impressive in his 60 yard dash, everything else was pretty ho-hum.
https://twitter.com/TBrownYahoo/status/770690610629976064?ref_src=twsrc%5Etfw
His throws were weak, according to certain scouts, and he didn't have the best tracking ability in the outfield despite catching all the popups. Where he really failed to impress, though, was, not surprisingly, the batter's box.
Prior to yesterday, videos had surfaced of Tebow's swing in the batting cage where he was hitting solid line drives on a regular basis. And during his showcase, that success in batting practice continued. He knocked a few out of the park and demonstrated some impressive strength.
But honestly, everyone looks good in batting practice. We can all step into a batting cage and connect more often than not. The reason? We know damn well where the ball is going to go and at what speed. So if every major league pitcher just threw a 90 mph fastball right down the middle every time, well then Tebow might have a decent shot in the majors.
Tim Tebow's first AB vs. live pitching, 2-2 groundout to second (followed it with first pitch GO to shortstop) pic.twitter.com/5D5nikIzh1

— Taylor Blake Ward (@TaylorBlakeWard) August 30, 2016
Tim Tebow vs a former big-leaguer's off-speed stuff pic.twitter.com/kraSUr3YxT

— Greg Beacham (@gregbeacham) August 30, 2016
Unfortunately for him, they don't. Hitting a professionally thrown pitch is one of the hardest things to do in sports, and it was proven true when Tebow stepped into the batter's box against ex-MLB pitchers. When facing off against them, Tebow struggled with off-speed pitches, curving throws, and varying fastballs. Of the roughly 60 pitches he saw, he might've managed to get on base once or twice.
And really, unless you are a great pitcher, hitting is one of the most important things for MLB players. Not to diminish what they do, but there are a large number of people who can catch a fly ball or make a play at first. It's what you do in the batter's box that really separates the big leaguers from the good baseball players.
If yesterday was any indication, that means Tim Tebow doesn't have what it takes. He says he will play in the minors or other lesser leagues in an attempt to ultimately earn a spot on a MLB roster, but after watching him perform, most are in agreement: this looked more like a publicity stunt than a MLB prospect trying out.
Be the first to receive breaking news alerts and more stories like this by subscribing to our mailing list.