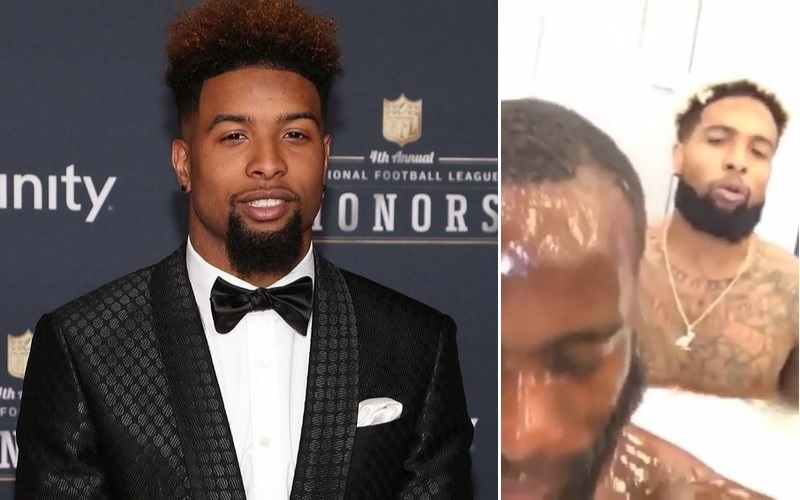 Odell Beckham Jr. is back to making waves again.
The New York Giants wide receiver is currently training for the upcoming season. He decided to wind down in the locker room hot tub (like most athletes) but you know Beckham had to make it a little interesting and he's somehow sparked gay rumors in the process.
In the short video that has gone viral, Beckham begins singing Marvin Gaye's classic "Sexual Healing." At the very end of the clip, teammate Dominique Rodger-Comartie emerges from the water.

This of course got folks on Twitter questioning the football player's sexuality for the umpteenth time.
https://twitter.com/magic_uno/status/769286916759891968
https://twitter.com/Pachino__/status/769350785717051392
Odell…what are you doing pt 2 ? pic.twitter.com/aKIttGJ6t8

— Martian's Retreat (@MartiansRetreat) August 27, 2016
Odell Beckham has no shame in hiding those gay rumors. https://t.co/BBdbUlzkOC

— The Fake ESPN (@TheFakeESPN) August 26, 2016
If not that Odell video, explain this one? pic.twitter.com/OTKuuyw3uw

— RON (@xxiamsodopevll) August 26, 2016
https://twitter.com/itsbizkit/status/769294366179483648
Odell beckham is Gay.. What type nigga be singing and have another nigga in the tub come out the water like that .. Nah that ain't right

— $erg (@_sergio_91) August 27, 2016
Speculation surrounding Beckham's sexuality has been a popular topic of conversation in the past, I guess because he likes to dance and has a goofy personality?!
Those who actually understand sexuality and sexual orientation were quick to defend Beckham while also questioning what makes some straight men have a fragile sense of masculinity.
https://twitter.com/darleneturner53/status/769330460094705665
Speculation around Odell Beckham Jr's sexuality is further proof that straight men LOVE to obsess over other men's sexuality.

— Kameron (@KameronToday) August 26, 2016
https://twitter.com/gtfosharon/status/769312610319757312
Dudes calling Odell Beckham Jr. gay are the same ones who would be terrified to leave him with their girls alone for a half hour ?

— ?Bill K. Kapri?©™ (@ThatFlyGuyTy) August 26, 2016
https://twitter.com/mikebrad25/status/769302456530563081
Why are men worried about Odell's sexuality though?…… Y'all want him that bad???? I see y'all ? pic.twitter.com/lZ914Kj8H6

— DIA?????? (@TheREALIndiaAri) August 26, 2016
I love how Odell Beckham makes insecure, hypermasculine men so bothered.

— Protect Robert Mueller ?? (@TerpGrad01) August 26, 2016
Beckham apparently saw all the commotion his clip was causing and responded with a simple tweet.
Back at it again…?

— Odell Beckham Jr (@obj) August 26, 2016
He clearly knows what's being discussed, but his masculinity doesn't seem to be as fragile as some. He's basically trolling the net at this point and having fun. The haters are just gonna have to stay mad and spend their days wondering if this rich NFL star is gay.
Be the first to receive breaking news alerts and more stories like this by subscribing to our mailing list.