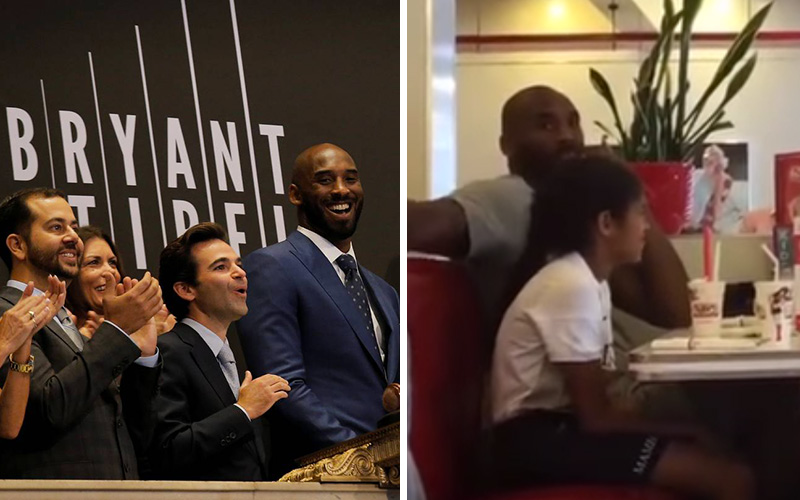 In celebration of Kobe Bryant Day in Los Angeles, I figured it was a good time to check in on the legendary Black Mamba and see how post-retirement life is treating the five time NBA champ. The short answer? Really, really good.
Kobe was never one to phone it in or take it easy in his time on the court, and it appears he's taking that same approach to his new life away from basketball.
It was recently announced that he was partnering with a longtime entrepreneur, 43-year-old Jeff Stibel, in a new venture capital fund. The firm, Bryant Stibel (of course Bryant's name is coming first) is looking to invest a whopping $100 million over the next few years in a number of tech, media and data companies.
And true to the multi-tasking form that Bryant is known for — he was basically a player/coach in the latter years with the Lakers — Bryant isn't simply looking to be a money man. In an interview, Bryant's creative and borderline obsessive flair for details and marketing were highlighted as one of his strong suits. In fact, he even designed the company's new logo, wasting no time putting his own stamp on the new company.
But not everything is going Kobe's way in his new life. While he may have stepped out of the spotlight in retirement, he can't escape the fame that he's earned in his extended career in the NBA. As with any celebrity, there is a dark side to the fame and fortune that comes with the territory.
Namely, overzealous fans. A video surfaced recently of Bryant and his family enjoying a nice dinner out when a fan from a nearby table intrudes. The fan whips out his phone and videotapes the Bryant family enjoying their night out, and despite trying to be all sneaky about it, nothing goes unnoticed around Kobe Bryant.
Once he saw what the fan was doing, Bryant went full Mamba mode. But rather than confronting the fan and making a scene, he handled it in perfect Kobe fashion — mean mugging the sh*t out of the guy.
We've all seen that stare before. And you know when you see it, Kobe ain't happy. And rightfully so. Sure, he may be an ex-NBA all-star/multi-million venture capitalist/LA celebrity staple, but that doesn't mean the man shouldn't be allowed to enjoy a night out with his family in peace.
Despite that small incident, it's easy to say things are going well for the Black Mamba. Between getting his own day, launching his new career, and let's not forget test-driving a nearly half a million dollar car, it seems like life after the NBA ain't too shabby for Kobe.
Be the first to receive breaking news alerts and more stories like this by subscribing to our mailing list.