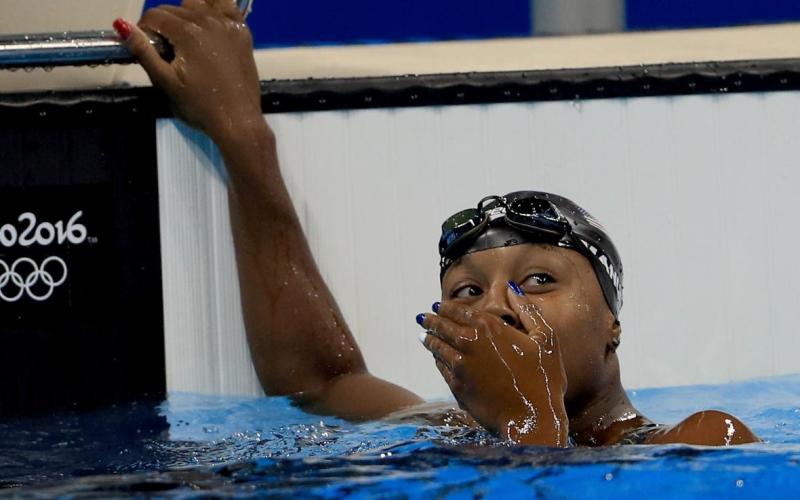 #BlackGirlMagic is coming out in full force at the 2016 Olympics. That was no different when 20-year-old Simone Manuel became the first African-American woman to win an individual gold medal in swimming. But one American newspaper is getting slammed for the way it reported the historic win.
The San Jose Mercury News used one article to acknowledge Michael Phelps' 22nd gold medal as well as Manuel's win. However, the headline the paper decided to use raised a few eyebrows.
What kind of bullshit headline is this, @mercnews?! Her name is Simone Manuel. #Rio2016 pic.twitter.com/tdJsnr2wdI

— Kathryn Schotthoefer (@katschott) August 12, 2016
"Michael Phelps shares historic night with African-American," the headline read, along with an accompanying tweet.
The headline doesn't identify Manuel and undermines her achievement, simply calling her an "African-American." Although Phelps' feats are truly astonishing and there are many reasons to admire him, he's been winning since the 2004 Olympics. Manuel shouldn't have to "share" her moment with him and be reduced to simply a race.
I personally find the headline racially insensitive as well as sexist. Mercury News basically said "Phelps won again… Oh and so did some black." Social media criticized the paper's judgement.
Regarding the no-good headline: Simone Manuel should have been the lead story anyway, particularly for the paper covering her college town.

— Adi Joseph (@AdiJoseph) August 12, 2016
It blows my mind that Simone Manuel was IN THE PICTURE THEY USED but wasn't listed in the headline. That's a big no-no. A BIG ONE.

— Justin Russo (@FlyByKnite) August 12, 2016
Well, I'll b damned! This headline is like @simone_manuel is just some random person off the street. Racist & Tacky!https://t.co/kxckueIusV

— Ebony Noor, Ms. Millie's Worst Nightmare (@DarlingEbony) August 12, 2016
Mercury News' headline about Simone Manuel is equivalent to Donald Trump asking "Where's my African-American?" ????

— Karen Datangel ? (@DatKaren) August 12, 2016
Simone Manuel earned her own headline for her historic win- it has nothing to do with Phelps at all.
She deserves better.

— ? lariat ? (@LariatAngel) August 12, 2016
Hey @mercnews, let me help. This is Simone Manuel. She made history tonight @Olympics @TeamUSA #RioOlympics2016 pic.twitter.com/3xvmEOBEky

— Frank Girardot (@FrankGirardot) August 12, 2016
This is a terrible headline. It's my paper. I might get in trouble for saying it, but it's a terrible headline. https://t.co/ulQyf2eVnu

— Tim Kawakami (@timkawakami) August 12, 2016
The paper has since changed the headline to "Stanford's Simone Manuel and Michael Phelps make history."
We apologize for an insensitive headline earlier on a story about Simone Manuel and Michael Phelps' medal wins. https://t.co/ykWvcddaKf

— Mercury News (@mercnews) August 12, 2016
The article also now includes an editor's note/apology:
"The original headline on this story was insensitive and has been updated to acknowledge the historic gold medal wins by both Simone Manuel and Michael Phelps. We apologize for the original headline. The story has also been updated."
Meanwhile, Simone Manuel hopes to inspire other black people. She is breaking barriers and stereotypes of African-American and swimming with her win, unfortunately, San Jose Mercury News proves she how much more improvement is needed.
Be the first to receive breaking news alerts and more stories like this by subscribing to our mailing list.