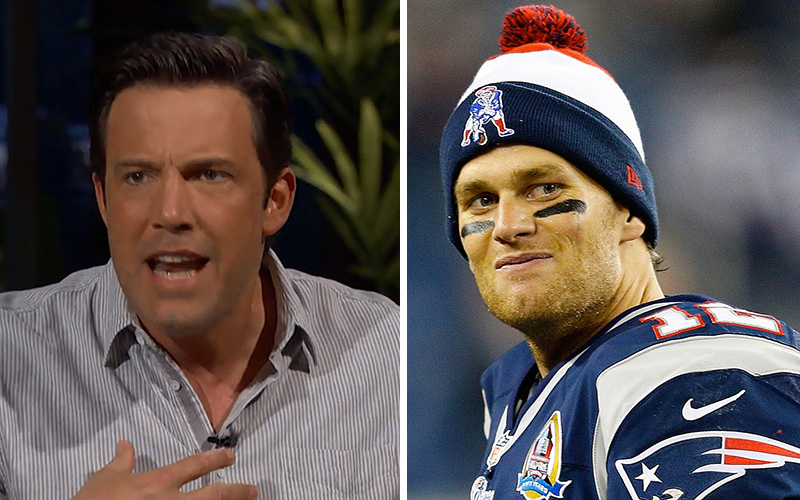 New Batman actor, writer and director Ben Affleck recently joined Bill Simmons on his new HBO show Any Given Wednesday when the topic of Tom Brady and the Deflategate scandal came up. Affleck, who is a Boston native, had a few choice words on the matter — mostly swear words.
In a five minute rant filled with 22 curses, Affleck roasted Roger Goodell and the NFL for going after Tom Brady for allegedly deflating his football before the 2015 playoff game against the Indianapolis Colts.
A few of Affleck's more passionate quotes include:
"They haven't done anything to address this crisis of domestic violence in the NFL, but the f—ing football better not be eight percent lighter."
And:
"If the NFL really knew how to test for steroids, there's be no f—ing NFL."
And, of course, his succinct summary of the entire situation:
"Deflategate is the ultimate bulls—t f—ing outrage of sports."
Affleck's passion is understandable. Boston culture is like that. You don't mess with one of their own, and Tom Brady is as big a star in the Northeast as there could be. So when the unlikable NFL commissioner comes after their golden boy, you better expect sparks to fly.
And of course there are some who might have been surprised at Affleck's harsh language, even though the interview was on HBO, which, of course, is not known for its censoring.
But to me, it should be expected.
This is "Batman," after all, and not the goody two-shoes version who doesn't kill. This Batman, introduced in Batman vs Superman, uses f'ing machine guns and explosives to kill criminals when he can't snap their neck. He's a beast with little regard for criminals' lives.
So should we be surprised the Dark Knight, vigilante murderer, uses the f-bomb when he's upset?
One thing is for sure. Tom Brady can sleep easy at night knowing that somewhere, in the darkness of the city, Ben Affleck is roaming the rooftops providing protection against the evils of Roger Goodell and the NFL.
Be the first to receive breaking news alerts and more stories like this by subscribing to our mailing list.