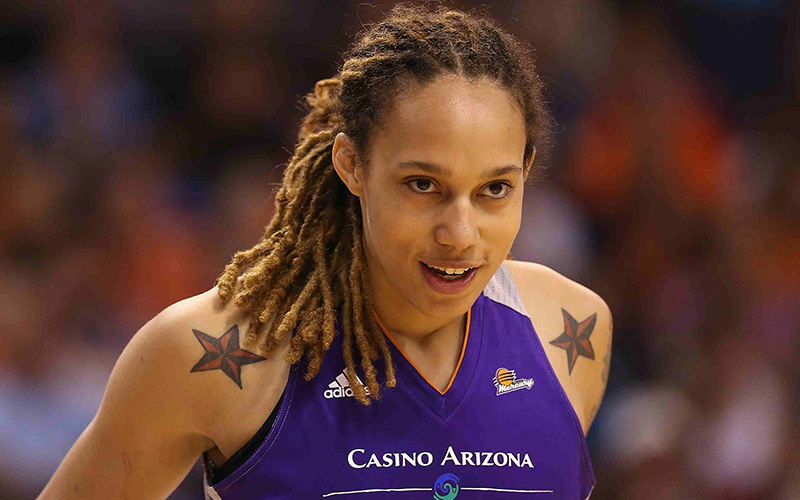 Twitter never fails to give me a nice chuckle. While fathers across the country celebrated Father's Day, several trolls wanted to make sure Brittney Griner was not left out.
The WNBA star received several "Happy Father's Day" messages and she was clearly not amused.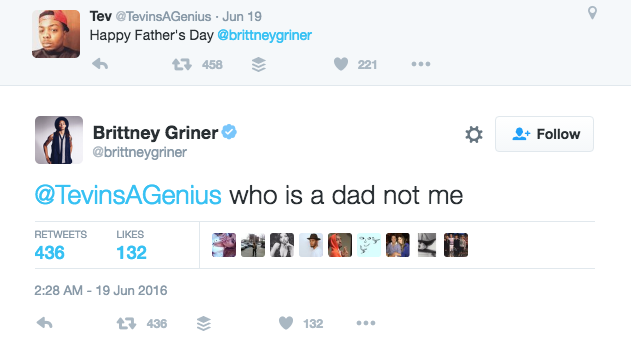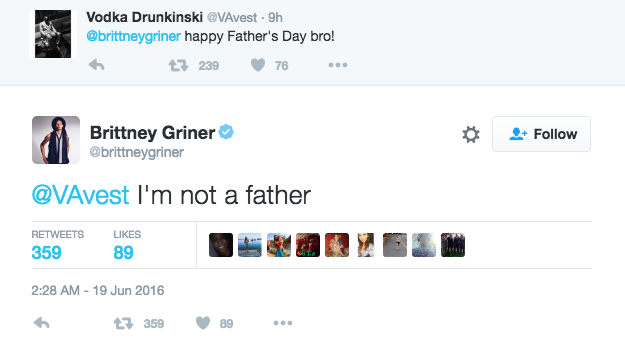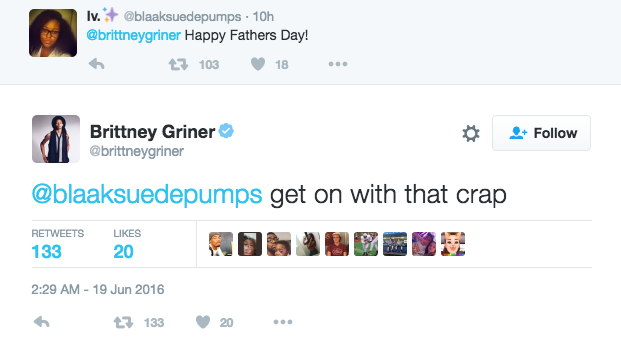 The trolls were using Griner's ex-wife Glory Johnson's twins to fuel the joke. A month after the couple married in 2015, they announced Johnson was pregnant. Just one day after, citing fraud and duress, Griner filed for annulment — it was not granted.
Though Griner has no biological connection to the children, Johnson claimed Griner had agreed to be their "legal father." She even stated she had video proof of Griner referring to herself as "dad," which was enough for a judge to order Griner to Johnson $2,500 a month in child support for the twins. (Johnson had asked for $20k/mo in spousal support but was denied.)
The "HFD" messages were most likely done in jest with no malicious intent. However, I can certainly understand why Griner wouldn't find it as humorous as others.
Every plz chill with the Happy FD shit! Tell your own dads cuz I'm not one

— Brittney Griner (@brittneygriner) June 19, 2016
Not only was her relationship with Johnson troubled and encompassed with drama, but labeling her a "father" simply because she's a lesbian is uncalled for. Griner came out in 2013 and also revealed she was bullied while growing up due to her height and sexuality. Using her sexual orientation for giggles possibly triggers old wounds that she doesn't want to revisit.
At best, Griner would be considered a legal guardian of Johnson's twins. Regardless of her legal relation, one thing is for certain: Brittney Griner is NOT the father!
Be the first to receive breaking news alerts and more stories like this by subscribing to our mailing list.