Ever since the Atari came into kids' homes back in the '70s, video games have become a staple in growing up. Millions of children and adults spend countless hours getting lost in the various worlds created by the video game designers – whether it's shooters like Call of Duty, RPGs like the Elder Scrolls, or sports games put out by EA, like Madden NFL. Even if you don't play games yourself, you can't escape the impact games have had on modern culture in the form of TV shows, movies, or music.
But if you are a gamer, at some point in your life you've likely had someone complain about the amount of time you spend doing it. Maybe it was your mother or father, perhaps a significant other or your friends. Someone has told you that you should be spending your time being more productive or making something of yourself. Well today, you finally have a valid argument against them.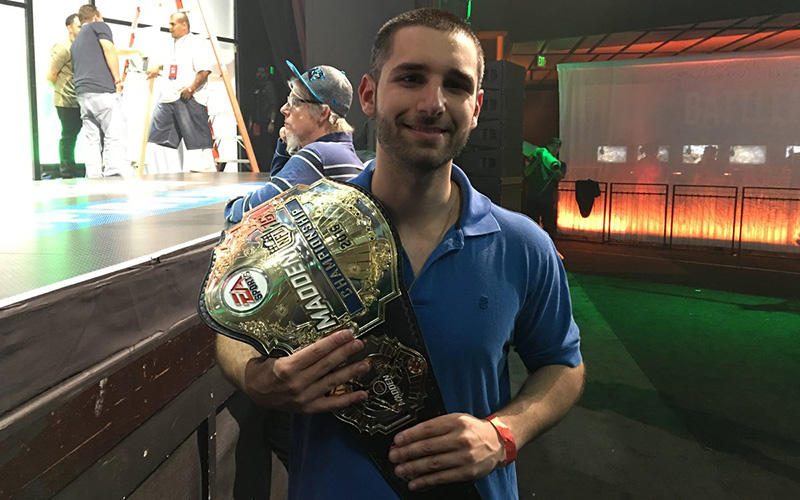 World, meet Frank "Stiff" Sardoni, Jr. Stiff won the 2016 Madden championships yesterday in a nationally broadcast match-up on ESPN2. That's right, ESPN broadcast a game of Madden. Stiff earned the championship belt, a portion of the $50,000 in prize money and a sponsorship with Doritos, all by playing a video game. And the stakes are only going to continue to rise, as EA announced they will dole out $1 million in winnings during the 2017 Madden Championship series.
Frank Sardoni Jr., 25, from Roxbury, New Jersey won the Madden 16 Championship with the Chicago Bears. #E32016 pic.twitter.com/QBld1VKKcA

— Arash Markazi (@ArashMarkazi) June 14, 2016
WE DID IT. STIFF IS THE 2016 MADDEN CHAMPION. YOU GOT TO GET THROUGH US TO WIN NEXT YEAR! #MaddenChampionship pic.twitter.com/h1nNhSavZX

— Madden Daily (@MaddenDaily) June 15, 2016
Sited on the streets of LA: A Madden Champion. pic.twitter.com/iYX56OmzgH

— Matt Marcou (@MattMarcou) June 15, 2016
But that's not all. While ESPN's broadcast was a one-time thing (or at least a test run to see if it's a viable strategy), video game competitions — or esports — is a growing trend across the county. In fact, you can now earn a college scholarship by playing video games.
College conferences are jumping into the esports arena, with the PAC-12 in May announcing that it will be hosting live video coverage of inner-conference video game competitions. The Big Ten has also joined the fray, hosting a League of Legends tournament on their Big Ten Network. Chicago's Robert Morris University, however, takes the cake, offering an athletic scholarship to expert gamers.
The increasing prevalence of this esports trend shouldn't be that surprising. Websites like Twitch, which allows users to watch other people play video games, are massively successful. In 2015, Twitch announced it has over 100 million visitors per month. And where there are viewers, there is an opportunity for advertisement revenue.
Still, sports and video games have historically been on the opposite sides of the spectrum. On one end, you have the athletic, popular jocks. On the other, the nerdy video gamers. That gap has been shrinking as video games have become more mainstream, but to completely combine the two is new territory.
And it brings with it a host of questions. Will we have to start testing for weed as a performance enhancing drug? What is the injury protocol for carpal tunnel in the thumb? And how soon before FanDuel allows you to place bets on fantasy video game sports?
As with any new sport, there will be hurdles. But for now, next time your mom tells you to go outside, you just tell her you're trying to earn a mother f'ing scholarship.
Be the first to receive breaking news alerts and more stories like this by subscribing to our mailing list.