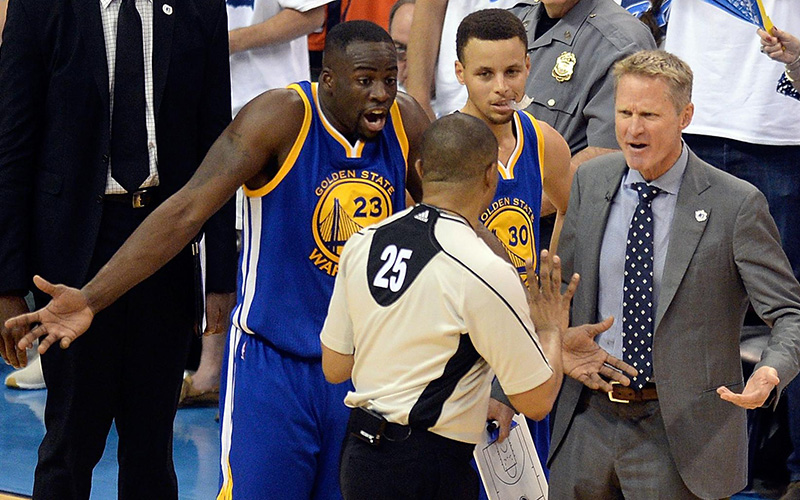 Golden State Warriors' do-it-all forward Draymond Green has been suspended for Game 5 of the NBA Finals.
The suspension comes after league officials reviewed a scuffle between the Cavs' LeBron James and Green in which Green apparently took a swipe at James' goods. After reviewing the play, Green was awarded a flagrant foul 1 which resulted in 4 flagrant foul points and an automatic suspension.
RELATED: LeBron James and Draymond Green Almost Got Into a Fight in Game 4 of the Finals
It seems Green is on a mission to keep his opponents from having kids, as this isn't the first time he's been called for hitting below the belt.
Back in the Western Conference Finals against the OKC Thunder, Green was awarded a Flagrant Foul 2 after karate kicking Thunder Center Steven Adams in the nuts — the second time he did so in the series.
Then, last Friday, Green was on the attack again. Late in the fourth quarter, Green and LeBron got into it, with James throwing Green to the ground. As he stepped over the downed Warrior, Green threw out his elbow and connected with James' goods.
And while no flagrants were awarded, James certainly didn't take too kindly to the swipe. The two went at it after the whistle, and even lovable Steph Curry got into the fray. NBA officials went back and looked at the tape and determined the move was intentional enough to award Green another flagrant 1 foul, forcing him to sit out Monday night's game 5 matchup in Oakland.
With a 3-1 advantage over the Cavaliers, the Warriors chances of winning it all are high, but a suspension like this could mean bad news for the reigning champs. Green is a matchup nightmare, able to play down low and run the point, he plays lockdown defense on the league's best, and has just about averaged a double-double in the finals in rebounds and points.
Without him, the Cavs stand a much better chance of stealing one on the road and giving them hopes of tying up the series back in Cleveland. And when it comes down to a game seven, anything can happen. But even if the Warriors pull it out Monday at home and win it all, Draymond Green will have to live with the fact that he had to sit out the final game of the season, and that's got to hurt – kind of like getting kicked in the nuts.
Be the first to receive breaking news alerts and more stories like this by subscribing to our mailing list.