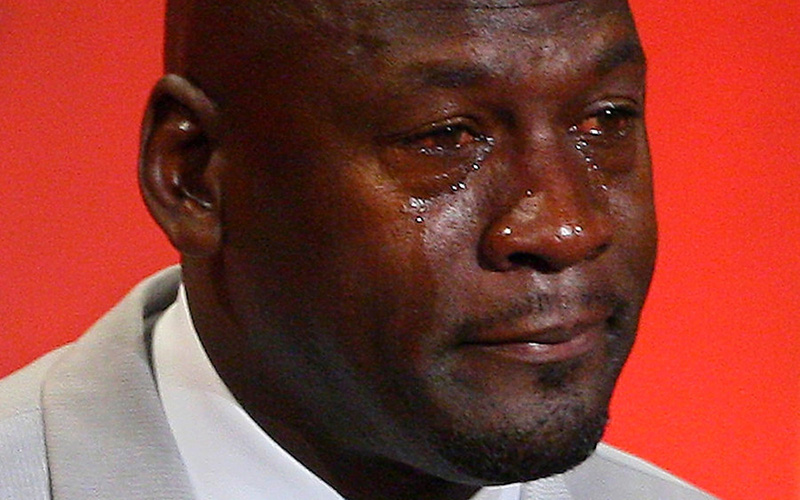 We all love that Michael Jordan crying face meme and think it's one of the funniest images to hit the Internet.
But do you know who doesn't love that Michael Jordan crying face meme, and who doesn't think it's one of the funniest images to hit the Internet? The man in the meme himself: Michael Jordan.
As one of the most recognizable Internet memes, the MJ crying face has many different uses, but its biggest use is to signal disappointment.
Whenever a popular sports team loses a major game (e.g. a national championship), the Internet pulls out the MJ crying face. Or, when someone famous says or does something stupid, the MJ crying face is the perfect image to illustrate #FAIL.
The hilarious image is so popular that rapper Ja Rule was tricked into believing that Jordan, who is already a billionaire, gets paid $1 each and every time it's used, and Rule ended up becoming a victim of the meme himself.
While social media enjoys using the photo, Michael Jordan himself is not a big fan of it, says former basketball player Charles Oakley, who is good friends with His Airness.
"Nah, he don't like it," Oakley, a former Chicago Bulls player, told a TMZ photographer.
The photo used for the infamous MJ crying meme was taken in 2009 when Jordan was inducted into the Hall of Fame.
According to TMZ, MJ is "cool" with the meme, and while he enjoys the fact that "everyone seems to be having fun with the meme," he is closely monitoring its use so that no one uses it to make money.
"We haven't seen anyone using it to promote their commercial interests, which is something that we're monitoring," Jordan's rep said.
Be the first to receive breaking news alerts and more stories like this by subscribing to our mailing list.