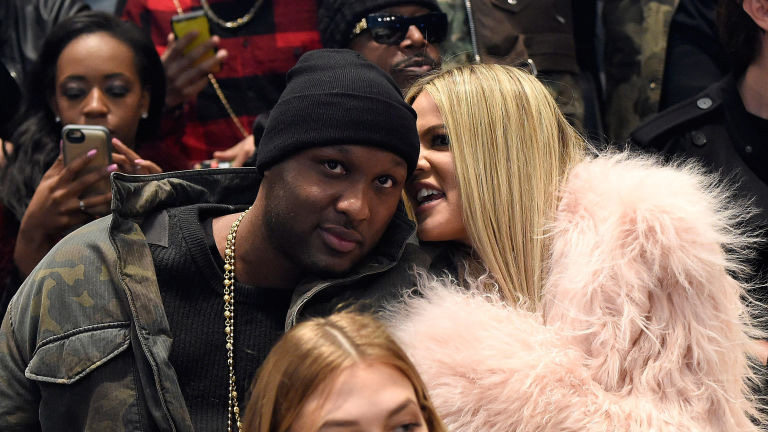 Khloe Kardashian wants to finalize her divorce from Lamar Odom and move on with her life, but she's afraid that if she goes through with it, Lamar might have another episode in which he overdoses on drugs and/or alcohol … and this time, he could really die.
Ever since Odom's incident at the Las Vegas brothel last October, in which he almost lost his life following a serious overdose, Khloe has been by his side, taking care of him and holding off on their divorce so that he can take advantage of the her health insurance as her husband.
But Lamar has fallen off the wagon again. He's back to drinking, and Khloe wants no part in that. Plus, they're trying to make him go to rehab, and he's doing his best impression of Amy Winehouse by saying "no, no, no." And we all know what happened to Amy Winehouse, unfortunately.
Sources close to Khloe tell us the recent revelation Lamar is drinking again confirms her fear — that it's futile to keep trying to get him into addiction treatment.

We're told Khloe wants to make their never ending divorce final … but feels a "tremendous amount of guilt" for how Lamar will react once she's out of his life.

Our sources say Lamar remains adamant he doesn't need rehab and the drinking is just him trying to lead a normal life, but Khloe and her family think they know how this movie ends 'cause they've seen it too many times before.
Meanwhile, an insider revealed to People magazine that Khloe is very concerned about Lamar and he doesn't want to hear it from her.
"Khloé is very worried about Lamar and his behavior," the source told People. "But Lamar refuses to listen to her. He actually said to her, 'Nothing will happen to me. Look how I survived the last time.'"
Here's to hoping Lamar Odom tightens up before it's too late.
Be the first to receive breaking news alerts and more stories like this by subscribing to our mailing list.