Manny Pacquiao is under fire for recent comments he made about gay people, and it appears as if he gives absolutely no fawks what-so-ever.
It all started earlier this week when a video of Pacquiao condemning gay marriage in an interview started making the rounds online..
The boxing superstar, who has made it known that he would like to run for president in the Philippines, was speaking with a local TV news station when he basically said that gays are worse than animals.
"It's common sense," Pacquiao said. "Will you see any animals where male is to male and female is to female?"
He continued, "The animals are better. They know how to distinguish male from female. If we approve male on male, female on female, then man is worse than animals."
Manny quickly found himself on the receiving end of a ton of backlash, and he quickly responded with a video apologizing for comparing gay people to animals, though he didn't back down on his stance of being against gay marriage.
"I'm sorry for hurting people by comparing homosexuals to animals," he wrote in the caption of a video message shared to his official Facebook page. "Please forgive me for those I've hurt."
He added, "I still stand on my belief that I'm against same sex marriage because of what the Bible says, but I'm not condemning LGBT. I love you all with the love of the Lord. God Bless you all and I'm praying for you."
Despite Manny's "sorry not sorry" apology, Nike fired him the very next day, immediately ending their decade-long relationship.
Nike issued a public statement saying, "We find Manny Pacquiao's comments abhorrent. Nike strongly opposes discrimination of any kind and has a long history of supporting and standing up for the rights of the LGBT community. We no longer have a relationship with Manny Pacquiao."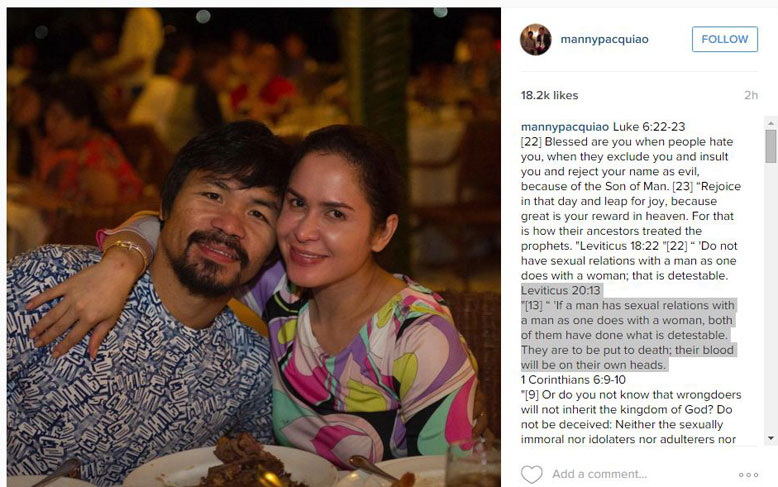 Hours after being fired, Manny responded with more vitriol towards homosexuals, posting a now deleted photo on Instagram of him and his wife alongside a caption quoting a verse from the Bible's Old Testament (Leviticus 20:13) that calls for gays to be "put to death."
"If a man has sexual relations with a man as one does with a woman, both of them have done what is detestable. They are to be put to death, their blood will be on their own heads."
In Speaking with reporters Friday (Feb 19), Pacquiao, who plans to retire to pursue a career in politics after his fight in April against Timothy Bradley, made it clear that his belief that being gay is wrong is unwavering, but he agrees that he shouldn't have compared people who are gay to animals.
"What I did wrong was just comparing the people to animals, but you know what I am telling is the truth," he said, according to AFP. "I mean I am just telling what the Bible says. We believe God and then we should honor the word of God."
Pacquiao also said he was unfazed by the controversy, and that it had no affect on his training for his upcoming fight
"I'm happy. I'm always happy because God is with me," he said.
Be the first to receive breaking news alerts and more stories like this by subscribing to our mailing list.