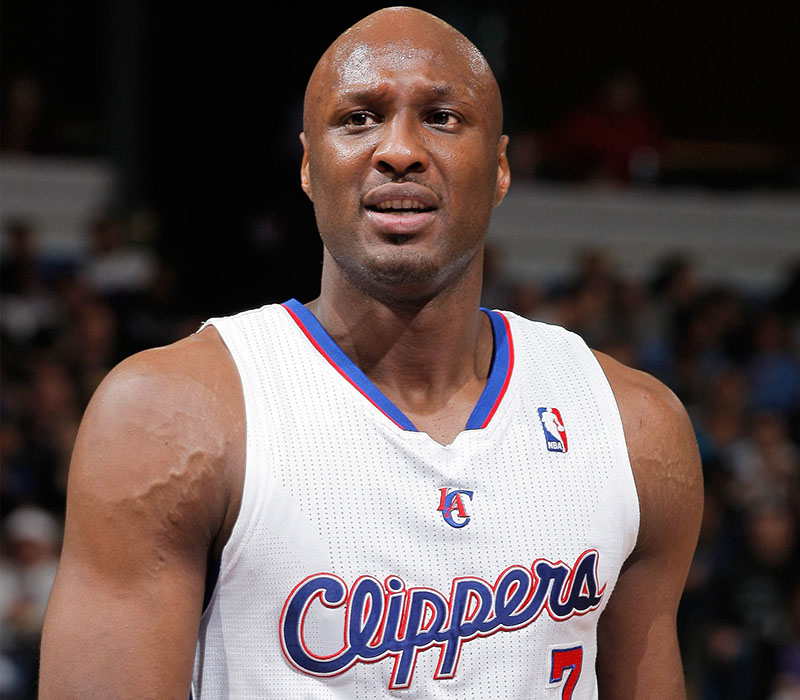 Lamar Odom is reportedly "fighting for his life" in a Las Vegas hospital after the former NBA star slipped into unconsciousness at a brothel in Nevada, and things aren't looking too good.
The former NBA star was rushed to the hospital Tuesday (Oct 13) after someone found him unconscious in his room at Dennis Hof's Love Ranch South, near the small town of Pahrump.
According to TMZ, who broke the story late Tuesday night, Odom is "in a coma," his heart is "failing" and he's having "serious problems" with his kidneys and lungs. He's also on breathing machines and "remains in critical condition."
The former Los Angeles Lakers player had been staying in a house reserved for celebs at the Bunny Love Ranch South in Crystal, NV (about 20 miles north of Pahrump).
Dennis Hof, owner of the Bunny Love Ranch, tells E! News, "We picked him up at his home in Vegas in a gated community. He was in a great mood and having fun with the girls. We don't think he was doing drugs because he slept every night. He woke up in a great mood."

Hoff added, "He got calls on Sunday that kind of bummed him out. Besides that, he was in great state of mind. He was eating good. My girls were cooking for him." He noted that the girls "gave him a bottle of Cognac on Saturday and there is a third of a bottle left."

A source tells us that Odom was with a girl in the early morning hours on Tuesday. Around 6 a.m., the woman with Lamar touched him to tell him that she was leaving and he acknowledged her before going back to sleep.

At approximately 3:15 p.m., two of the girls found Lamar unconscious. E! News learned that he was taking herbal Viagra during his stay at the ranch. The insider adds that there were no illicit drugs found in the room.
TMZ reports that the manager who called 911 after Odom was found unconscious observed "mucus-type liquid coming out of his nose and mouth" when he was rolled over on his side.
Lamar's ex-wife Khloe Kardashian is currently at his bedside, TMZ adds, and she is said to be "completely inconsolable and heartbroken," according to E! News.
Kim and Kris reportedly flew to Las Vegas with Khloe, as the Kardashians are the only family Lamar has. (TMZ has a photo of a visibly distraught Kris Jenner)
A Kardashian family source told E! News that the news of Lamar being found unconscious "isn't shocking, but it is sad." The source explained that Khloe "had cut off contact with Lamar in the summer and she has been worried about Lamar for a very long time."
Lamar Odom married Khloe Kardashian in 2009 and he appeared on a few "Keeping Up with the Kardashians" episodes before starring alongside Khloe in a spin-off called "Khloe & Lamar," which was canceled after two seasons.
Khloe filed for divorce from Lamar in December 2013 and it was finalized in July 2015.
Back in April, Khloe — who has always been open about her concerns for her ex-husband — told E! News that Lamar would always be a part of her life.
"I will never, ever not love Lamar," she said. "I was so obsessed with him in a healthy way. He was my husband, and I still wish he was, and I don't think there's anything wrong with that."
Khloe added, "There's nothing I can do. Lamar has to do things in order to change in that aspect, but yeah, if I had my way I'd be married to Lamar in two seconds."
Khloe and Lamar's most recent public interaction was just months ago (in August) when he ambushed her at SoulCycle.
Be the first to receive breaking news alerts and more stories like this by subscribing to our mailing list.