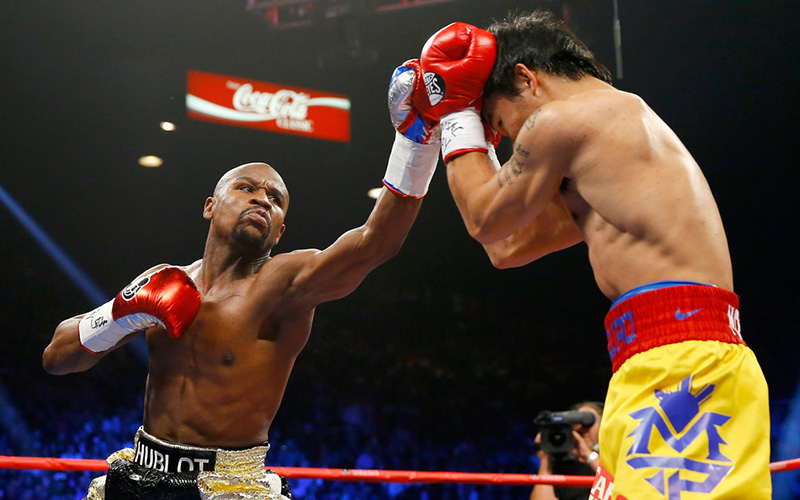 Floyd Mayweather Jr. has backtracked on previous reports stating that he would be interested in a rematch with Manny Pacquiao.
In an interview with sportscaster Jim Gray that is scheduled to air on Showtime this Saturday (May 9), Mayweather (48W 0L) called Pacquiao (57W 6L 2D 38KOs) a "sore loser" and a "coward," and said that he is no longer interested in fighting the Filipino boxer again.
"Did I text [ESPN's] Stephen A. Smith and say I will fight him again?" Mayweather told Gray. "Yeah, but I change my mind. At this particular time, no, because he's a sore loser and he's a coward. … If you lost, accept the loss and say, 'Mayweather, you were the better fighter.'"

At the heart of Mayweather's discontent with Pacquiao is his right shoulder injury, which was reported by Yahoo Sports immediately after the megafight at the MGM Grand in Las Vegas. Pacquiao talked about the injury in the post-fight news conference and said it limited him in the bout but that he didn't want to use it as a reason for the loss.

"Excuses, excuses, excuses," Mayweather said. "I'm not going to buy into the bullsh*t and I don't want the public to buy into the bullsh*t. He lost. He knows he lost. I lost a lot of respect for him after all of this."
After defeating Pacquiao last Saturday night (May 2) in the possibly the "richest and most financially successful fight in boxing history," Mayweather's record improved to 48-0 and he's slated to fight again this September, though it's unknown who he'll face.
Pacquiao, meanwhile, is expected to be out for at least 9-12 months after undergoing shoulder surgery Wednesday (May 6) to repair a torn rotator cuff.
Be the first to receive breaking news alerts and more stories like this by subscribing to our mailing list.