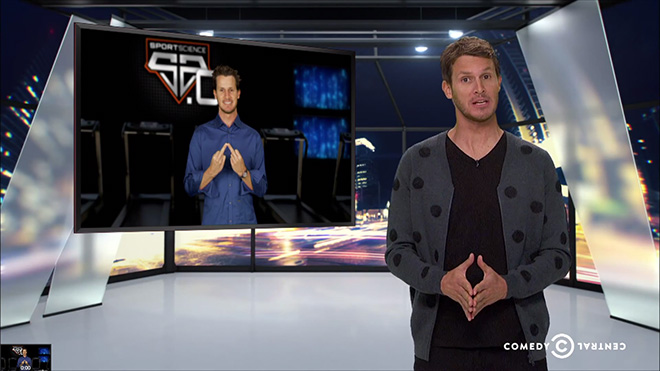 ESPN is balking at claims from TV personality Daniel Tosh that they stole one if his signature comedy sketches.
The host of Comedy Central's "Tosh.0" accused the sports network's flagship show SportsCenter of ripping off his show's famous "Web Redemption" segment, where Tosh gives folks who are the subject of embarrassing viral videos a chance to redeem themselves on TV.
ESPN's version of "Web Redemption" is called "Awesome Video Segment" (GREAT NAME, GUYS… NOT!) and their first feature was on the Canadian singer who tripped over the red carpet and fell on his face while singing Canada's national anthem before a hockey game.
They even used Tosh's signature catch phrase "Are you ready to give it another shot?" before giving the guy his chance at redemption.
Via Bleacher Report:
Recently, ESPN's SportsCenter aired its new "Awesome Video Segment." It gave Mark Donnelly—an anthem singer who had tripped while skating around the ice during a performance—"another shot," which appears to be very similar to Tosh.0's "Web Redemption."

Tosh took notice. The comedian went off on ESPN in his own version of the network's Sport Science, which he called "Sport Science.0."
But ESPN is adamant that their "Awesome Video Segment" series is all original and they don't plan on getting rid of it anytime soon.
"This was more of an instance of us using a common phrase than it was copying his wording," the network told TMZ Sports. "We know that doesn't sound like the strongest explanation yet it's the truth … We are looking forward to 'giving it another shot' in future installments of 'The Awesome Video Segment.'"
In other words: "Dear Daniel Tosh: We're sorry you're 'butt-hurt' because we stole something from you, but we've already invested into this 'Awesome Video Segment' thing and we simply cannot afford to let it go, even though it makes us look lazy and unoriginal."
Be the first to receive breaking news alerts and more stories like this by subscribing to our mailing list.