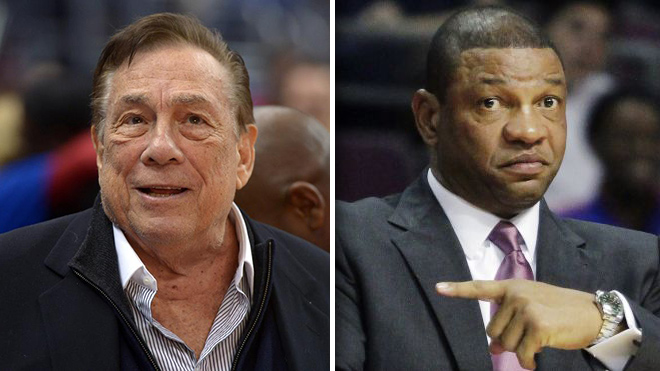 Embattled Los Angeles Clippers owner Donald Sterling — who was banned for life from the NBA by commissioner Adam Silver over racist remarks he made on a recording that was made public — sat down for his first extended interview with CNN's Anderson Cooper this week.
In the strange interview, which aired Monday night (May 12), Sterling begged the NBA to let him keep his team, saying that he's a "good member who made a mistake" and that he was "apologizing" and "asking for forgiveness."
"I've never been a racist and I'll never be a racist,"Sterling said. "Am I entitled to one mistake, am I after 35 years?" he asked. "I mean, I love my league, I love my partners. Am I entitled to one mistake? It's a terrible mistake, and I'll never do it again."
Sterling also rambled about Magic Johnson, saying that the NBA legend was a bad example for children in the community because he has "AIDS,"* and had not given back to the community. He also claimed that players for the Clippers loved him, and his fellow supporters were standing by him throughout all of this.
*For the record, Magic Johnson has HIV, and not AIDS, but moving on…
Sterling also said his "side chick" V. Stiviano was the one who was discussing "black guys" on the tape and not him, but when Cooper asked him about the specifics of the tape, but Sterling couldn't offer any explanation.
He said he believed V. Stiviano set him up and he called her a "street person," saying: "I don't know why the girl had me say those things."
Overall, the entire interview was bizarre, to say the least, and Clippers coach Doc Rivers has gone on record to say that he doesn't believe Donald Sterling's "apology" isn't much of an apology at all.
Rivers said Monday he was shocked to hear Sterling's comments about Magic Johnson.
"Obviously I know who Magic is," Rivers said. "I'll stand by Magic every day of the year because I've known him for a long time. Having said that, I don't know what's going on out there. I tried not to get involved in that part of it right now. Whatever it is, that doesn't sound like much of an apology to me."
Rivers added, "I'm glad that he did it. I don't have much more comments than that. But I think that's what you have to do, and you should do it. He probably should have done it right away."
Rivers followed up with his thoughts on the interview at the Clippers' shootaround Tuesday.

"I wasn't looking for him to say anything," he said, noting he only saw pieces of the interview. "I've been asked a hundred times: 'Do you accept the apology?' I wasn't looking for him to say anything. I'm not looking for an apology or anything. Right now I'm focused on our guys and being above all that. That's fine; he's going to keep doing what he does. We have to keep doing our jobs, though."

Asked if he was surprised by Sterling's continued attacks on the former Lakers great, Rivers added: "I don't know if I am or not, to be honest."

Clippers stars Chris Paul and Blake Griffin also were asked about Sterling saying all his players love him. "I don't know about all that," Paul said. "I love my wife, my kids, my family and my teammates."

Added Griffin: "Throughout the past two weeks we've tried to make it as much not about that and not about what's going on with him. If you ask every single guy on this team, they'll say they love their family, they love their teammates and that's who we're playing for and that's really the bottom line."
Meanwhile, Shelly Sterling — Donald Sterling's estranged wife — said she believes her husband, who is rumored to have cancer, could also be suffering from dementia and she is putting up her best fight to keep her 50% of stake in the Clippers.
"I felt bad for him," she told The Today Show in an interview the morning after her husband's interview aired on CNN. "Because he's not the man I know. Or I knew. There's something wrong."
When pressed by host Savannah Guthrie about what exactly was going on with Sterling, the Mrs. replied, "I really think personally he has dementia."
Shelly said the changes in her estranged husband's behavior are baffling, to say the least, and until his recent comments, she said she had "never heard him to be a racist."
"I don't think it happened overnight, it's been happening but nobody really knew the reason. He gets crazy and yells and screams and hollers one moment," she said. "And then the next moment he'll talk about something else. It's like nothing makes sense."
"And why would he bring Magic Johnson into the issue about what's happening now?" she added. "I mean, that's why I felt pity because he couldn't get all the dots together. He couldn't connect the dots."
Mrs. Sterling said she will fight the NBA to keep her stake in the L.A. Clippers, though she did agree with their decision to force her husband to sell his shares in the team.
Mrs. Sterling said she attended a game last week and received warm greetings from the fans below her box seats. She claimed that she felt support from some of the players, even though so there were reports floating around that they would boycott the team if it remained in the Sterling family.
She told Guthrie of her husband's comments, "I'm very angry. And I'm very hurt. And I even cried listening to that, because I just feel bad … And then I feel bad. Why am I the victim when he's the perpetrator? If somebody killed somebody, does the wife have to stand trial too?"
The Los Angeles Clippers were booted out of the Playoffs Thursday night in Game 6 after OKC defeated them, 104-98, ending their series at 2-4. Better luck next year, guys!
Be the first to receive breaking news alerts and more stories like this by subscribing to our mailing list.