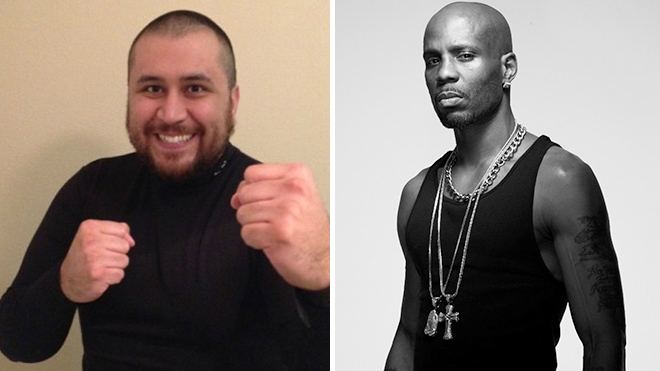 George Zimmerman is making the second biggest mistake of his life. Trayvon Martin's killer has reportedly selected DMX as his opponent for his upcoming celebrity boxing match.
Celebrity boxing promoter Damon Feldman says that out of 15,000 applicants (including rapper The Game), Zimmerman decided to choose X for the fight, even though he REALLY wanted to fight Kanye West for attacking "defenseless people." Go f*cking figure!
As we previously reported, in a recent interview with TMZ, DMX said he would practically beat the "living f**k" out of Zimmerman (and piss on him) if he was chosen for the match.
"I am going to beat the living f**k out him … I am breaking every rule in boxing to make sure I f**k him right up. Once I am done with him, I am going to whip my d**k out and piss on him … right in his muthaf**kin face. Zimmerman is a piece of s**t and that's what he needs to drink."
Well we hope X keeps his word. George Zimmerman has no clue what he's getting his self into!
The date, time and location of the boxing match — which will last 3 rounds and will be live streamed online through a paid subscripion — will be announced next Wednesday.
FYI: Trayvon Martin would have been 19 years old today.
Be the first to receive breaking news alerts and more stories like this by subscribing to our mailing list.