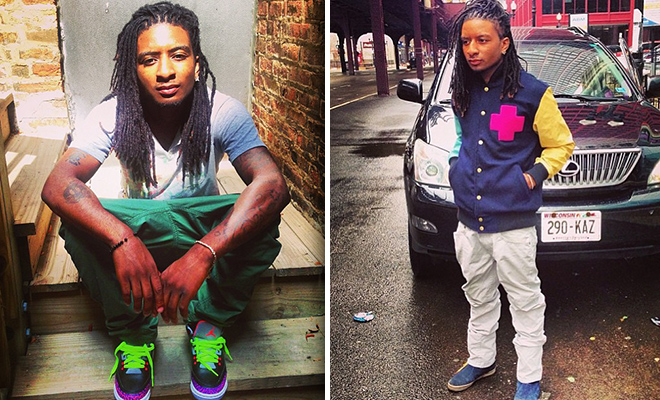 3. He "wanted to be famous."
Friends and relatives of Qawmane say right after his mother's murder, they noticed that he would flaunt his wealth excessively, even going far as throwing wads of cash to his "fans" in parking lots, and posting photos/videos of the stunt online, using Instagram and YouTube.
Wilson's friends, former classmates, relatives and family friends say that he was known as a flashy guy when his mother was alive, but his taste in all things luxurious and flashy grew considerably after her murder.
As we previously reported, just one week after Yolanda Holmes' death, her only child, her son (Qawmane Wilson) liquidated her bank accounts, collecting more than $90,000 in cash. Authorities allege in court documents that he was also the sole beneficiary of two life insurance policies, the amounts of which are currently unknown.
Within weeks of Holmes' murder, Qawmane (aka "Young QC") uploaded numerous pictures and videos online showing him flaunting his lifestyle.
One photo on Instagram shows Wilson at the Burberry store in Downtown Chicago laying a stack of cash out in front of a register. Another picture shows him behind the wheel of a Mustang, holding an expensive leather Versace "Medusa Head" belt.
There are also numerous pictures/videos of him with expensive shoes, clothes, jewelry, and more. Some even show thousands of dollars IN CASH, in all brand new $100 bills. He also brags about buying $1,500 puppies, guns and copious amounts of weed.
There's a video of him withdrawing a bunch of cash from the bank, then throwing it up in the air, sending a crowd of his "fans" into a frenzy as they scurry to pick it up.
"I don't know how he could have been living like that before Yolanda died, because he wouldn't have had the money," said Wilson's 49-year-old cousin Zion Banks, who called Wilson's actions "disgusting."
Julie, a longtime friend and former employee of Yolanda Holmes (who asked that her last name be withheld), told reporters, "I heard he wanted to be famous."
The 40-year-old Uptown woman added, "I was really surprised to see him flaunting all the money. It was just outrageous."
50-year-old Tia Bouvi'a, another former employee and longtime friend of Holmes said Qawmane "gained access to her wealth and whatever she had … You just don't start to splurge immediately after your mother was murdered."
Be the first to receive breaking news alerts and more stories like this by subscribing to our mailing list.