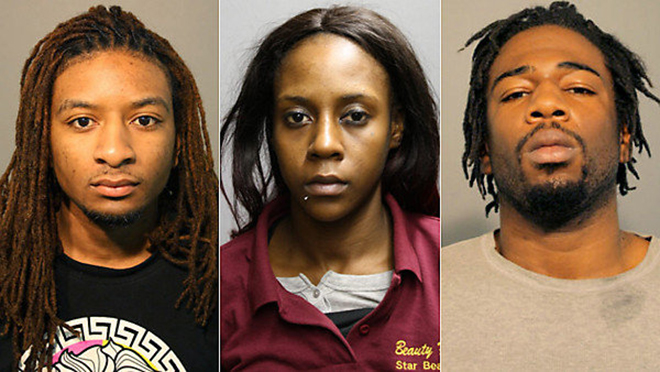 It really gets no worse than this. A Chicago man was arrested for hiring his friends to kill his mother for financial gain.
24-year-old Qawmane Wilson — also known by his rap name "Young QC" — had his friends Eugene Spencer, 22, and 23-year-old Loriana Johnson (all three pictured above) shoot and stab his mother Yolanda Holmes to death at her apartment in September 2012, according to the Chicago Tribune.
Wilson's 45-year-old mother was the owner of a popular Chicago hair salon Nappy Headz and was known for organizing community events at her shop.
Just a week after his mother's death, Wilson gained access to more than $90,000 from his mother's bank account and life insurance policies.
Police were able to piece clues together after Wilson was seen flaunting luxurious cars, jewelry, clothes, money and more on his Facebook, YouTube, and Instagram accounts.
Wilson, who has his mother's name tattooed to his shoulder, according to the Tribune, was arrested last Sunday (Dec 22) and is being charged with murder and home invasion.
Cook County Judge Adam Bourgeois, Jr. called the murder a "heinous act" and ordered all three suspects held without bail Tuesday.
The whole thing was enough for fellow Chicago Rapper and trouble-maker Lil Reese (of alll people…SMH) to call the rapper known as "Young QC" out on Twitter for his atrocious act towards his own mother.
On Tuesday, Lil Reese tweeted (via VladTV):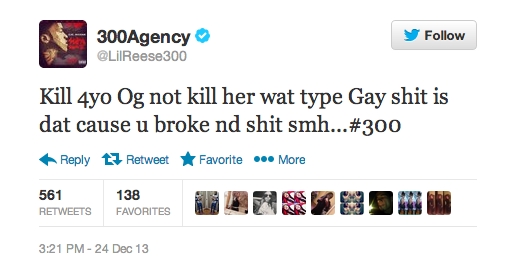 Well… we all do know one thing: this is guy going to burn in HELL! Like, who has their mom, the same woman who gave you life, killed over material possessions or ANYTHING at all, for that mater? WTF dude???
PHOTOS OF QAWMANE WILSON:
MORE ON QAWMANE WILSON:
Be the first to receive breaking news alerts and more stories like this by subscribing to our mailing list.