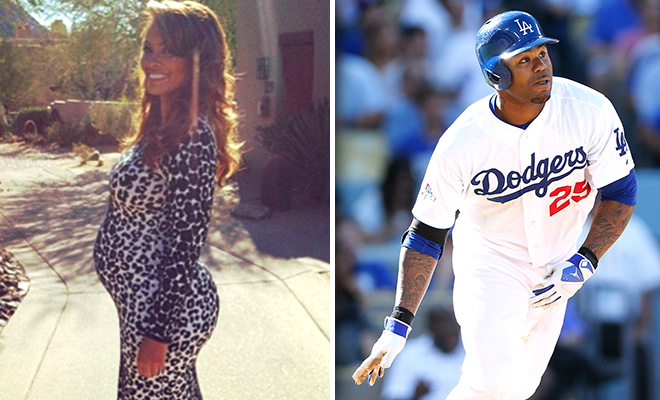 After weeks of keeping quiet, Evelyn Lozada has finally revealed who her baby daddy is: professional baseball player Carl Crawford. But we already kinda-sorta knew that, remember?
Evelyn dropped a bombshell in late November by announcing that she was SIX MONTHS pregnant (and showing BIG TIME too!).
At the time, "sources close to Lozada" told TMZ that she had been seeing some guy for "almost a year now," and their relationship had gotten "serious."
Now, we know that "guy" is definitely 32-year-old MLB player Carl Crawford, who plays for the Los Angeles Dodgers, and just might be the guy to get Lozada to try this marriage thing one more time.
In a recent interview with OMG! Insider, Lozada said she still believes in love and is open to marrying again.
"I definitely would get married again," she said. "I still believe in love … I'm not one of those people that's like 'we need to get engaged, we need to get married.' No, absolutely not. I feel like that's going to come, just like with the baby, let it come. I'm not forcing anything, so if it happens, it happens."
Though Lozada — who has a college-aged daughter, Shaneice Harrison, from a previous relationship — says she's done with "Basketball Wives," she told OMG! that if the opportunity presented itself, she would consider doing a reality show about her new life.
"You know, reality TV, even though there's a lot of negativity, it's been more positive for me," she said. "I was able to do a lot of things because of the show, so I'm not one of those people that just bashes it when it's done … I was able to put my daughter through college because of it, I've been very blessed because of it. So if I was given a spinoff I think I would do it because you're more in control of the show, you're an executive producer. You really get to see everything that's going on. So, you know, if it made sense for me and my family, I probably would."
Meanwhile, NFL star Chad Johnson — who was briefly married to Lozada before their relationship ended over an August 2012 domestic violence incident — told TMZ Sports earlier this month that he is "super happy for" Evelyn and wishes her "nothing but the best."
In fact, he's already got a special gift picked out for her new baby. "I have unisex Louboutin infant spikes ready as my gift," he said.
As for his relationship with Ev, Johnson said, "No communication with her in over a year and the father doesn't matter, I just need to style and dress the baby."
This guy is nuts. No wonder she blocked his crazy, stalking ass on social media.
Be the first to receive breaking news alerts and more stories like this by subscribing to our mailing list.