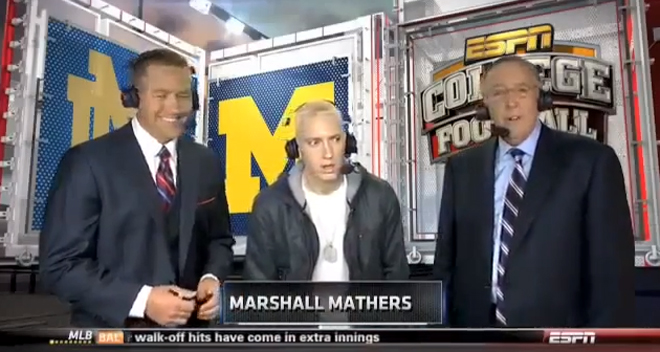 Eminem opted to kick-start the promo campaign for his new album, Marshall Mathers LP 2, by joining the old fuddy duddies during University of Michigan and Notre Dame's football game.
Given Jay-Z's "Magna Carter" promo during the NBA finals and coupled with the fact that MTV is more interested in airing episodes of "Catfish" than serving as a legitimate platform for musicians, it's understandable that Em would seek a televised venue with the most eyeballs possible.
And now that he's back to blond, it looks like he might be up to his old tricks again. The interview starts out with Eminem staring at the camera, mouth agape, while the broadcaster to his right struggles to keep his composure. The broadcast then cuts a preview of the video for Eminem's new single, "Berserk."
After the clip, the interviewers stun us with insightful, revealing questions such as, "How long did it take to film that music video?"
Really? You get five minutes to ask Eminem anything and that's the best you can come up with?
Instead of staying in character and trolling the hell out of these clueless buffoons like he should, Em takes pity on them and tries to actually answer their limp, mundane questions.
Too bad, guess the Real Slim Shady can't stand up. Cause he's 40 now and can't risk pissing off his corporate sponsors which would threaten his income to put Hailey through school.
Be the first to receive breaking news alerts and more stories like this by subscribing to our mailing list.